Wearing a wig to the pool, beach, or lake can be perplexing, whether you are experiencing hair loss or not. If you're still on the fence about whether or not you can swim in a wig, I hope this blog will help you find the answer out.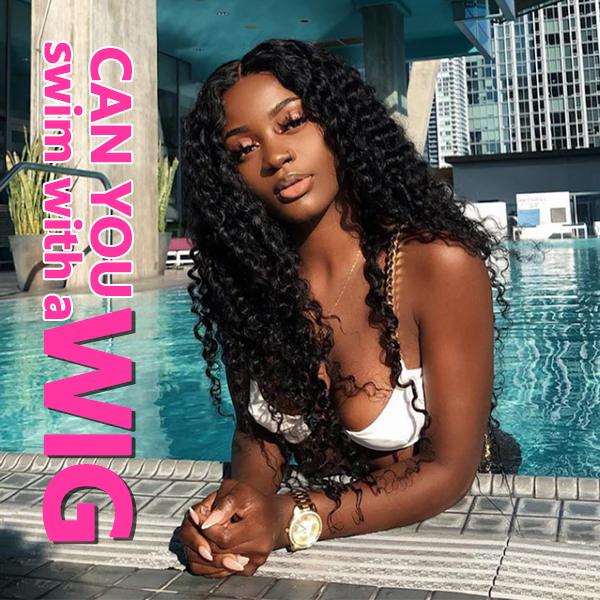 Can I really swim with a wig?
Of course, you can. Swimming and wearing a wig are not incompatible activities and can be done together. Swimming with a wig is uncommon. However you may be having hair loss or thinning hair and want to feel more confident and beautiful when swimming by wearing a wig. Nothing is wrong with this idea in itself. You can, thankfully, experience the joy of swimming while wearing a wig.
Furthermore, there's no need to be concerned about the wig slipping off. It won't fall apart if you've already secure it and wear a swimming cap. Continue reading to learn how to wear a wig the right way for swimming!
How to swim with a wig on
Style your wig before swimming
One of the problems girls have when swimming is that their hair spread out underwater and can easily get tangled. That's why we recommend styling your wig beforehand, especially if you're wearing a long one. Here are some of the best hairstyles for swimming, just for your reference!
Ponytail
This hairstyle is more suitable for sisters whose wigs are near shoulder length.
Low bun or high bun
To tie your hair at the top of your head or near your neck to make room for the swim goggle strap.
Braids
This is one of the best ways to secure your hair and prevent tangles!
Not sure how to style your wig? Read our another blog on how to style a wig.
Wear a swimming cap
Whether you wear a wig or not, wearing a swimming cap while swimming is a basic piece of equipment and a basic etiquette.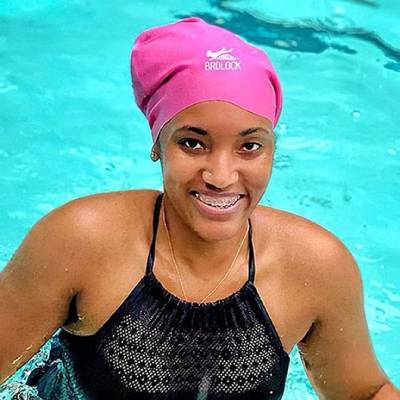 Wearing a swimming cap will reduce the resistance and make you swim faster, so that we can better enjoy the fun that swimming brings to us. In addition, wearing a swimming cap can prevent the wig and the pool water too much contact, because the pool water contains chlorine, which will hurt the wig, make the wig become dry, shorten its lifespan.
Swimming cap can also play a good role in fixing the wig, you do not want to experience the embarrassment of wig loosening or even fall from the head while you're having fun.
Avoid jumping, surfing and diving
If you enjoy swimming on the beach and you don't want to cover off your attractive wig with a swimming hat. We strongly recommend against diving, surfing and jumping. These intense actions increase the likelihood of your wig coming off your head, even if you believe it is securely attached to your head. In addition, your wig will unavoidably wear out more quickly while diving, surfing, or jumping.
Choosing water-proof glue or tape
To make sure your wig stay in place, wig glue is widely used. But it's inevitably that our wigs exposed to water while swimming, not any glue or tape can hold up to large amounts of water or moisture.
That's why it's best to buy wig gels that should provide a moisture-resistant, sweat-resistant hold that works in the pool, make us without the fear of wig shifting or coming off.
Bring a comb
Swimming is a kind of sport where it is easy to get your wig tangled, so it is essential to always have a comb in your hand.
And make sure be very careful, gentle and patient when combing your wig after swimming as wet hair is more prone to breakage.
Should I wash my wig after being out of the water?
Pools or lakes contain chlorine and salt which act as disinfectants and also cause damage to our skin and wigs.
Swimmers, especially frequent swimmers, should give their wigs a deep clean and condition after each swim to prevent wigs from discoloring, drying out, frizzing, or even falling out, especially if you go swimming with a human hair wig.
Don't underestimate the importance of cleaning and caring for your wig after each swim, as this will greatly increase the life of your wig, not to mention the fact that it can help your wig lock in moisture and regain its life for the next time you wear it.
In conclusion
Through this article today I just want to tell you that you can swim with a wig on. If you've decided to swim in a wig, remember that pre-style your wig, wear a swimming cap, choosing water-proof glue and avoid diving while swimming. Once you've finished swimming, make sure the right wash and care to keep it looking its best. With these tips, I believe you can find that getting in the water is all about relaxing, having fun, and staying active, and totally enjoy swimming.
RELATED POST
How To Care For Human Hair Wigs?
How Long Does a Wig Install Last?
How to Hide Hair Under a Wig?