Wig installations are notoriously patience-consuming and time-consuming, whether you hire a professional stylist or do it yourself. Therefore, you don't want to install your wig frequently, that's why every wig-wearers wonders, "How long does a wig installation last?" so in this blog today, we will provide you the information about how long does a wig install last and other related knowledge you may need. Without further ado, let's get started.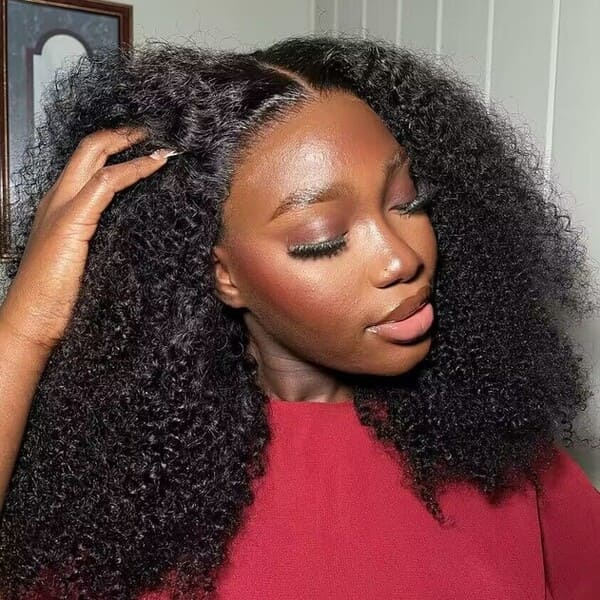 How Long Does a Wig Install Stay On
The answer is a wig installation can endure for from one to six weeks before it needs to be taken off. However, there isn't an exact duration for wig install longevity, depending on many factors, such as the wig adhesive you use, the type of hair, the installation method being used, the skill level of the stylist and the level of maintenance provided.
Factors that affect the duration of a wig installation
In this part, we'll go over the most crucial aspects that influence how long your wig installation will keep.
The type of wig you choose
There are many types of wigs on the market, and in general there are two main categories, glueless wigs and glue wigs.
The adhesive or glue wig installation is a longer lasting option, however, this sort of installation might take 2-5 hours to complete. But in the meanwhile, this type of wig will look the most natural and look just like coming from the scalp.
As name implied, the glueless wig does not require any glue or tape, which is relatively quicker and easier. This type of installation will last until you take off the clips and take the unit off.
The wig glue you choose
For glue wigs, the most important session of installing on a wig is keeping it on your head, which is generally done with one of three adhesives.
Wig glue-Wig glue is a specifically kind of adhesive that should only be used for wig installation. Bold Hold and Ghost Bond are the most reliable wig glues on the market. They are sweat-proof and waterproof, making them suitable for usage in extremely hot temperatures. These two types of wig adhesives last anywhere from 3 to 6 weeks at a time.
Got2b Glued Spray- Another popular wig installation adhesive is Got2b Glued Spray. If you use got2b Glued Spray to secure the lace part of your wig, you can expect it to stay on for a few days up to a week. Following that, the wig will start to detach from your hairline.
Tape - Using wig tape to hold your wig will give you 2 to 4 weeks of wear out of your wig installation. However, you should be aware that different tapes last different amounts of time. Some do not work as expected, in case avoiding slippage within 2 to 4 weeks you'd better choose a quality one.
The type of wig hair you buy
All wigs are classified into two types: human and synthetic. Synthetic wigs tend to be cheaper, but they fall apart faster than human hair wigs do. Unlike synthetic hair, human hair can be used for six months to a year, but synthetic wigs only last a few months.In general, If you want a wig to last longer, human hair is a better choice.
How the wig was installed
In addition to the type of wig, it's important to note that the longevity of a wig mainly depends on how well the wig was installed. Remember that he better the wig Is installed, the longer it will last. For example, when secure a wig, properly clean your scalp before applying glue and use the correct amount of glue can lead to maximum last.
For those who's new to wig-wearing, we recommend having a professional hair stylist to help you. A professional installation from a local stylist may be your best chance for a long-lasting installation. If not, maybe it's hard your wig install to last longer.
How much you sweat
You wouldn't believe it, but how much you sweet also play a huge role in how long a wig install lasts. If you choose wig glue for your wig installation, when you sweat a lot, it reduces the firmness between your scalp and the glue, you may find that your wig shifts earlier than you expected. And as we all know sweating secretes excess oil, the excess oils can damage your wig and may irritate your scalp, risking hair loss.
Your living habits
Your way of living also has an impact on how long your wig installation will last. Are you in the habit of wearing a wig in the shower? Unlike your own hair, Wigs are not meant to be washed while still on your head. This practice can not only cause damage to the wig's construction and adhesive, but makes wigs easier to knot and cause skin irritation. So it's inevitable that the lifespan of your wig install will be shortened.
How to Make Your Wig Install Last Longer
Avoid tangles
Think back when your wig gets tangled or knotted. The more knots you have, the longer it takes to comb. you might accidentally pull the lace on your wig and loosen your wig install. Therefore, it is important to minimize tangles while wearing the wig. Following we'll provide some tips to make your wig install avoid tangles or knots.
● Don't go to bed with a wig install
● Maintain the moisture level in your wig
● Regular cleaning and conditioning your wig
● Comb your wig patiently
Reduce moisture exposure
If the adhesive or glue you used is not waterproof, moisture may dissolve any adhesives used to hold your wig in place. So it can lead to your install not lasting very long or you having to remove the wig yourself prematurely. To prevent this from happening, cool yourself down if you feel your body temperature increase and believe you might sweat to avoid ruining your wig installation.
Final words
We do hope that by reading this blog, you will have a better understanding of how long a wig installation lasts , what elements impact its durability and how to make your wig install last longer.