Today we're going to bring you the questions you're most concerned about: what is a lace front wig and some of the most frequently asked questions about it. Whether you're a beginner or a former wig wearer, these questions are definitely on your mind. Reading this article is sure to be very rewarding.
What is Lace Front Wig
If you wear wigs regularly, you may have noticed that most wigs these days are lace wigs. Lace wig is a kind of wig made of lace as the raw material of hair cap. It is generally made of high-quality HD lace. The advantage of this wig is that it is thin and breathable. The thinner the lace, the more realistic it will be.After all, it is to stick to the hairline of our head. If it is too thick, it will be very abrupt and the hairline will be very obvious, so that the wig will be easily seen. It is breathable because the lace material itself is made up of many tiny holes.
On the one hand, these holes can simulate the scalp of real people, just like our hair follicles. On the other hand, these holes also play a breathable role, which can bring us the best wearing experience. It's basically just the front of the hair cap with lace. The production of lace hair cap requires a lot of labor costs, and we only need to expose the hairline and the hair seam when wearing wigs. Therefore, lace front wigs can help you solve the problem and reduce the cost, which is why lace front wigs are so popular.
About lace front wigs everything you need to know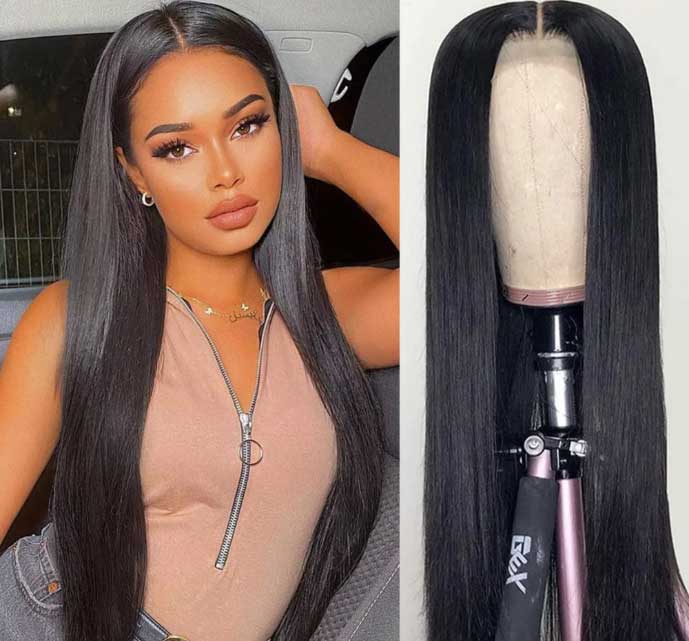 Q: What makes lace front wigs better?
A: Lace front wigs are low cost and meet the needs of most people, especially for the first time wearing. For beginners, you may not know how to install and care for wigs, and you may often wear and store wigs incorrectly. If you buy an expensive full lace wig and it wears out in a few days, it's a waste. The cost of choosing a front lace wig is relatively low and gives you plenty of practice before you move on to other wigs. In fact, the difference between lace wig and full lace wig is not very big, but lace wig will be more durable, cost-effective.
Q: What type of frontal lace is best?
A: HD lace is the best of all lace materials. There are three main types of lace: HD lace, brown lace and transparent lace. HD lace is characterized by thinness and invisibility. Because it is very thin, it can blend perfectly with your skin tone when placed on your scalp, and its color is suitable for most people. Brown lace is more suitable for dark skin. Compared with HD lace, the color of this kind of lace is much darker. It is only suitable for dark skin. Transparent lace will be white, transparent like air and water. If you want a natural wig, the top choice is HD lace, which is suitable for anyone. If you don't feel like it, you can also apply foundation to the lace.
Q: Is a lace front wig better than a full lace wig?
A: Both types of wigs have their own characteristics and advantages. The advantages of the lace front wig are that it is convenient, cheap, and natural. The wig is made from pieces of lace and canvas to form a complete wig cap with adjustable band at the back that allow you to adjust the size to fit your head and tail. The advantage of a full lace wig is that it's more breathable than a lace wig, because lace is definitely more breathable than canvas. The full lace wig's hair cap is made entirely of lace, but it is soft, unsupported, and has no internal adjusting band. The wig must be worn with a wig cap, and the end of the wig can then be fixed to the cap with a needle and thread.
Q: How to wear a lace front wig?
A: A lacy front wig that needs glue: First, wrap your own hair in a wig cap, glue the edges, then place the wig in your head, apply glue to the hairline, then lower the lace edges to make sure they stick to your head. Once the glue is completely dry, trim any excess lace edges with a knife or scissors. Then part a row of forehead hair to create a natural baby hair.
Glueless wig: First, wrap your hair with a wig cap, put on the wig, adjust the elastic adjustment belt, and you are done. No doubt, this wig is so simple to wear that there are no other steps.
Q: How to maintain lace front wigs?
A: Daily: A wide tooth comb can be used to comb the wig often, which can effectively prevent the hair from tangling and falling due to tangling. If you feel your wig is very dry, you can apply coconut oil or hair care oil. Be careful that the product is not too harsh and does not contain alcohol.
Wash: Instead of using regular shampoo and conditioner, use low-ph shampoos and conditioners designed for wigs. When cleaning, use warm water or cold water, hot water will damage the hair and make it dry, after cleaning, you can gently wipe off the water with a towel, and then put it on the towel or put it in a ventilated place to dry naturally, do not use a hair dryer.
Q: What does a lace front wig do?
A: Lace front wigs can create the most authentic wearing effect, and people won't even know you're wearing a wig. Wigs can help you hide health problems such as grey hair and baldness, and allow you to change your look at will.
Q: How much does a lace front wig cost?
A: Lace wigs can be the most cost-effective wigs, generally ranging from dozens of dollars to 300 dollars. Most of our lace front wigs cost around one or two hundred, which is a good deal. Wigs are 100% real human hair, made of high-quality HD lace, pre-plucked hair treatment, very natural and realistic. The price of a wig is generally determined by the material used in the wig, whether it is 100% human hair, the length of the wig and so on. The longer the hair, the more expensive it will be.
Q: Can you shower with a lace front wig?
A: No, if your wig is worn with glue, there is a risk that the glue will crack in the shower, even if the wig does not fall off and the glue is not firmly attached. If it's a glueless wig, it can be removed every day and you don't need to wear it to the shower.
Final words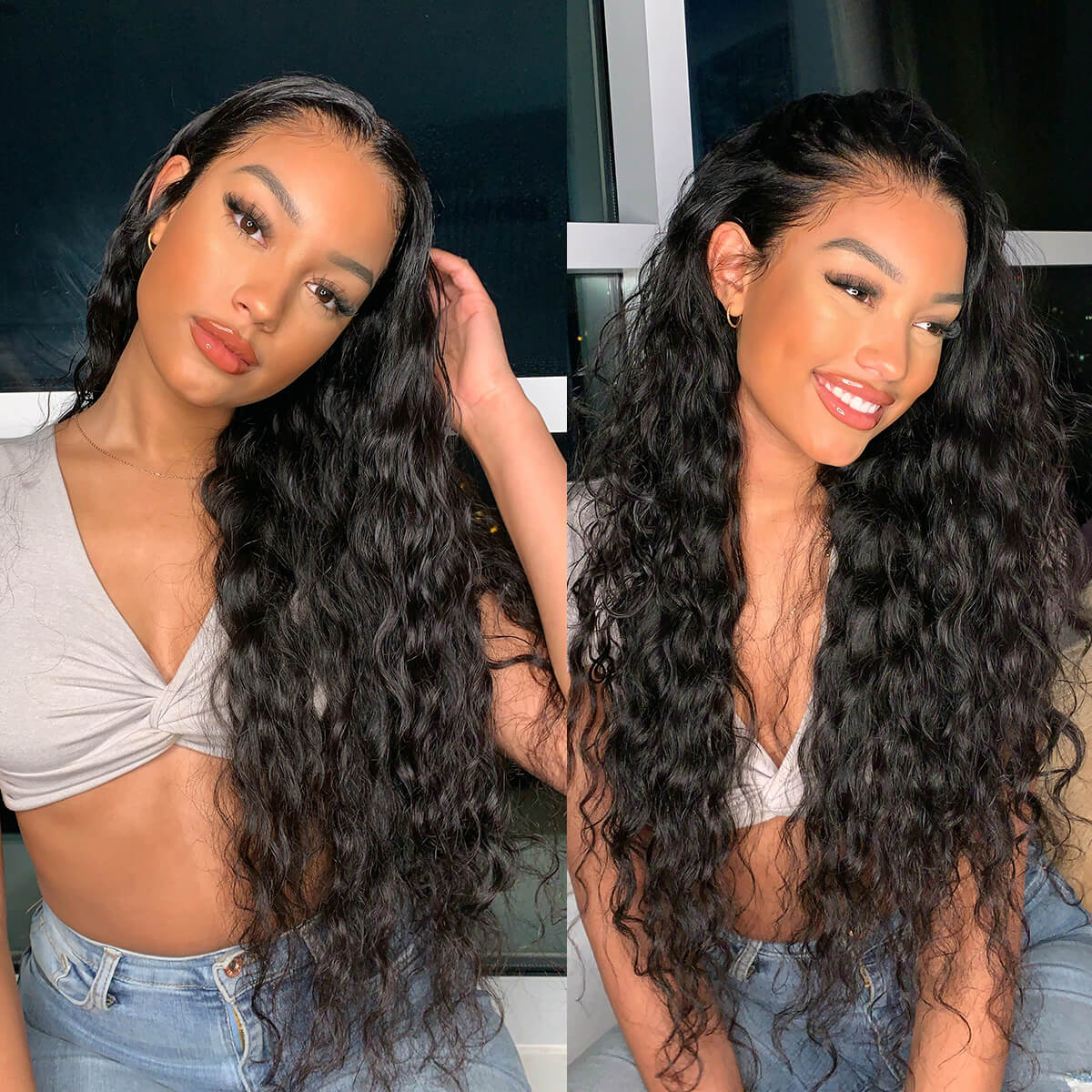 If you're looking for the best value wigs, look for lace front wigs. They're light, comfortable, breathable, cheap, and make your hair look like it's coming out of your own head. If you want the perfect look, be sure to buy a 100% human hair wig, which has the best smoothness and silky.