Intro
Wet curly wig hairstyle is easy to create a sexy and glamorous look, With wet curly wigs, you can look glamorous every day! Even thought it looks complex and requires a lot of efforts but it actually really simple. So in today's blog, We'll share you the entire process of creating a wet curly wig hairstyle below.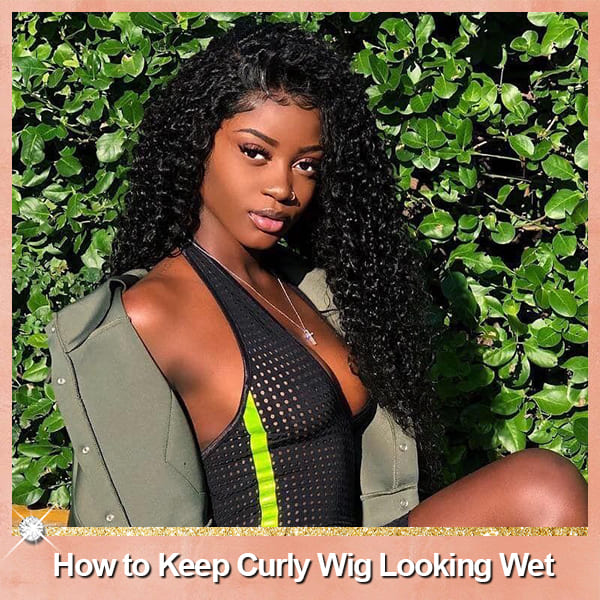 Tips on How to Keep Your Curly Wig Looking Wet
This is what you will need
spray bottle
wide-tooth comb
hair gel
Hair Mousse or Cream
Glossing Spray
Fine-toothed combs or boar bristle brush
glossing spray
Wet your wig
Keep spraying water into your hair with a spray bottle to make sure it's damp, but not soaking wet. While spraying your hair down, touch the hair make sure you don't have any dry spots. This step really needs a certain level of patience. But please be patient, making it possible for you to get a perfect wet curly hairstyle.
Detangle Your Wig
The most common problem with curly hair is that it tends to get tangled. Knotted hair doesn't hold its shape well, to keep your wig's curls, you need to prevent tangles from occurring.
Comb the hair in small sections once a time,this ensures a more delicate elimination of tangles in the hair. Note that the hair-combing technique is needed here, always beginning from the hair ends and work your way up. Remember that be gentle when detangling your curls for minimizing hair breakage.
Apply Gel on Your Wig
Applying gel on your wig not only locks the curls in place but retains for long-lasting curls! When it comes to hair gel, simply use the one you use the most. Take out an appropriate amount of hairspray in the palm of your hand and put it all over your one side hair, starting applying the product at both roots and lengths, get you some more put it another side make sure don't leave unapplied chunks , The amount you use depends on the density and length of your hair.
Apply Hair Mousse or Cream
Hair Mousse or Cream both can maintain the curly styling.
Use the same applying technique as you apply hair gel. Put the gel on your hands and apply it evenly on your curly wig as soon as possible.
Comb Your Wig
This step relatively time-saving and no patience required. combing your wig again is for final styling. To create different kinds of hairstyles, you need to use different combs and brushes to achieve. The two types of combs used most often are fine-tooth comb and boar bristle brush, Fine-toothed combs are easier to create a relaxed look while the latter are better for a polished appearance.
Use Glossing Spray
Glossing spray can blend your wig's origins and ends and help you get a more dazzling and stylish hairstyle.
Determine whether to increase the volume of spraying based on the look of the presentation during spraying.
Style Your Curly Wig
The final step is up to you-- from hanging freely like usual to an updo or a ponytail. Go ahead and embrace the beauty of wet hair.
Tips for you To maintain Your

Curly Wig
Compared to straight hair, curly wigs require a bit more upkeep. I'll go through how to maintain curly wigs in peak condition in the paragraphs that follow.
How to Wash a Curly Wig
Remember that It's best to avoid washing curly wigs as much as possible because shampoos contain ingredients that harm wigs, no matter how hair-friendly the shampoo product claims to be.
Wet your wig well with warm water, note that not to use water that is too hot or too cold, as both can damage the wig.
Apply the shampoo to the hair evenly and gently. When using shampoo, avoid too much force since this can destroy your curls.
In order to lessen tangling, rinse the hair from root to tip following the direction of water flowing.
Remove your wig from the water with towels gently.
Note that not to air dry your wig on a wig stand or mannequin head because gravity can do some damage to curls.
Remember to care for your wig as if it were a favorite. do not throw your wig onto the floor, a counter or a chest of drawers as this can easily lead to your curls becoming tangled and knotted
Still remember that not to air dry your wig on a wig stand or mannequin head because of gravity.
Lay your wig flat into the bag or box.