How To Measure A Wig?
Most of the girls who purchased wigs online met problems that getting the shorter length than expected. why is that? Like you purchased a wig states 24inch but actually, it's only 18inch when you got it. There is some tricks which some hair vendor may use to get profit by this, Let's see how this happen.
When you purchase a wig online, the first thing you are considering is what length should I get? How long should I choose if I want the hair length to achieve to my waist? Actually, when you purchase bundles, you almost never met the hair length shorter due to we all know that we should measure the length from the weft roots to ends. but for wigs, you may measure it in the wrong way.
So let's get started on how to measure a wig correctly:
1. Prepare a soft tape, bring your wig out and put the unit on a wig head or lay flat on a table.
2. Locate the longest part of the hair and place a measuring tape at the crown, pulling it down until it reaches the ends
3. Record the measurement.
The important thing is that Wigs are measured from the root of the hair around the crown to the ends and for curly hair, Stretch the hair and measure from the roots of the hair around the crown until the ends.
The reason of why many wig purchaser complains about the hair length is because they didn't notice that the vendor may use different measurement to measure the wig like some stores measure the wig from top to ends which means you may get an 18inch wig when it states 24inch.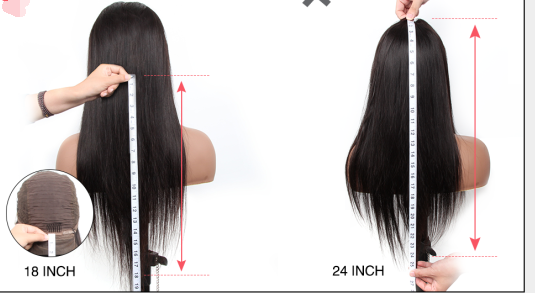 While it's also incorrect if you measure the wig from the bottom of the wig cause the wig maker usually puts the shortest hair on the bottom to make the wig full and thick in the ends which is also called double drawn. Even we can not assure that each stands hair is true to length, but there is a standard called Long Hair Proportion. The more long hair proportion is, the higher the cost will be. This kind of wig looks more natural and not thin as a layered look. Our Isee Crown Series wig is the high-quality double-drawn wig, hair cut from one donor, cuticles are aligned and intact, hair ends thick and full. We aim to provide the high-end human hair wig for customers who need real quality hair.
So be careful when you purchase a wig online, be sure to read carefully of how they define the hair length measurement so that you could get your expected length wig.