When you want to wear wigs but are worried about their complicated usage, glueless wig is a great option. Perfect for the girls that are on the go or just don't want the hassle. Glueless wig do not need any glue and adhesives, and wearing process is fast without delicate skills. Besides, the design of glueless wig is highly friendly to beginners and people with skin allergies. It is easy to install and eliminates the need for skin-irritating chemicals.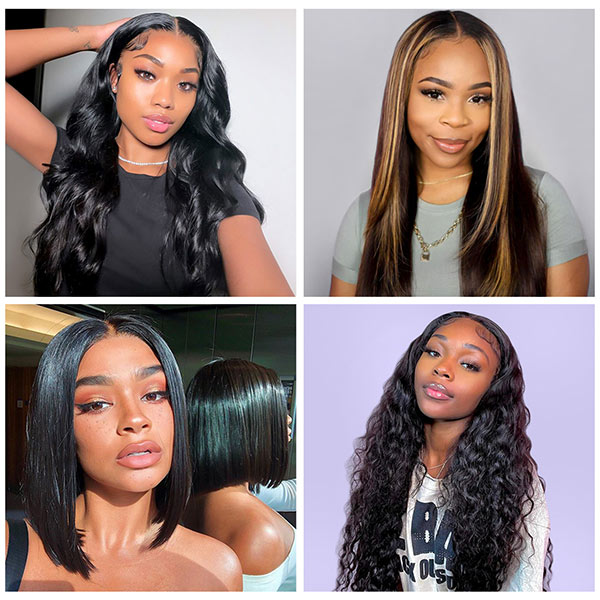 What is a glueless wig?
Glueless wigs are usually equipped with elastic bands which can adjust the size of the net cap according to the size of the head circumference, and do not need to use glue or adhesives when putting on the head. It is easy to wear, can both save time and effort, and has a natural effect. In the glueless wigs, there are straps to help people adjust the size according to their needs. The strap also plays the role of fixing the wig, so you don't have to worry about the wig being loosen.
What are the benefits of glueless wigs?
1.Glueless wigs are easy to apply and remove, making them a great option for people who want to change their fit look quickly and easily, which not only saves you time and energy but saves your hairline from potential pitfalls.
2. Glueless wigs won't pose any risk of damage to your natural hair or hairline. With no glue involved, you don't have to worry about your natural hairs getting snagged or pulled.
3. Wearing an adhesive on their scalp for an extended period can irritate their scalp and hair follicles. Glueless wig is a suitable choice for women who have sensitive skin. Due to skin problems, some people may be allergic to wig glues and certain wig tapes but have to wear wigs for hobbies or other reasons, and glueless lace wigs is helpful to solve this question.
How Do You Install a Glueless Wig?
Glueless wigs are easy to apply and can be worn in several ways. Most glueless wigs come with pre-exist adjustable bands inside. However, depending on your need to customize, you can just remove the adjustable band and add your clips. All of the glueless lace fronts will be firmly affixed to your head, regardless of style. Having said that, let's take a closer look at how to attach the glueless wig properly.
1. Making sure that your own natural hair is ready. Firstly, comb and braid your own nature hair as tight as possible.
2. Prepare your hairline as well. Clean the dirt and sweat on the hairline and the edge of the head with a cotton swab dipped in alcohol.
3. Place the wig on your head and adjust it to fit properly. Then adjust the strap until it properly suits your head well.
4. Cut away any extra lace. The extra lace on the wig's hairline can then be trimmed off. Take care not to cut the genuine hair on the lace wig's hairline. Simply cut the lace.
5. Finally, you can use flat iron or curly iron to restyle your wig.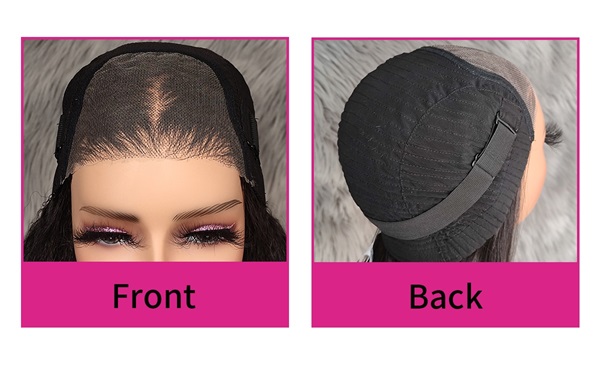 1. Please use wide-tooth comb to brush the wig to get rid of knots before styling. Use a heat-protectant spray when styling to avoid heat-related issues. Keep the temperature as low as possible while using hot styling tools.
2. After styling, use a wig cap to keep the wig in place. This will help to keep the wig from slipping or shifting during the day. Additionally, it is important to clean your wig regularly. Wash the wig every two to three weeks with a gentle shampoo and conditioner. To avoid damage, never rub or scrub the wig when washing. Gently swish the wig back and forth in the water and use a wide-tooth comb to detangle the hair.
3. When you are wearing your wig, it is crucial to take extra care. Avoid sleeping with your wig and avoid activities that involve a lot of movement and sweating. This can cause the wig to become loose and may cause it to slip off. Additionally, try to avoid exposing your glueless lace wig to heat, such as from a flat iron or curling iron.
You can keep your glueless wig keep looking best by following these tips. With maintenance, you can prolong its service life.
Related post
How to put on a wig
What is a closure wig
What is a lace front wig
How to pluck a wig