Recently, our new upgraded wig has emerged-the ISEE M-cap 9*6 wear go wig. We are so glad to team up with some of YouTube celebrities, inviting them experience our newest wig product. What they really feel about wearing ISEE M-cap 9*6 wear go wig and what they say about it are really helpful for customers to purchase this latest wig. So in this blog post, let's discover how these YouTube influencers feel about our m-cap 9*6 wear go wig.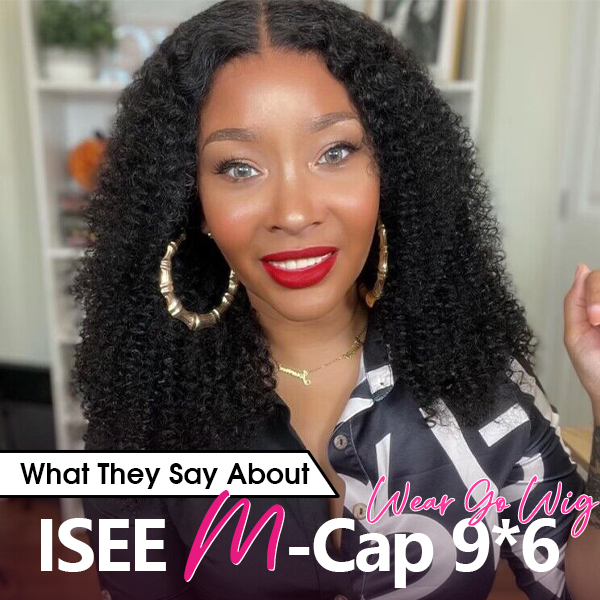 ISEE M-cap 9*6 wear go wig and how
DizastrousBeauty

feels about wearing it

DizastrousBeauty's video is funny but insightful about our products and always draw us in to watch.

Before l even get into the wig, I want to talk about the package. I am a pink fan, okay. But i've never gotten a wig in the little tote bag that y'all put it in and then the box is nice and then you got a little princess, pink bonnets and a thing of lashes like y'all can't do with come through.

The most attention the ear shape design. You guys know, if you watch me that i always struggle because l have very large ears and a lot of times especially with closures, because the closures literally will lay on my ear and it hurts. So honey, that is my favorite part of this wig.

To me it looks better without any makeup which to me is a super plus because I honestly I don't wear makeup on a daily basis.

The texture of this unit is kinky curly, I know some people like kinky curly, some people don't, I am a fun of kinky curly, it's just like it looks more natural on me.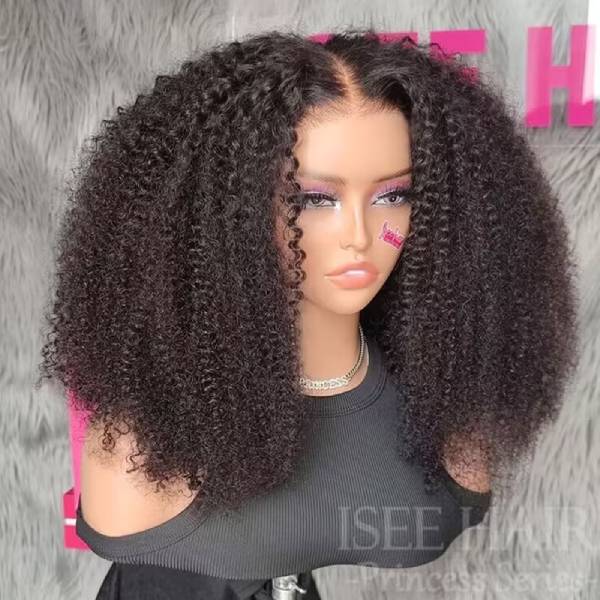 It does shed a little bit, it does tangle a little bit, it is a kinky curly wig, so I expected some, it wasn't anything excessive.
The attachable elastic band makes it where it can get super big or it can get super snug.
Literally the only thing that l did was apply the products that you guys saw me apply the mousse and stuff there was nothing else for me to do to this wig l didn't have to bleach the knots i didn't have to tweeze it l didn't even have to cut lace
If beginner friendly was a wig this it will be it.
The only thing i can think of is it may be a con for some people that is a closure, l personally love closures but i know that can be a con for some people and that's the only thing l can come up with.
The pros are endless. It fits my ears is my number one pro, also love the way the lace is, l love how natural this unit looks and it looks natural very effortlessly.
ISEE M-cap 9*6 wear go wig and how
kelechi mgbemena

feels about wearing it

Kelechi mgbemena's YouTube videos are know for details and very attentive in explaining the product and how it feels to wear it.

You know that whenever I get a package from ISEE it's always like a luxury experience unboxing, this because everything just gives.

I like this wigs to be really snug and tight on me so that that way it doesn't go anywhere.

I can see a little bit of parting space here so you can do like a side part with this and yeah so you do get a lot of parting space.

Anyone who is just trying to be out the door without the hassle this is definitely something to consider.

You can style this different ways you can do like an half up half down ponytail style you can do a side you can do center.

It kind of takes into account your ears.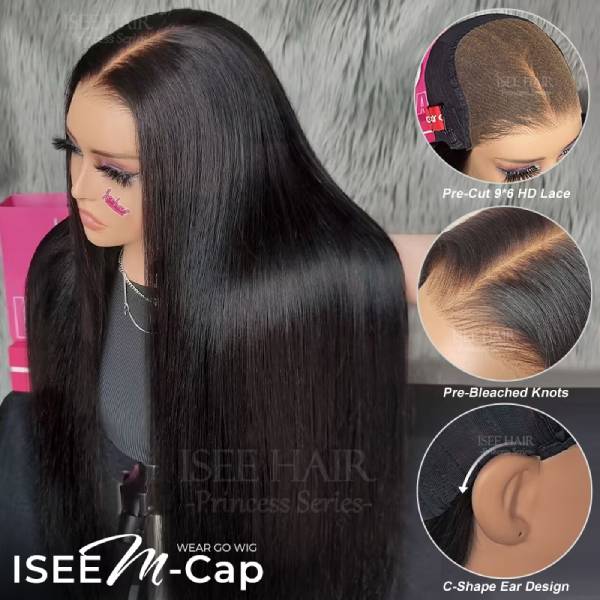 With the combs behind they are removable so if you're someone who doesn't like combs, you can take it out but listen if you are someone who wants that extra security definitely do not take it out.
This one has minimal knots they are tiny knots meaning that they're like single knots and that way it looks more natural it blends better with your head and your skin as well so it looks like it is your hair coming out of the scalp.
There's something about the cap that fits my head. I think it's the wig cap they use that is there's something about it that just conforms to my head it's giving me like a very comfortable snug feel.
This is really snug and comfortable so if you want to go swimming you want to go jumping you want to go skydiving you don't have to worry about this falling off your head because this is secure.
My only con to this hair is the way that it is shaped i feel like it's not shaped to flatter my own Head i might have to cut this front part a little bit.
I am always so excited to recommend to you guys to try out if you are a beginner if you are a mom if you want minimum efforts with maximum results this one is definitely something you should consider and i feel like this is a new revolution.
ISEE M-cap 9*6 wear go wig and how
ARIE BRIANNA

feels about wearing it

Perhaps you'd like to learn more about the details of our M-cap 9*6 wear go wig through the ARIE BRIANNA video. Will you have the same wearing experience? Let's have a look how ARIE BRIANNA say about m-cap 9*6 wear go wig.

This hair is so freaking silky. I really literally didn't have to do nothing when it came out the pack. Y'all the plug-in on this wig.

This wig is ultra secure job which means they have removable combs inside also like l said the band is really tight. Of course you can adjust it.

The lace you have so much space to do whatever you want whatever type of part you want.

This wig it has like an ear shape, you guys know literally shaped right around my ear perfectly.

This is the flattest wig I've ever had, it lays flat straight out the package. I didn't have to put no wax stick. All l did was run my hot comb through it.

This is a new type of wig and l don't think I've ever had a wig like this.
Final words
The detail words of our YouTube celebrity partners have brought ISEE M-cap wear go wig to life. Their reviews and endorsements indicate that our M-cap wear go wig have different features that meet the needs of different people. We encourage you to explore ISEE M-cap wear go wig for yourself. Get ready to experience beauty, comfort, and convenience like never before!
You might want to check these posts:
How To Put On a Pre-Bleached Tiny Knots Wear&Go Wig?
ISEE M-Cap Wear Go Wig-Why You Must Try