The ISEE M-Cap Wear Go Wig is a revolutionary hairpiece that offers convenience and style like never before. But what exactly does the term "M-Cap Wear Go Wig" mean? Let's dive into the key features of this innovative wig and explore why you should give it a try.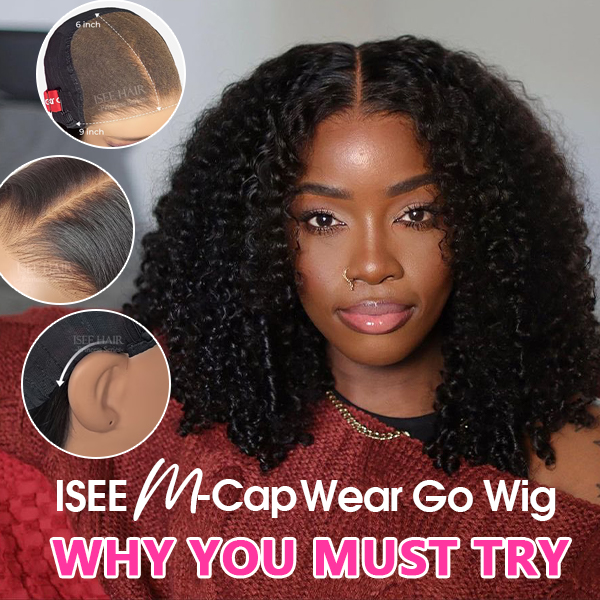 What Does ISEE M-Cap Wear Go Wig Mean?
The term " M-Cap 9*6 Wear Go Wig " refers to a new generation of " Wear Go " or " glueless " lace wigs created by ISEE. In the name, "M-cap" signifies that this wig has a larger lace area compared to our traditional " Wear Go " wigs.
But what's the maximum area of lace we can achieve that won't affect the stability of a glueless lace wig? After numerous attempts, we've found that a lace size of 9*6 inches is the ideal choice to maintain stability while allowing for greater hairstyle flexibility. We've successfully struck a balance between stability and a more natural hairline!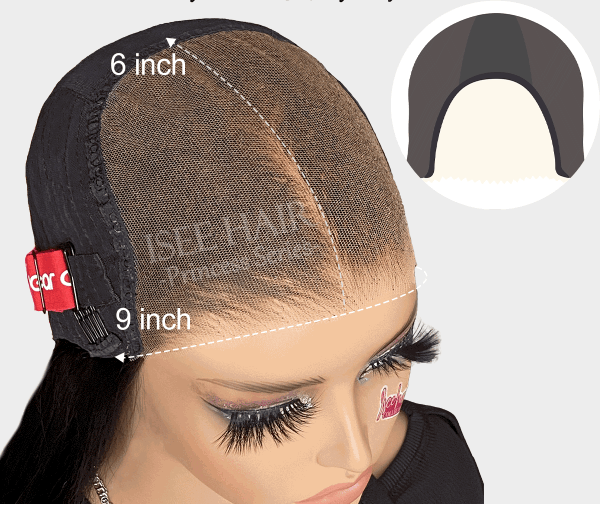 Key Features Of a M-Cap 9*6 Wear Go Wig
Want to know more about ISEE M-Cap 9*6 Wear Go wig? Now, let's delve into some key features that make this kind of glueless lace wig truly exceptional:
-Maximum Lace Size
The Max 9x6 Large Lace Size of the M-Cap 9*6 Wear Go Wig isn't just about space; it's about the creative freedom it offers. With this expansive lace coverage, you're not limited to a single look. In fact, you get a lot of styling options, each contributing to a distinct look. Whether it's a chic deep-middle part, a playful side-swept look, or the timeless half up half down ponytail. But what truly elevates the experience is the authenticity it brings to these styles. The extensive lace area creates an ultra-realistic appearance,making your chosen style look genuinely your own.
-Minimal Knots
Thanks to the advanced pre-bleached tiny knots technology, from 2-3 strands per grid to single strand single grid, the knots in this wig are nearly imperceptible. These tiny knots are individually placed with precision, aligning perfectly with the natural grid of single strands. The result is an almost invisible appearance, even in back camera or intimacy distance, ensuring every detail is as true as your own scalp. Say goodbye to the telltale signs of traditional wigs.
-Match Ear Shape
The M-Cap 9*6 Wear Go wig incorporates a thoughtful C-shaped design, perfectly conforming to the contours of your ears, so you no longer need to worry about the wig cap pressing against your ears. This means you can wear it comfortably for extended periods without any discomfort.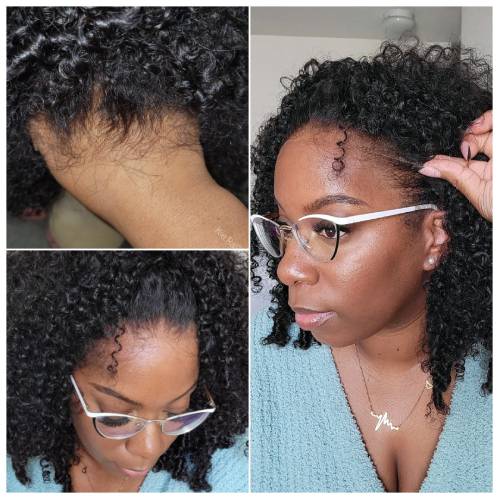 What's more, this design was inspired by Kie! You can even wear your glasses while wearing this wig, and it remains comfortable. This unique feature allows you to comfortably pair your favorite glasses with the wig.
-Movable Combs
The M-Cap 9*6 Wear Go Wig are stable for daily wear without any combs. But considering special occasions that may demand stronger wig stability, we've equipped with removable combs, ensuring a 100% secure fit, no need to worry about your wig shifting out of place during active moments or under the bright lights of a special event.
-Mimic Forehead Contour
The M-Cap 9*6 Wear Go wig features a unique fitted cap design that the lace curvature perfectly fits the forehead without any gaps or rolling edges. It mimics the natural contour of the forehead, delivering a truly " glueless wearing " experience that provides a realistic and comfortable appearance.
-Mark of Authenticity
After the success of our Wear Go wigs, the market has seen an influx of so-called "Wear Go wigs." While we welcome others to draw inspiration from our designs, we strongly oppose the use of the Wear Go name to deceive consumers with low-quality products. Therefore, we've introduced this anti-fake label to ensure that you're purchasing a genuine ISEE Wear Go product, providing assurance of the quality and authenticity of our products.
Who Does a M-Cap 9*6 Wear Go Wig Work Best For?
Indeed, the M-Cap 9*6 Wear Go Wig caters to a diverse range of individuals, making it an ideal choice for: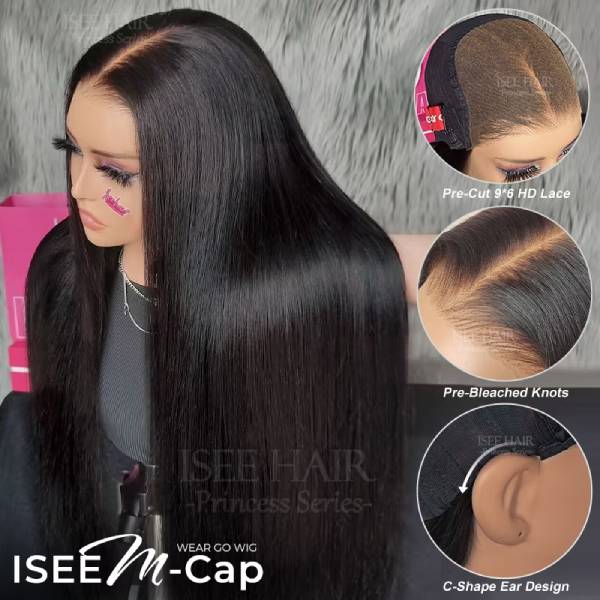 Anyone Seeking a Truly Realistic Appearance: With its larger lace area, tiny knots, and the ability to mimic the contour of the forehead, this wig delivers an unparalleled level of authenticity. The larger lace area ensures a more realistic natural hairline, while the intricately crafted tiny knots create an illusion of natural hair growth. Additionally, the ability to mimic the forehead contour provides a natural, undetectable finish.
Busy Lifestyle: Our new product - M-Cap 9*6 Wear Go Wig - is the perfect solution for those with busy schedules who don't have much time and energy to devote to wearing or styling a wig, allowing you to achieve maximum results with minimum effort. The low-maintenance, effortless and ready-to-wear design provides a time-saving way to look your best, whether it's a quick change of hairstyle for work, special occasions or everyday convenience.
Beginners: Take lace wigs as an example, this kind of wig requires complicated installation techniques and may not be very friendly to newcomers. Newbie wig wearers often lack practical wig wearing knowledge, and it's simple to destroy a freshly acquired wig or wear one in an uncomfortable or unnatural way.
ISEE M-Cap 9*6 Wear Go Wigs, on the other hand, eliminate this concern as we have done everything for you, it is fully designed, ready-to-wear, and low maintenance requires minimal expertise, you can wear the wig as soon as it arrives without any worries, it ensures that beginners can confidently create a fashionable but natural look without the need to spend a lot of time like a lace wig!
Glasses Wearers: The C-shaped comfort design that perfectly matches the curve of the ear is a great feature of our M-cap 9*6 wear go wigs, especially for eyeglass wearers. This innovative design ensures that eyeglass wearers can enjoy both comfort and style for a long, painless period of time without any compromise.
Special Occasions: A satisfying glueless lace wig should not only meet the requirements of everyday wear but also provide additional security for other special occasions. Our M-cap wig, with its updated movable combs design, offers that extra level of safety and adaptability for outdoor activities, ensuring you can look your best whether you're on the move or attending formal events.
Fashion Enthusiasts: Our M-cap 9×6 wear go wig is an ideal choice for fashion enthusiasts. It allows for easy, quick and versatile hairstyle changes, as with larger lace space, enabling fashion enthusiasts to effortlessly adapt their hairstyle to match their outfits and style preferences.
Additional, the wig provides a more realistic and natural appearance, which is essential for fashion-conscious individuals who want to achieve a high-quality, polished look.
What's more, the comfortable design ensures that it can be worn for extended periods during fashion events, photo shoots, or other style-related activities without discomfort.
How To Wear A M-Cap 9×6 Wear Go Wig
Wearing the M-Cap 9x6 Wear Go Wig is a relatively simple and time-saving process. You can achieve a perfect fit in as little as 3 seconds, making it an effortless choice for your daily routine. However, there are some essential guidelines to follow to ensure the best results. If you want to know more, we recommend referring to our another blog post"How to Put On a Pre-Bleached Tiny Knots Wear-Go Wig". This article provides detailed instructions and tips, from preparation to adjustment, to make your wig-wearing experience even more authentic and satisfying.
Final Words
In conclusion, if you're looking for a hassle-free wig that combines style with ease of use, look no further than the ISEE M-Cap Wear Go Wig. Its unique design, versatility, and affordability make it an excellent choice for anyone seeking to enhance their hair game. Give it a try and experience the difference for yourself!
You might want to check these posts:
Unlocking the Secrets of Tiny Knots Wig Care: A Comprehensive Guide
What Is a Glueless Lace Wig?