There're many types of wigs on the wig market. Among the various types of wigs available, glueless lace wigs have gained immense popularity in recent years due to their convenience and natural appearance. In this blog, we'll explore what a glueless lace wig is, its features, and other relevant content to help you make a better choice of a glueless lace wig.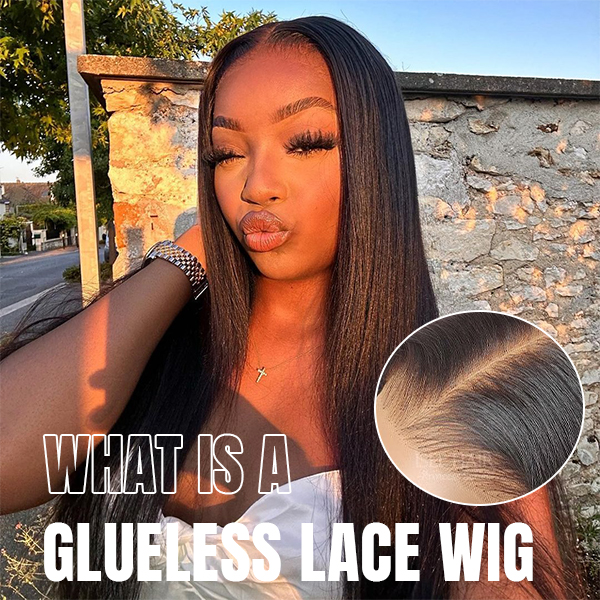 What Are Glueless Lace Wigs?
You can also call it wear&go wig or wear&go glueless wig. Glueless lace wigs are a type of wig that is designed to be worn without any adhesive or glue. The wig is constructed with a lace cap that features adjustable straps and combs, allowing for a secure and comfortable fit. The hair strands on the wig are individually hand-tied to the lace, creating a natural-looking hairline and allowing for versatile styling options.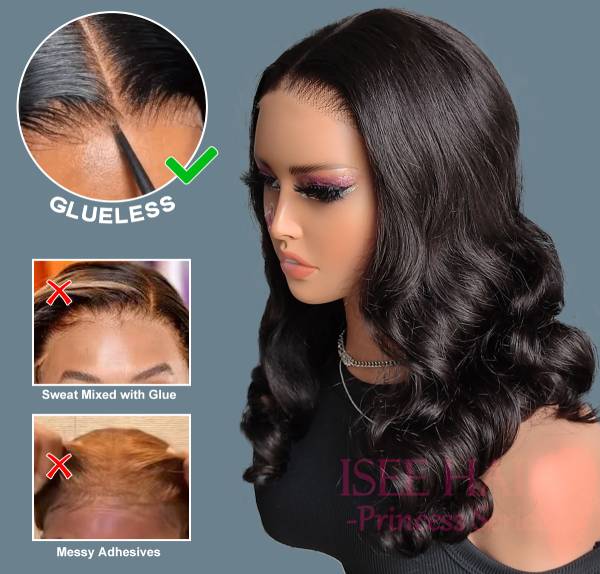 One of the key advantages of glueless lace wigs is that they can be easily and quickly applied without the need for any adhesive products. This makes them a popular choice for those who prefer a temporary and non-damaging solution for their hair.
Key Features Of a Glueless Lace Wig
No adhesive needed: Unlike traditional wigs that often require the use of adhesives such as wig glue or tape to secure them in place, glueless lace wigs come with built-in features that eliminate the need for adhesives. This means you can wear the wig without the discomfort or mess associated with glues.
Easy to remove and install: Absolutely, the ease of removal and installation is a significant advantage of glueless lace wigs, offering time-saving and convenience.
Unique cap construction: The cap construction of a glueless wig not only allows for fresh air circulation but a customizable fit, ensuring that the wig stays securely and comfortably in place throughout the day.
Protect natural hair: Glueless lace wigs protect natural hair by eliminating the need for adhesive, reducing tension and stress on your hair, allowing your scalp and hair to breathe, and providing a protective barrier against external elements, such as sunlight exposure, heat, and pollutants.
Key Reasons To Choose

ISEE

Glueless Lace Wigs Over Other Brands
-upgraded tiny knots
ISEE glueless lace wigs apply advanced pre-bleached knots technology. The knots are smaller and mimic the natural growth of hair from the scalp.
-lace lays flat-no rolled edges, snug
What does "glueless wear" actually mean? The answer is that the front lace does not curl around the edges and has no seams to naturally fit the scalp. This is a crucial and easily overlooked point, "glueless wear" also should ensure that the wig is worn as realistic and unnoticeable as possible.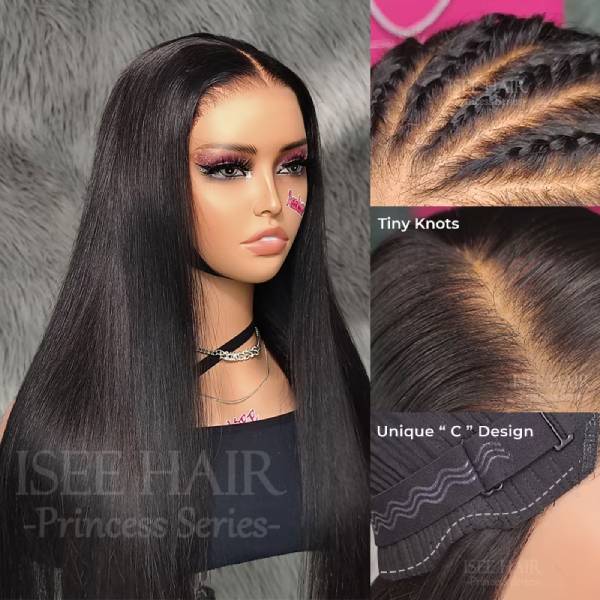 -high-quality lace-match all skin tone
This is an essential feature of ISEE glueless lace wigs, the lace used in the wig is of superior quality(transparent or HD) and can blend seamlessly with a wide range of skin tones. There's no need foe you to use concealer or foundation to cover up the lace at all!
-clean and neat zigzag lace
When the wig out of the packages no extra work, the lace along the front edge of the wig is cut in a even and clean pattern. We trimmed lace neatly and with attention to detail, leaving no frayed edges. A clean and even zigzag hairline lace cutting enhances the overall natural appearance of a glueless lace wig.
-upgraded anti-slip elastic band
The most concerning aspect of glueless lace wigs is their firmness and stability. The double elasticity band is used in our glueless lace wig 3D domb cap.Furthermore, the new updated glueless lace wig V5 includes a broader elasticity band as well as Silion anti-slip feasure for the optimum fit.
-ear-shaped unique "C" design
It is designed to fit the form of the ear, making it comfortable to wear for extended periods of time without causing pain in the ear area.
The Differences Between a Lace Front Wig And Glueless Lace Wig?
When choosing a glueless lace wig, it is important to understand the differences between a lace front wig and a glueless lace wig to make an informed decision.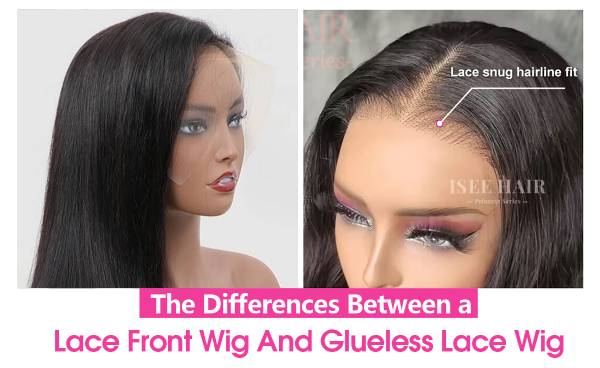 Attachment method:The most significant difference lies in the attachment method. Glueless lace wigs do not require adhesive, while lace front wigs may need it for a secure fit.
Ease of application: Glueless lace wigs are easier and quicker to apply and remove, making them a convenient choice. Comfort and breathability: Glueless lace wigs are also known for their breathability, as the lace cap allows for proper air circulation to the scalp, preventing discomfort and potential scalp issues.
Versatility: Both wig types offer styling versatility, but glueless lace wigs have an edge in terms of easy styling and change.
Can a Glueless Lace Wig Be Installed Using Glue?
While glueless lace wigs do not require adhesive, some individuals may still consider using glue. However, it's not recommended, as it can cause damage to the wig or compromise the comfort and breathability offered by glueless wigs. The whole idea behind glueless lace wigs is to provide a hassle-free, adhesive-free experience.
How Do You Install a Glueless Lace Wig?
Installing a glueless lace wig is a simple and convenient process. Let's watch the video below to see the miracle of wearing a glueless lace wig in 3 seconds.
Where To Buy The Genuine Quality Glueless Lace Wig?
Glueless lace wigs are an excellent choice for those seeking a convenient and natural-looking wig option. They offer the benefits of natural hairlines, easy application, and protection for your natural hair. ISEE glueless lace wigs, in particular, with their unique features, offer high-quality construction and a wide range of options to suit different styles and preferences. Discover the convenience and natural beauty of glueless lace wigs with ISEE.
Browse our wide selection of high-quality human hair wigs and find your perfect match today.
You might want to check these posts:
Mesh Dome Wig Cap vs Ventilated Wig Cap
Swiss Lace Vs. Hd Lace Vs. Transparent Lace