Headband wigs have become increasingly popular, thanks to their versatility and convenience. They are perfect for those who want a quick and easy hairstyle change without the commitment of a full lace wig. However, like any other hairpiece, headband wigs require proper maintenance to ensure their longevity and maintain their quality. In this blog, we will guide you step by step about how to wash a headband wig.
What Is a Headband Wig?
The headband wig attaches to the headband and includes built-in combs to help hold it in place. This type of wig often comes with other headbands that can be swapped out to suit the look. The headband wig can be slid around the head and attached by using combs and magic velcro on the back of the wig cap. No hair glue is needed to secure the wig. By adjusting the headband, you can style your wig exactly how you want. Perfect for those who don't want to damage their hairline and scalp.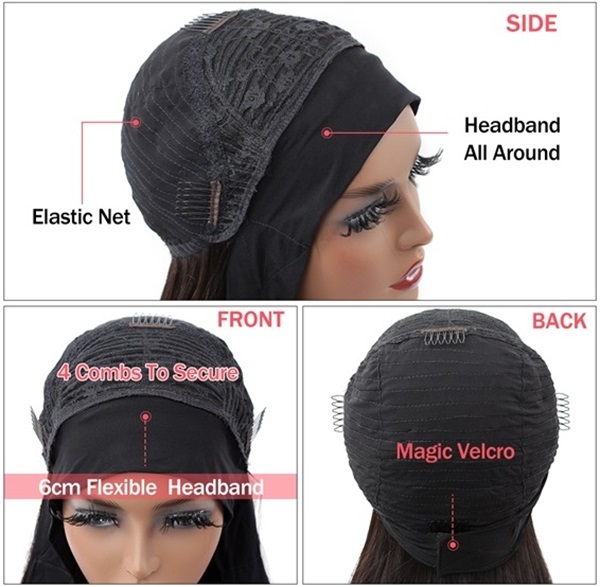 The Pros of Headband Wigs
Versatile style
With headscarves, you can create looks for different occasions. The color of the headscarf can be freely selected to match the clothes. And you can design different hairstyles, such as two buns, half up half down, and high ponytail.
Convenient
Headband wigs are also known as put on&go wig because it is easy to apply. Conventional lace front wigs usually need the process of bleaching knots, plucking hairline, and cutting lace before applying, however, headband wigs don't. They are convenient and friendly for beginners.
Natural look
Isee headband wigs are made of human hair which creates a natural appearance. The headband can perfectly cover your natural hairline. You can choose to cover or expose your natural hairline according to your preference.
Protective
Headband wigs can protect your natural hairline. You do not need of glue or any type of adhesive to attach the wig. Just need to use the headband and combs inside the caps to hold the wig in place. Besides, it is cheaper than a glueless wig, it has a high cost-effective.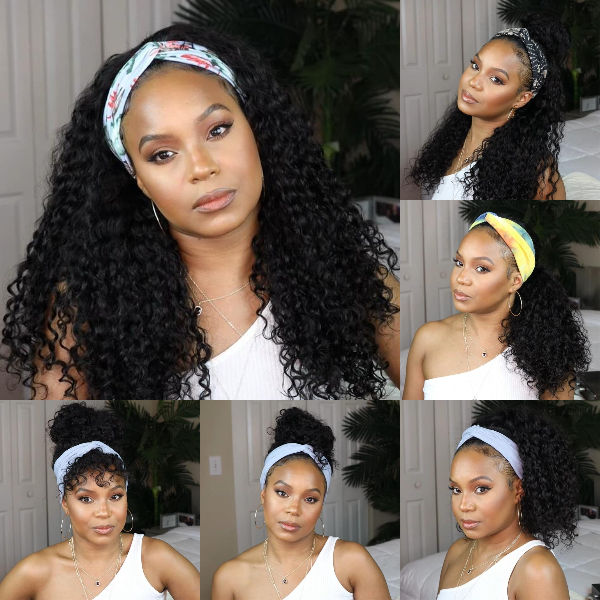 How to Wash a Headband Wig
It's important to wash a headband wig before wearing it to ensure it is clean and free of any chemical or product residue. It's also recommended to wash it after every few wears or as needed. To wash a headband wig, follow these steps.
Preparation: Before you start washing your headband wig, you should ensure that it is thoroughly detangled. Using a wide-tooth comb, gently comb through the wig, starting from the ends and working your way up to the roots. Be careful not to pull too hard as this can damage the hair strands.
Step 1: Fill a bucket or sink with lukewarm water. This can see the color of the water cleaner and it helps you to know how many washes have to continue to do. It is hard to gauge the water if it is constantly going down the drain. Add a small amount of shampoo to the water and mix it in. Swirl the water to create suds.
Step 2: Put the wig into the water and gently swish it around to distribute the shampoo. Use a denim brush (or any other soft-bristled brush) to gently brush the wig in the direction of the curls or waves. Avoid rubbing or agitating the hair as this can cause tangles and matting. Rinse the wig with lukewarm water thoroughly until there is no more shampoo left.
Step 3: Apply conditioner to the wig and leave it on for 5-10 minutes (depending on the condition of the wig). Avoid getting the conditioner on the headband as this can cause it to slip when you wear it. Use a wide-tooth comb to distribute the conditioner through the strands, starting from the ends and working your way up to the roots. Rinse the wig with lukewarm water again until all of the conditioners are gone.
Step 4: After rinsing, gently squeeze excess water out of the wig(do not twist or wring it). Apply a leave-in conditioner to the hair and place the headband wig on a wig stand or mannequin head and let it dry naturally. Avoid direct sunlight and dry the wig in a well-ventilated area.
Tips: If you haven't been wearing it a whole bunch and you don't need to get the headband wet and wash it. If you have been wearing it a lot, you gotta wash the part too. Be careful not to stretch it out.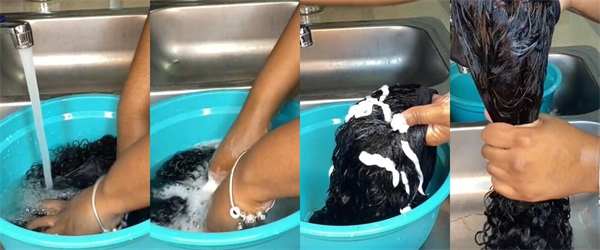 How to Install a Headband Wig
1. Brush your hair backward to prevent lumps or bumps from showing through the wig.
2. Put the wig cap on your head and align it with your natural hairline.
3. Place the headband wig over the wig cap and adjust it so that it sits comfortably on your head.
4. If the wig has combs, slide them underneath the wig cap and into your natural hair for added security. Adjust the headband to fit comfortably on your head and ensure that it covers the wig cap and all-natural hair.
5. Style the wig as desired, either with your fingers or with a styling tool. If needed, use a scarf or head wrap to further secure the wig and add some extra style to your look.
How to Care For Headband Wigs
Proper maintenance plays an important role on prolong the lifespan of a headband human hair wig.
1. Wash your wig regularly and keep it smooth and with no tangles. Choose a mild shampoo formulated only for wigs. Avoid using products that contain sulfate.
2. Store your headband wig on a wig stand that can prevent the wig from transforming. The wig stand helps maintain its shape and avoid making knots. Store it in a dry place, away from sunlight. The UV ray of sunlight is harmful to human hair.
3. Take off your headband wig before sleeping. The friction between your pillow and wig hair may cause your hair to frizzle and be coiled. Headband wigs are easy to remove which can both protect your scalp and save your effort.
4. If your wig looks dull and lacks luster, you need to add some moisture. Since the wig is human hair, spraying it with water and using a light oil such as tea tree or rose oil will restore the wig's shine and give it a healthy look.
3 Hottest Headband Wigs
ISEE HAIR Straight Human Hair Headband Wig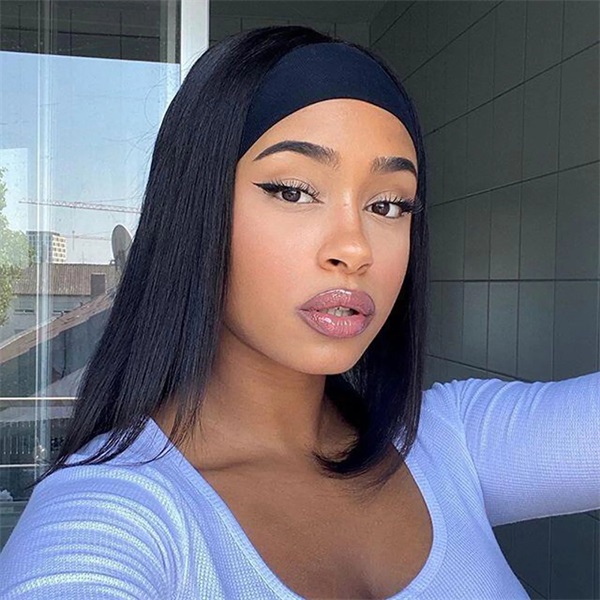 ISEE HAIR Kinky Curly Headband Wig Glueless Wig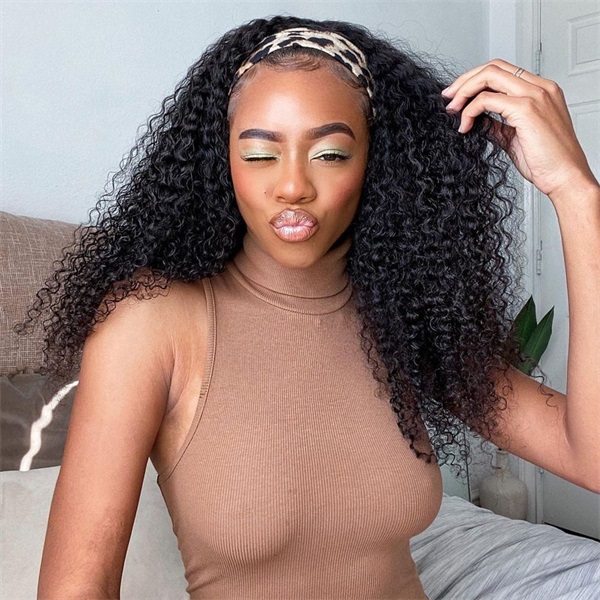 ISEE HAIR Water Wave Headband Wig Human Hair Glueless Wig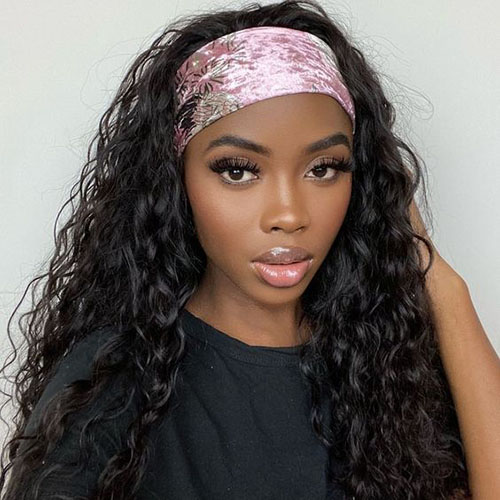 Final Word
In conclusion, taking care of your headband wig is essential to ensure its longevity and maintain its quality. Regular cleaning and conditioning can go a long way in keeping your wig looking fresh and beautiful. With this step-by-step guide, you can easily clean and maintain your headband wig without the fear of damaging it. So, next time you need to wash your headband wig, follow these simple steps, and you'll have a clean, healthy-looking wig in no time!