The "ISEE Hair" brand is a famous global online wig supplier known for its high-quality human hair, and many beauty V-logger on Instagram and Youtuber have posted photos of themselves wearing an ISEE Hair wig. If you've been thinking about trying out an ISEE Hair wig, we have a detailed review right here. Keep reading to find out more customer reviews for ISEE Hair.
ISEE human hair wigs are made of 100% virgin hair. This means they can be dyed, bleached, no tangle, no shed. Their human hair wigs are available in a variety of styles, lengths, densities, textures, and colors. They have ISEE princess collection and ISEE crown collection for trendy human hair wigs. ISEE Hair online store most popular wigs: M-cap 9*6 wig, wear go wig V5, HD lace wig, bleached knots wig, colorful wig, headband wig, lace closure and frontal wig with prices ranging from $100 to $500.
Real Customers Reviews For ISEE Hair Wigs
Review from J*****. :"This is the best hair I have ever bought, it's 24 inches and true to length. The M cap is seriously perfect. A few personal touches and I wanna wear it all day every day now lol. If you're thinking about buying it just buy it forreal. Had a rough time with my first order but customer service (Jessie and Kate) took care of it as fast as they could! They really care about the customers."
Review from B*****. :"GET THIS WIG! My honest review, and I paid for it myself. PROS: The hair was delivered in 4 days, so super fast shipping. It is really soft, no bad smell, and true to it's length. I ordered a 20 inch and it's perfect. It actually seems longer. It fits my head perfectly (I gotta big head lol). It comes with extra clips and band to help the wig stay in place. I could do 100 backflips and it will not fall off! Love that it's 9x6 so it gives a frontal feel but you don't have to glue anything down. I just love it! CONS: When I opened it and brushed it there was a little shedding but I'm okay with that."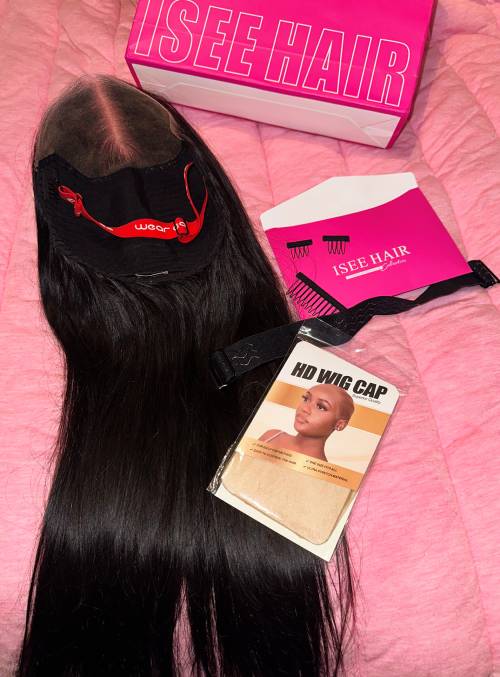 ISEE hair has a wide selection of Brazilian, Peruvian, Indian, and Malaysian hair bundles in a variety of textures. Furthermore, the hair bundles can come in a variety of hues. They offer 10A grade human virgin hair bundles and 14A grade human virgin hair bundles online. Price range from $50 and $700.
Real Customer Reviews For ISEE Hair Bundles
Review from Lurdes:"I've purchased hair from Isee hair twice before. I've always sought out the most gorgeous, natural hair, and after much seeking, I've finally discovered it here. Even when it was 20' inches long, everyone always assumed it was really my hair; now that it is 14' inches, nobody will question whether it is indeed my hair. I received three bundles measuring 14 inches, together with eyelashes, adorable nails, a wig cap, a gorgeous hair tie, a headband, an eyelash comb, and an eyebrow brush.Thanks for the Isee Hair.
Review from leeluxe02:"I recently completed purchasing another set of bundles, so I thought, "WHY NOT?" I bought these bundles for a sew-in for my high school senior pictures even though I'm still quite new to getting into hair and other things. The hair's quality was AMAZING. My hairdresser only used three of the four bundles because the curls lasted so long, but it still had a great, full look, and I don't recall any shedding problems. Considering that it was my first sew-in, it was simple to maintain, and I recently got some more!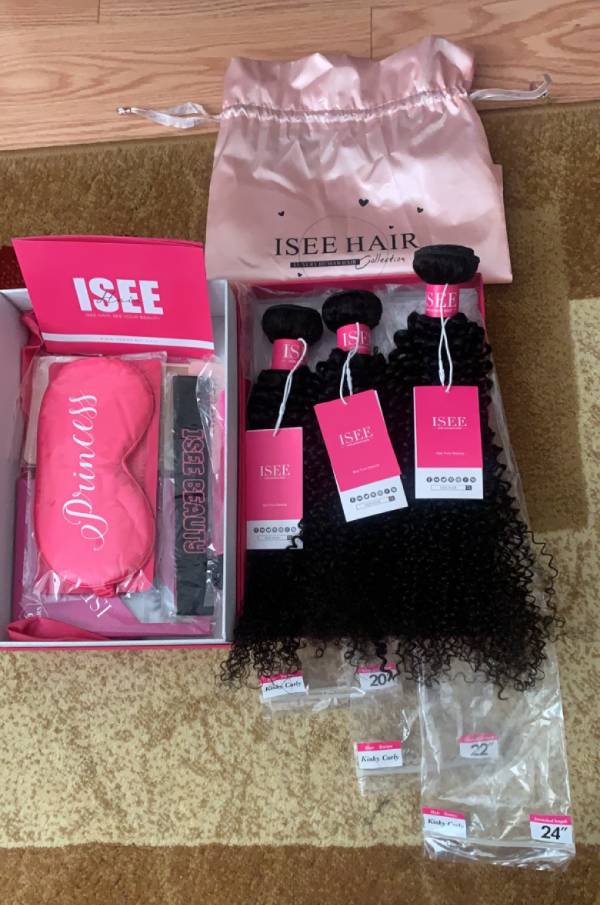 ISEE Hair Color Review
Colored hair is also becoming increasingly trendy. One of the best things about ISEE Hair brand is that they provide on-trend colored wigs. Skunk stripe wig, highlight wig, burgundy wig, blonde wig, brown wig, all trendy colorful hair wigs are available.
Review from MsChele:"I've always ordered hair on this site, but this is my first time ordering 613. It is quite soft, doesn't smell strange, and includes all the free things that they provide. I'll defiantly place more orders for colored hair.
Review from Sab:"I'm completely smitten with the wig, I got it for my birthday! It looks exactly just like the image, and the hair is quite soft. They responded quickly to my emails when I had any questions. & responded to any queries I had. I'll be purchasing the rest of my wigs from this site."
ISEE Hair Quality Review
ISEE is a global hair brand well-known for producing high-quality wigs and hair bundles. They offer top grade 10A and 14A human virgin hair, high-quality wigs that will last for more than a year if properly cared for. Melted undetectable lace design, most-trendy hairstyle and wig color, no shed, no tangle, best hair products you can get.
ISEE Hair Shipping Review
ISEE will supply your weave or wig in less than five working days. This rapid delivery is one of the factors that has made the Isee hair brand popular not only in the United States but all across the world. Furthermore, they provide free shipping to customers in the United States and the United Kingdom, so if you live in these countries, you won't have to worry about shipping costs. Isee uses shipping options such as FedEx, DHL, UPS, and others to ensure timely delivery.
Third-party Reviews On Trustpilot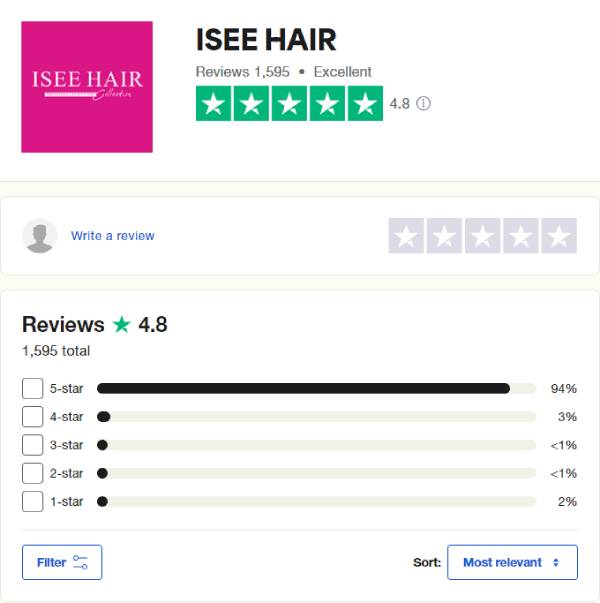 Review from Bello Adekemi: "First and foremost, the quality of the hair I received is exceptional. The texture is luxurious, the color is vibrant and true to the description. It's evident that your team takes pride in delivering hair extensions of the highest standard.
Equally impressive was the speed at which my order was processed and delivered. from the moment I placed the order to the swift arrival of the package at my doorstep.
I want to extend my gratitude to your entire team for their dedication to excellence.
I look forward to future transactions with your company and will not hesitate to recommend your services to friends and colleagues in search of premium quality, affordable and exceptional service.
Thank you once again for providing a positive and memorable shopping experience."
More Trustpilot actual consumer reviews may be seen here.
Reviews Of ISEE Hair On YouTube
You can find numerous ISEE Hair reviews on YouTube. These videos showcase different types of wigs from ISEE Hair, with YouTubers sharing their authentic experiences of wearing them in these posted videos.
You might want to check these posts:
What they say about ISEE M-cap 9*6 wear go wig?
ISEE M-Cap Wear Go Wig-Why You Must Try