The popularity of wear go glueless wigs can be credited to its 3 seconds super quick installation and realistic appearance. Well pre-cut hd lace, well pre-plucked, 100% glueless install, this game changer wig - wearing effortless for beginners while creating refined and flawless looks.

Wear Go Wig History
The Invention of Wear Go Wig
ISEE Hair is the first to introduce the conception of wear & go wigs. Since then, wear go wigs frenzy sweeping the whole wig industry.
In early 2022, we introduced the groundbreaking concept of the ISEE wear go wig, featuring pre-cut lace and pre-plucked hairline. Before, there are no pre-cut lace wig and no real throw on and go lace wigs.
After its successful debut, our innovation has sparked a wave of imitation from various competitors in the industry.
Upgrade Pre-bleached Knots Wear Go Wig
ISEE HAIR continuesly creating and designing more easy to style and more natural wigs products. In 2023, Isee upgrade its pre-cut wear and go wigs and introduced new pre-bleached knots wear go wig and completed an expanded color range, meeting the diverse demands of our customers.
Standard Wear Go Wig Features

When designing wear go wig, to provide maximum comforts and convenience during wig installation, we have listed all the component that we can work best for the perfect wig.
1. Zigzag Pre-cut HD Lace
The zigzag pre-cut lace is better than a straight cut. Zigzag cut further enhances the softness of the lace, it helps to seamlessly blend the wig with the wearer's natural hairline, providing a more natural look. It eliminates the need for the wearer to trim the lace themselves, saving time and effort. Avoid the damaging of wrong cut.

2. Very Natural Pre-plucked hairline
Isee wear go wig are hand plucked one by one by our professional hairstylists, implementing a gradual transition from the hairline to the back of lace, this helps achieve a more natural hairline.
Plus, the hairline and wig parting area are well pre-styled by our hairstylist. The hair at front are well flat and backwards, and you also have a flat and clear parting.

3. Breathable And Fitted Base Cap
High breathability: apply hd lace front and 3d dome cap. The 3d dome cap is much better compared with regular base cap. The airy lace front and ventilation holes throughout the dome cap makes the base cap in high breathability and very comfortable to wear.
Fitted base cap: anatomic arc lace design for no flip and tilt up on hairline. 3D dome cap conforms to the head shape, ensure a smooth, snug and secure fit.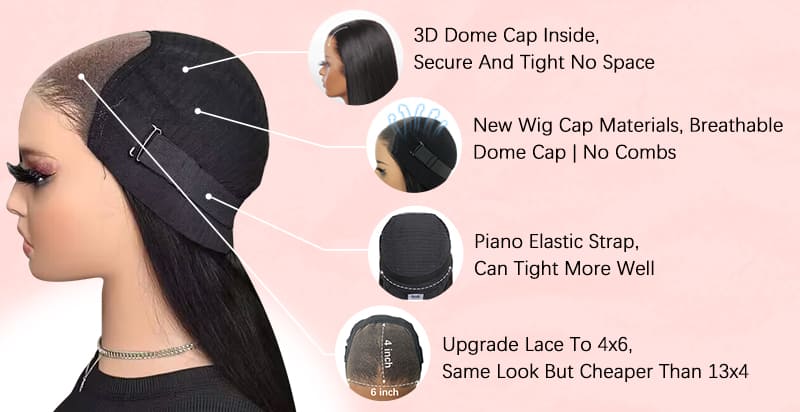 Piano keys wide elastic band: Stretchable wide elastic bands to provide additional support and stability, the band can be adjustable to accommodate different head sizes. Piano keys and adjustable straps on both sides of dome cap, helps you to adjust the wig more even and comfortable to wear.
No combs needed: combs will cause friction to natural hair, and unfriendly to allergic scalp and bald head. With our fitted base cap, the wig is super secure and no need for combs. But if you have needs, we have combs comes along with your wear go wig as gift, you can sew-in the combs to your wear go wig.
4. Upgrade Hd Lace Area
Apply hd lace base for more invisible and seamless wig look. With our upgrade 4x6 inch lace area, customers can get a frontal wig look, larger lace hairline, more flexibility and style possibility. Big lace front 13x4 wear go wig also available for you.

5. Upgrade Pre-bleached
Bleaching knots is necessory for more natural and realistic appearance. To fade the black knots on lace wig, our wig stylist apply advanced bleaching technique, and carefully bleached out the unnatural knots on wig. Save your time and avoid damaging from wrong bleaching process with our pre-bleached knots wear go wig.

6. 100% Glueless Install
The wear go wig is real 100% glueless to intall. With zigzag lace cut, and fitted and secure base cap, there are no tilt up, no baggy, the wig is super secure and fitted when wearing, you do not need any glue, or tape to install the wig.

7. 30s Install Wear and Go
All styling process are well done by our professional stylists, you can just wear it in seconds and go. No extra work needed, super easy and convenient to wear. Super secure and realistic.