Are you looking for an affordable and also convenient wig?
Summer hot season really needs a wig that can keep you cool and also very easy to put on & take off.
ISEE Hair launched the V part Wig on our website, being the upgraded U shape Wig, There are two versions of V Part Wig for now.
We improved its process and details but with lower price and better quality. Made with Swiss lace and 100% human hair, which is a natural look but also affordable price. It's not as Lace Front Wig which has high value because of the handicraft fee.
How we can make the wig fits our hair better is always the big problem for V-part wigs. One of our customers gave us inspiration for it. Instead of the conventional way to install it, she left some hair on the outer edge of the cap and spray it black to close the color. Inspired by this, we used black lace in the original lace area of the closure wig to increase concealment.
Why Choose V Part Wig?
Here below is the differences between V part wig with other types of wig, this may help you in choosing the best type of wig whenever you need.
1. V Part Wig VS U Part Wig: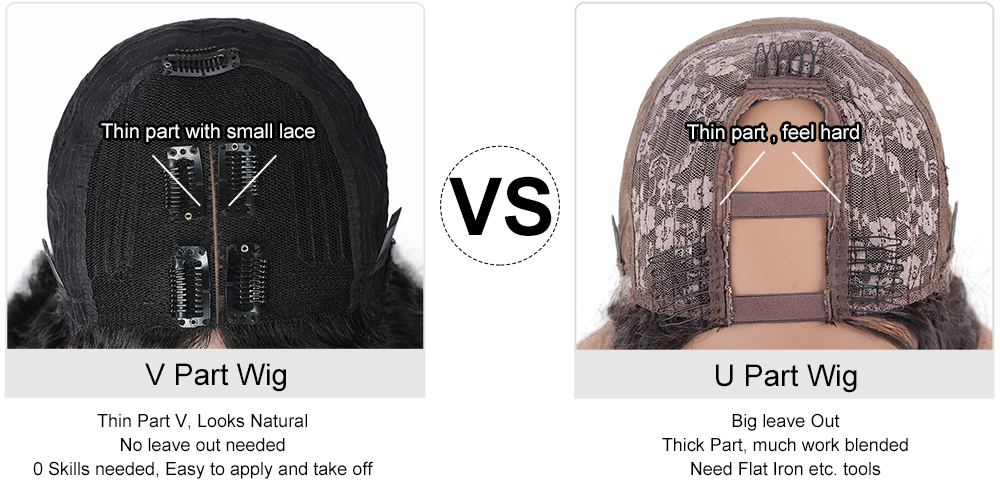 V part wigs have a smaller opening at the top, so there's less leave out or even no leave out install method which is more friendly to those who with less hair on the top of the head or who can't blend well with their natural hair, While U Part also a glueless wig, but needs more work to blend you own natural hair with the wig hair texture, Which is why more people choose V part for a daily look.
2. V Part Wig VS T Part Wig: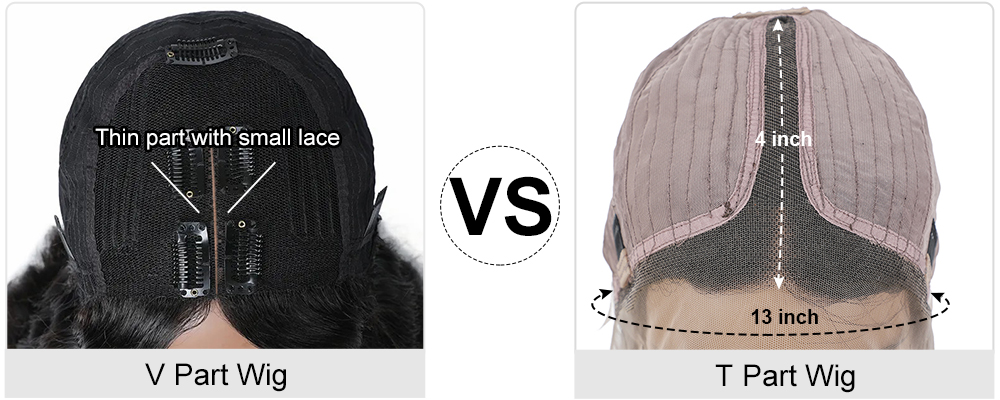 V part wig has greater advantages in wearing convenience and price. V part wigs don't need to be glued and melt the lace which is the hardest part for most of the wig wearers.
V part wigs are also able to protect your own hairline.
3. V Part Wig VS Headband Wig:
Both of them are friendly for a first-time wig wearer. If you have thin hair, especially on the frontal, you are supposed to wear the headband wig. Your hair might unable to cover the opening on the top. But if you have thick hair I sincerely suggest the VPart wig instead. It's able to blend your own hair better and create a natural hairline.
4. Lace Version V Part Wig VS No Lace Version V Part Wig: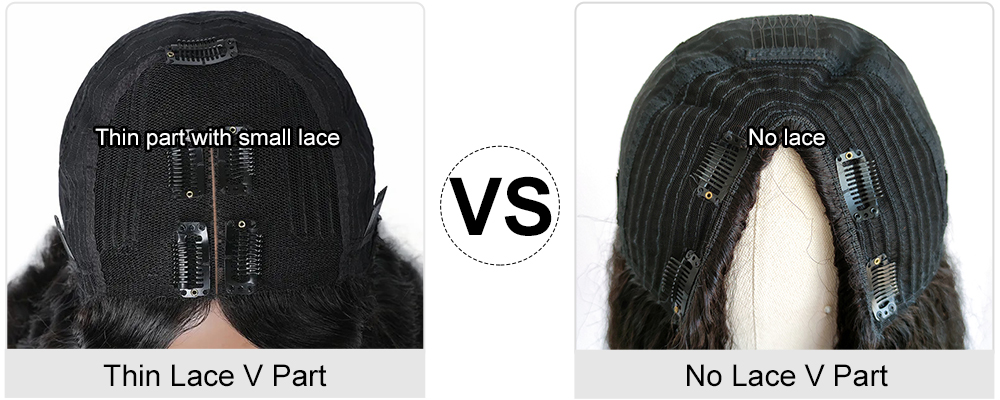 Original Vpart wig has a more natural visual effect, at the same time it takes more time to process and the price is higher. You only need to reserve an appropriate amount of hair at the hair seam and directly cover it on the wig.
For our new arrival, no lace version v part wig, this is fully machine made which means the cost of this wig is much less than the lace version, cost-effective but also gives you the most realistic natural look.
We made some special treatments on both sides of the hair seam and set an extra small interval of about 5mm to better hide the clip. So that the tracks can be completely covered by hair and easy to blend even without any leave-out.
Who needs a V Part wig?
V Part wigs are the best choice for people who wants thick and full hair or who want to change their hairstyle in a simple easy way. Or the customers willing to rest their hair skin in a glueless way. It's very suitable for travel, work, Halloween, celebrities, Christmas, Cosplay, and so on.