Two popular hair textures commonly chosen among black women are kinky straight and yaki straight, because these two textures are most like African-American hair. However, These two hair textures are very similar. Do you want to know how to distinguish them? Today's blog is aimed at helping you better differentiate between them.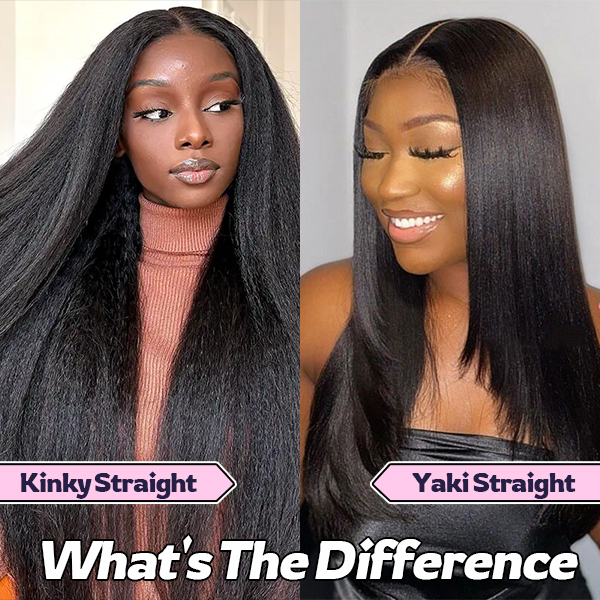 What Is Kinky Straight Hair?
Kinky Straight refers to the straightened state of naturally kinky or coily African American hair after it has been blow-dried. As name applied, the "kinky" in the name indicates that it mimics the tighter spiral texture found in the natural state of African American hair, while "straight" signifies that, overall, it is in a straightened state.
What's more, wig manufacturers often use the kinky straight texture for wigs or hair bundles.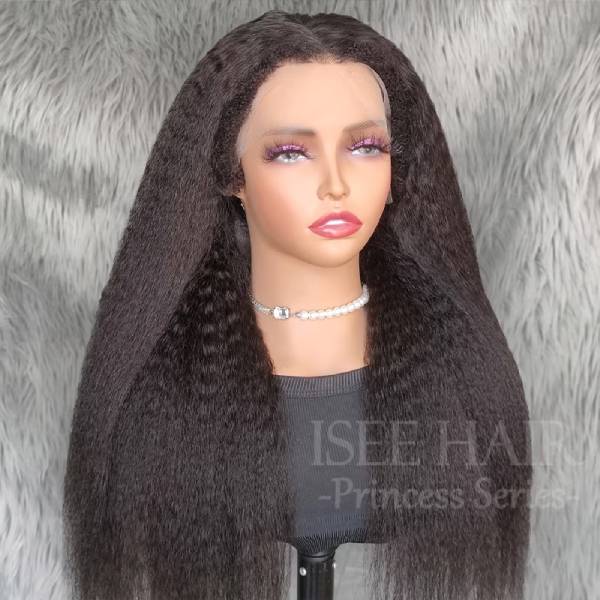 What Is Yaki Straight Hair?
Yaki Straight is the appearance of chemically processed African American hair, achieved by straightening with a flat iron or chemical methods. This hairstyle is typically designed to mimic the natural straightened look of hair, featuring some added texture to simulate a natural straightened state.
All in all, if you look closely, you will still see some texture, but from a distance, it appears quite straight. Therefore, compared to silk straight hair, Yaki Straight has some texture, giving it a more natural-looking appearance.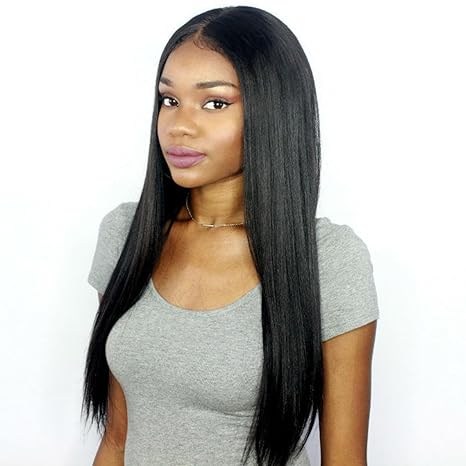 What Are The Difference Between Kinky Straight Wig And Yaki Straight Wig?
Texture
The main differences between kinky straight wigs and yaki straight wigs lie in the type of texture. kinky straight wig tends to have a coarser texture to imitate the natural feel of tightly coiled or kinky hair. yaki straight wig has a texture that is coarser than silky straight hair but may be smoother than the kinky straight texture. It aims to resemble the coarser texture of chemically processed straightened hair.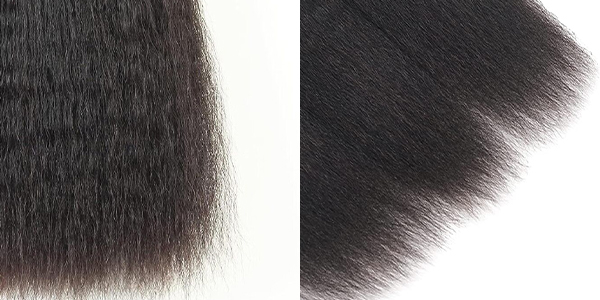 Overal Look
Kinky straight wig maintains a textured look with some kinks. It looks more fuller, thicker, volume and natural. While yaki straight wig is less texture, it looks smoother and offers a look that is closer to natural straight hair. Human hair yaki straight wig comes in various of lengths for you to choose from.
Maintenance
As we said above, a kinky straight wig has more texture. So it can be more prone to tangling and matting, so regular detangling is important. Yaki straight hair wigs often require lower maintenance compared to kinky straight hair. The texture is smoother, which can reduce tangling and make the wig easier to manage.
Production Process
Kinky straight wigs and yaki straight wigs exhibit distinct textures due to undergoing different manufacturing processes. Did you know how to make a kinky straight texture on a wig or hair bundles?
This process can be a little complex, to make a kinky straight wig hold the special curls, in the manufacturing process of Kinky Straight wigs, workers typically need to undergo heating and chemical treatments to achieve the desired texture and appearance. However, the texture of Yaki Straight is achieved solely through chemical processes, without the need for heat treatment.
Kinky Straight Wig Vs Yaki Straight Wig: How To Choose From?
Well, it's really hard to answer. Both these two different hair textures are popular choice among black women. It is all about personal preferences and what look you want to achieve. If you are someone who want a natural and voluminous look that closely resembles your own hair texture, choose a kinky straight wig. If a more straight hairstyle is what you're looking for, you don't want some complicated texture, a human hair yaki straight wig is your lover.
For a human hair wig, both the two different textures of wig can offer you styling versatility. They can be curled, straightened, dyed and more according to daily styling.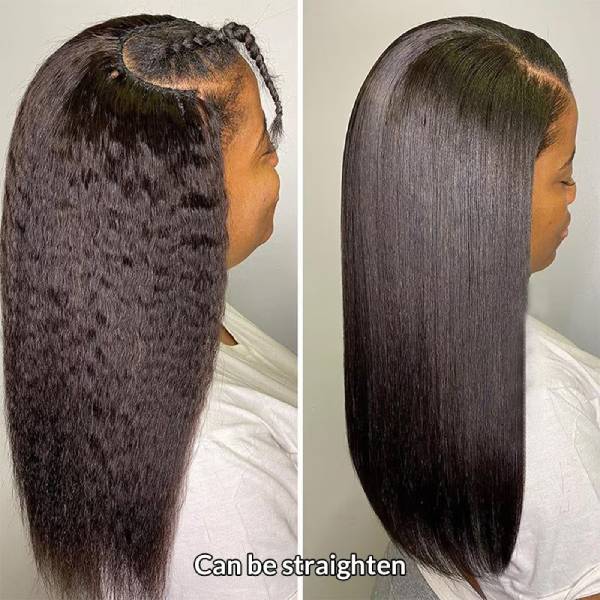 How To Choose Good Quality Kinky Straight Wigs And Yaki Straight Wigs?
Human hair wig can be an investment. But how to know what is a better Kinky straight wig and yaki straight wig? Here we got you covered. Keep reading to get more useful information.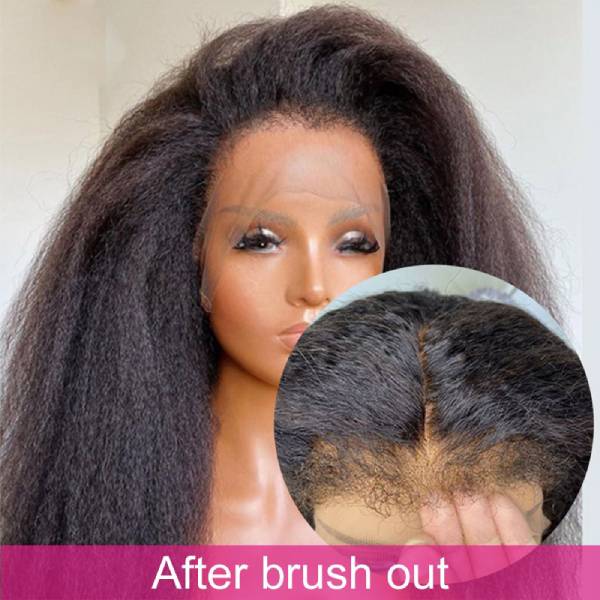 The easiest method is to watch and feel its texture. If you bought your wig online, when you receive the package, place it on a wig head, and then observe its appearance, whether it is your desire look, following have a closer look at its texture, is it a standardized kinky straight or yaki straight textures. Finally, touch it, for a quality human hair wig, whether a kinky straight or yaki straight wigs should be soft to the touch, but at the same time should have a roughness from the texture.
For online shopping, don't forget to peruse reviews from past customers. The customer reviews of the units you are going to buy is really useful. From these reviews, you can get information on the quality, density, color and more of the kinky straight wig or yaki straight wig.
Final Words
If you are wavering between Kinky Straight and Yaki Straight wigs or hair bundles and finding it hard to decide, then hopefully the content of this blog today can help you make a choice. Next, experiment with your kinky straight or yaki straight wig in different styling options and unleash your beauty.
You might want to check these posts:
How Do Black Women Protect Their Natural Hair
Why ISEE M-cap Wear&Go Wig Introduces Removable Combs?