Headband wig is super easy to wear, no skill needed, 100% glueless wigs for beginners. Today I will show you guys how to install a headband wig, please stay tuned.
Headband wig has a soft elastic basic headband attached the hair wig all around, 4 combs to secure, a magic velcro to adjust the size of the wig. Headband wig has floating around all over YouTube, you will feel great to get into one.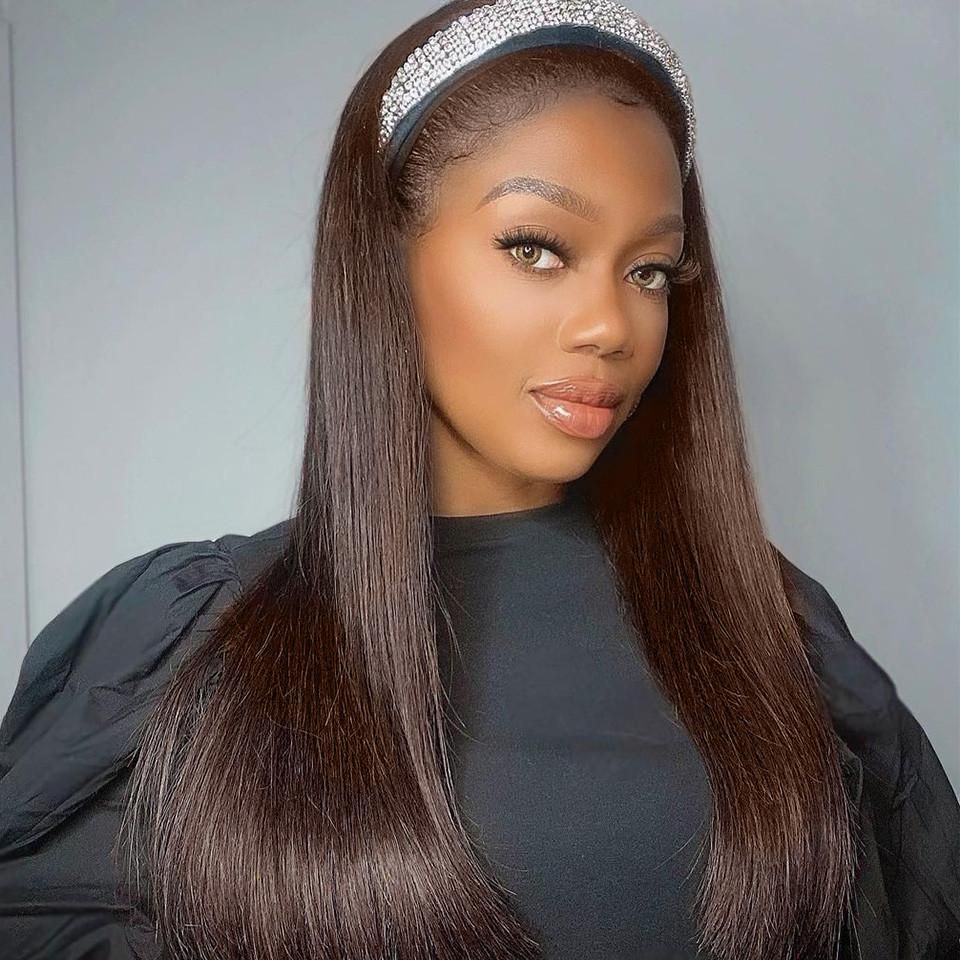 Buying headband wig, you will get:
• A wig cap
• Free eyelashes
• Comes with two freestyle headbands
• A beautiful headband wig
How To Put On A Headband Wig
1. Comb your hair and braid your own hair.
2. Wear a wig cap.
3. You can leave out some baby hairs on your edges or not.
4. Put your headband wig on.
5. Insert 4 combs into your hair to secure.
6. Attach the magic velcro in the back.
Your headband wig is installed and you can style it whatever you like. You can wear it with various headband and it looks amazing.
Isee Headband Wigs collection
Here at Isee Headband Wigs collection, there are #1b, #2, #4, #99 hair colors to choose; 18-30inches various hair lengthes; Brazilian, Mongolian, Peruvian, Malaysian, and Indian human hair textures; Straight, wavy and curly headband wig styles for meeting your various needs.
Shop Hot Selling Headband Wigs Styles
Kinky Curly Headband Wig
A kinky curly headband wig is perfect for women who want to add a little bit of extra spice to their everyday look. This wig is made from 100% natural human hair, so it will feel and look like your own hair. Plus, it's versatile enough to be worn in a variety of different styles, so you can create a look that perfectly suits your own personality.
Body Wave Headband Wig
If you're looking for a wig that will add a little bit of sexy and charming to your look, a body wave headband wig is the perfect option. This wig is made from 100% natural human hair, so it will feel and look like your own hair.
Straight Headband Wig
Straight headband wigs are simple, stylish and versatile, you can wear them for a casual look or for a more formal occasion. Straight headband wig is perfect for anyone who wants a little change from their traditional style.
Water Wave Headband Wig
Water wave headband wigs are a hot style right now, has a very beautiful curl pattern. And there are a lot of great options to choose from. You can choose a headband wig that's short or long, natural or colored.
Headband wigs are super easy to be installed. And with so many headband wigs options to choose, you can style it to any styles you like. Leave your comment below or contact our online service for more headband wigs installation information.