Human Hair Wigs are popular for those who want to change their hairstyle naturally and do not have to commit to long-term looks. Bangs can be a great way to frame the face and add dimension to a wig, but they can also be tricky to cut correctly. Cutting bangs on a human hair wig can be a little intimidating, especially if you have never done it. Do not worry, this article will help you to know how to cut bangs on a human hair wig.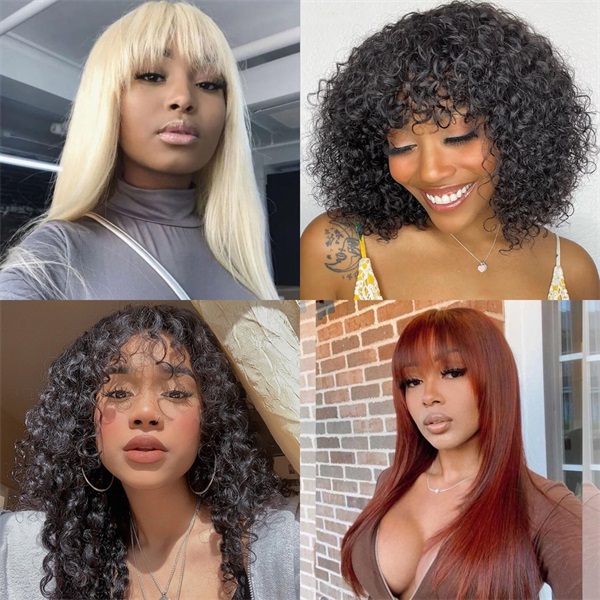 What Are The Benefits Of Bangs Hairstyle
Bangs, also known as fringe, are a popular hairstyle in which the hair is cut and styled to hang over the forehead. There are many benefits to this hairstyle.
Frame the face: Bangs can help to frame the face and draw attention to the eyes, cheekbones, and other features. They can also be used to hide hairline or balance out a long face shape.
Versatility: Bangs can be styled in various ways, making them versatile hairstyles. They can be blunt, asymmetrical, or air. This allows individuals to experiment with different looks and find a style that complements their face shape and features.
Hide imperfection: Bangs can help to cover your forehead and hide imperfections, such as scars and wrinkles. This can boost confidence and make an individual feel more comfortable in their appearance.
Covers a large forehead: If you have a large forehead or a high hairline, bangs can help to balance out your features and give the illusion of a smaller forehead.
Add a cute look: Bangs can make people look cute. Many women look younger visually after cutting bangs.
How To Cut Bangs On A Human Hair Wig
Cutting Tools
Sharp scissors or hair-cutting shears
Comb(wide tooth for the

curly wig

, rat-tail for the

straight wig

)
Heat flat straighter
Pins(optional, if you cut bangs on a mannequin stand )
Preparation
Prepare your wig. Wash it with a mild shampoo, then air dry your wig. You can use a wide tooth comb to brush it thoroughly to remove any tangles, and ensure there are no knots and coils. Before you start cutting, you'll need to decide on the length of your bangs.
Method 1
To beginners, it is recommended to cut the wig bangs on a wig stand or on a mannequin head which make the operation process easier. You can use pins to stay secure the wig in place while actually cutting.
Method 2
If you want to use your own face as a reference, you can cut the bangs after applying your human hair wig. Cutting bangs on your wig can let you know what you are doing clearly.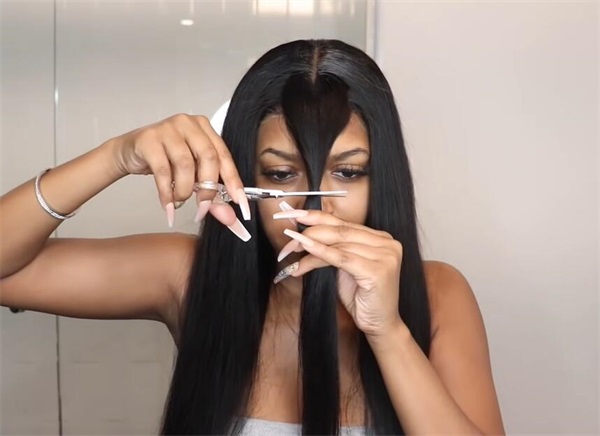 How To Cut Bangs Step-By-Steps
Step 1: Comb the wig bangs forward and decide on the wig's desired length. Use hair clips to section the part which you want to cut into bangs. Make a triangle part in the front center. You may want to leave a little extra length at first, so you can always go back and trim more if needed.
Step 2: Using sharp hair-cutting scissors, carefully cut the hair in a straight line across the section you have clipped off. Be sure to keep your scissors angled downward, so you're not cutting too much at once.
Step 3: After you made the initial cut, take a step back and evaluate the length and shape of your bangs. If they're too long, you can trim a little more off at a time until you're happy with the length.
Step 4: Once you've cut your bangs to the desired length, it's time to blend them. Use thinning shears to create a more natural-looking edge. You can also use regular scissors to make small snips in the ends of the hair to create texture and help your bangs blend more easily with the rest of your wig.
Step 5: Finally, style your bangs as desired. You may want to use a flat iron or curling iron to give them a little extra shape and body.
Remember to take your time and go slowly when cutting bangs on a wig. It's always better to start with a little extra length, as you can always trim more later if needed. And if you're not confident in your hair-cutting skills, consider seeking the help of a professional stylist.
Why People Choose Human Hair Wigs
Natural Look: Human hair wigs look and touched more naturally than synthetic wigs because they are made from 100% unprocessed human hair. They can be styled and dyed just like your own hair, making them virtually indiscernible from natural hair.
Longer life span: Human hair wigs are more durable than synthetic wigs and can last up to a year or more with proper care. They are also less likely to tangle and coiled.
Versatility: Human hair wigs offer more versatility in styling options. They can be curled, straightened, and styled just like natural hair, giving you more options for different looks. Isee Hair online store offers many different types of wigs. Such as lace front wigs, lace closure wigs, Glueless wigs, colored wigs, and headband wigs from short to long, and straight to curly, which can meet customers' different needs.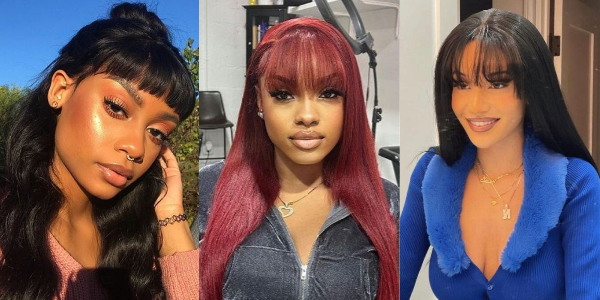 In conclusion
Cutting bangs on a human hair wig is a process that requires some patience and attention to detail. By following these steps, you can create a beautiful set of bangs that perfectly frame your face and add a touch of personality to your wig. Just remember to take your time, measure carefully, and cut slowly to avoid any mistakes. For your convenience, we also provided various weave wigs with bangs.