Maybe you're new to wigs, or maybe you've bought wigs that require glue before. Today, I'd like to introduce a new wig that is perfect for beginners and anyone——glueless human hair wigs. It's the kind of wig anyone would love to buy. You may still have a lot of questions about glueless wigs, so today I will give you a detailed answer.
What are glueless wigs human hair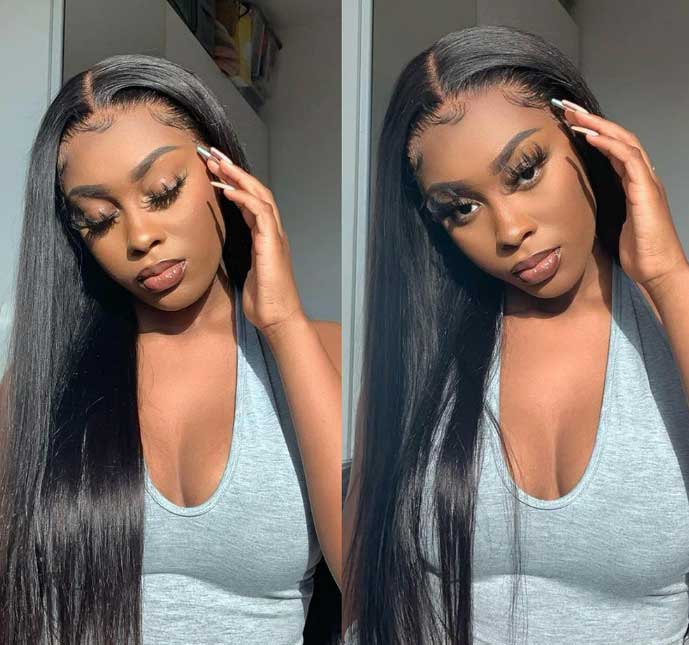 Simply put, a glueless wig is a wig that does not need glue and can be worn through the simplest steps. It is arguably the most convenient, fastest and time-saving of all wig types. First of all, human hair means that the hair in the wig is made from real human hair, which makes the wig as close to our real hair as possible. Second, glueless wigs don't require glue or other tools to wear, saving you the most time. Finally, it is very natural and realistic on its own, pre-plucked natural hairline and not stiff when you wear. Pre-cut the lace, you don't have to trim and paste it yourself, and it doesn't cause the awkward problem of lace warping.
Q&A about glueless wigs human hair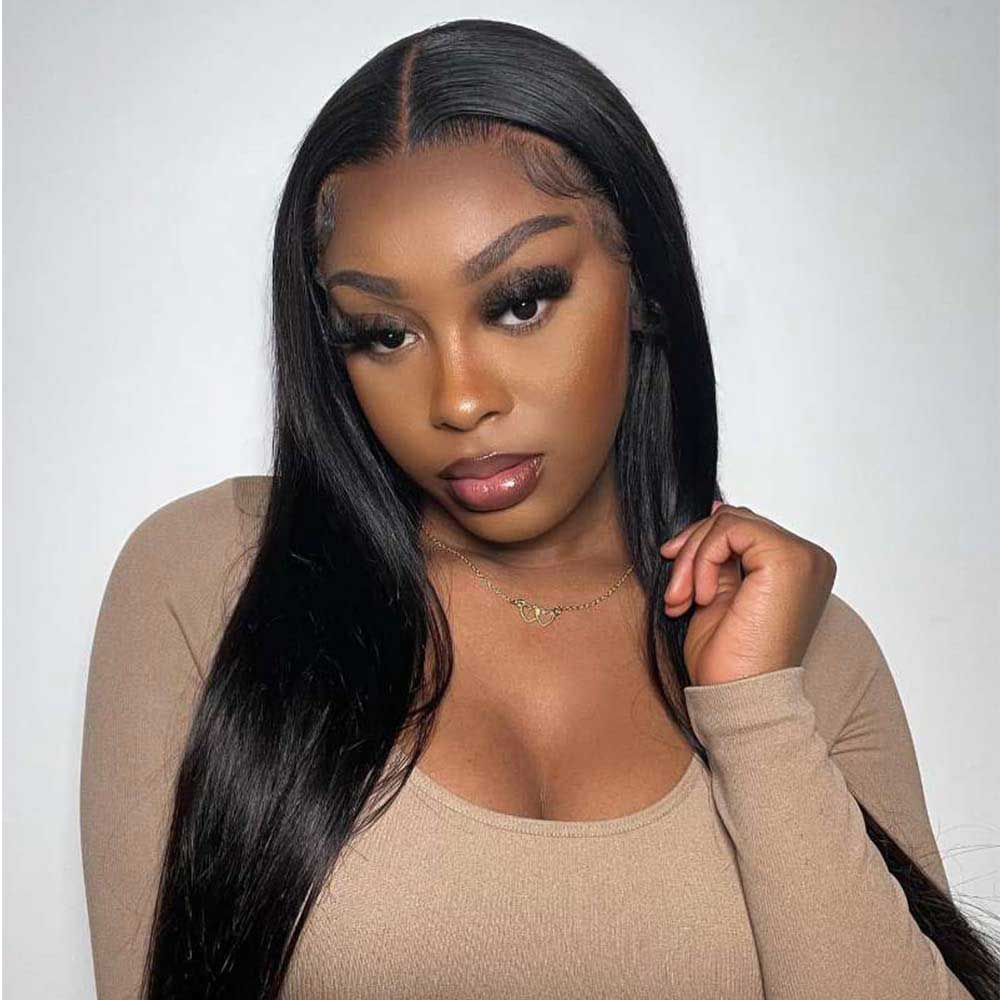 Q: Why invest your money in a glueless wig?
A: Buying glueless wigs is arguably the most cost-effective option, so most people choose to invest their money in glueless wigs. Glueless wigs human hair cost less and work better. Glue can also be a big expense if you're buying a regular wig. If you want to be responsible for your hair health, you must choose a good quality wig special glue, if you buy a cheap glue is easy to cause scalp allergy. Glueless wigs human hair, on the other hand, wear out much more slowly than traditional wigs because they don't have a lot of glue left on them, which can be hard to clean. Frequent cleaning can greatly reduce the lifespan of wigs. If the lifespan of a normal wig is one year, then a glueless wig can last at least two years or more.
Q: What is the best way to install glueless wigs human hair
A: The glueless wigs is easy to install, literally in under three seconds. Because the wig itself is a state that can be worn directly. The hairline, the lace, and the styling of the hair are all already done. The moment you get the wig, you can wear it without any extra preparation. Of course, if you have long hair, you can wrap your own hair in a hair cap beforehand to make sure it doesn't show, and then wear the wig as a hat.
Q: Benefits of glueless wigs human hair
A: First, glueless wigs human hair are convenient and time-saving. Of all the wig types, this wig is arguably the easiest to wear and the most beginner friendly. Even if you don't know anything about wigs, you can go ahead and buy them. You can easily get a new hairstyle without even having to read any instructions. Second, glueless wigs can protect your scalp and improve any hair problems. Glueless wigs human hair don't have chemicals and any strong adhesives attached to your scalp. At the same time, it can help you cover gray hair, hair damage, hair loss, baldness and other troubles, and help you regain confidence and have a head of shiny black hair.
Q:What you need to do before you buy a glueless wig
A: First, you need to choose a wig style, including color and texture. This is the first step to choosing a wig. You can decide what kind of texture you want to buy. For example, if you want to buy a water wave wig, then you can enter the category of this product, which comes in a wide variety of colors and styles. Second, once you've picked out the style of wig you like, you need to determine the length of the wig, 10 to 16 inches for Bob hair, 18 to 30 inches for long hair. Finally, choose the hair density you want. Generally, there are 150%, 180%, 200%, 250%. You can choose according to the effect you want. The denser the hair, the more volumized it will be.
Q: Can glueless wigs human hair Fall Off?
A: Glueless wigs is not easy to fall off, wearing it will not have the slightest impact on your daily life, you can even wear the wig large movement. All of our wigs have an adjustable elastic band inside that allows you to make sure that the wig fits around your head, that you can adjust it to a level that's comfortable and doesn't fall off, so that you can move around normally, and the wig doesn't fall off.
Q: How long can a glueless wigs last?
A: Glueless wigs can generally be used for one to two years, and their service life is generally determined by your frequency of use. If you only wear it once in a while, you'll be able to wear it for a year or two. If you buy a wig for daily wear, and wear it very frequently, then the lifespan of the wig is generally six months to a year. The premise is that you need to master the correct wig care and cleaning methods. If you treat the wig violently every time, it's only a matter of time before it goes away.
Q: How often should I wash my wig?
A: Wear frequently: once or twice a week. Wear occasionally: once every two to three weeks.Your wig should be washed once after six wears. However, there are other behaviors that can affect how often wigs are washed. If you live in a dusty city, for example, it's easy for wigs to get messy. Or if you like to spray gel or mousse on your hair, you need to wash it immediately, otherwise it will remain in the hair and cause the wig to tangle and fall off. If you don't wear it very often, you can wash it once a couple of weeks, just make sure to store it in a safe place when you're not wearing it.
Q: Can I wash my wig with regular shampoo?
A: Do not use ordinary shampoo to clean the wig, some shampoo will contain very strong irritating chemicals, will cause irreversible damage to the wig, you need to buy wig special shampoo, this shampoo is generally low PH value, very mild, protect the wig at the same time will not have any damage to the wig. Pair it with a special wig conditioner to make your wig soft and shiny.
Q: How can you buy the best glueless wigs human hair
A: When choosing a wig, it's important to look carefully at the label to see if it's 100% real human hair. If you do not look carefully, it is likely to buy synthetic hair or human hair doped with synthetic hair, which is actually very confusing. When you get the product, it is not easy to detect, because most consumers do not have a clear understanding of wigs. But when you wear it and then wash it, or use a curling iron to set it at high temperature, it's likely to become dry and frizzy, changing its original state.
Final words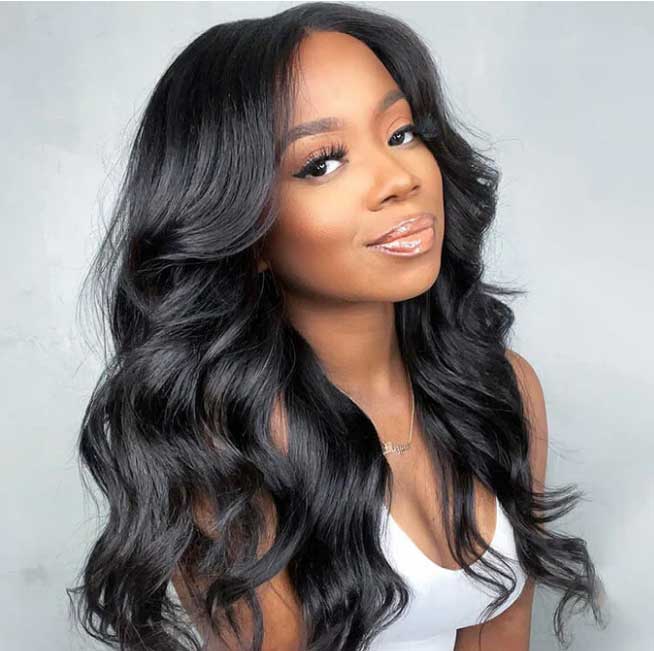 If you're in the process of choosing a wig, look no further than a glueless wig human hair. It's the perfect wig for beginners. You don't need to worry anything and worth to have a try. It's not that expensive. Glueless wigs are not only convenient but also protect the scalp, which has become the trend of wig development. From short hair to long hair, we have all kinds of wigs in every color. Come to iseehair.com.