Wearing wigs is an excellent way to strengthen people's appearances and boost confidence through changing hairstyles quickly. It is usually a tough decision when it comes to choosing which hair textures to buy. Deep wave wigs and water wave wigs are two prevalent choices among women. In this blog, we will tell you the difference between deep wave and water wave to help you make an informed decision when purchasing your next brand-new wig.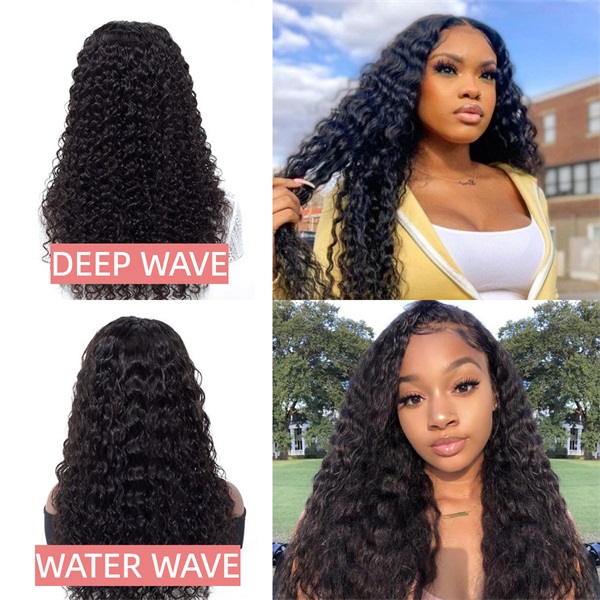 Deep Wave Hair
What Is Deep Wave Hair
Deep wave hair is a kind of bouncy classic wave hairstyle. The texture of deep wave hair flows smoothly and neatly. Some people confused them with body wave hair, it has tighter curls than body wave hair. Deep wave pattern resembles a tighter version of the S-shape, the waves are typically uniform in size and create a voluminous and textured look.
Deep wave are favored by a lot of American African women. It is a dream choice for women who want to add volume, texture, and a curly look to their hair.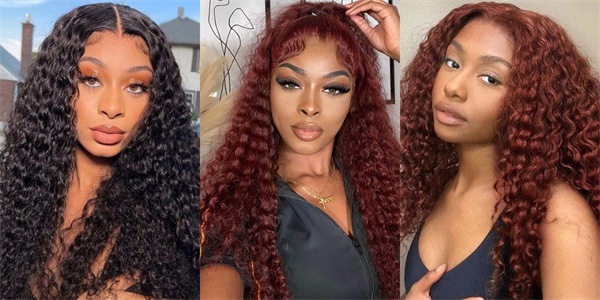 Characteristics Of Deep Wave Hair
Compared with other curly types of hair, deep wave requires low maintenance.
All curls of deep wave and in the same direction.
Machine double weft, hair texture is tight, neat and bouncy.
Perfect blend of straight hair and curly hair, combine the advantages of both.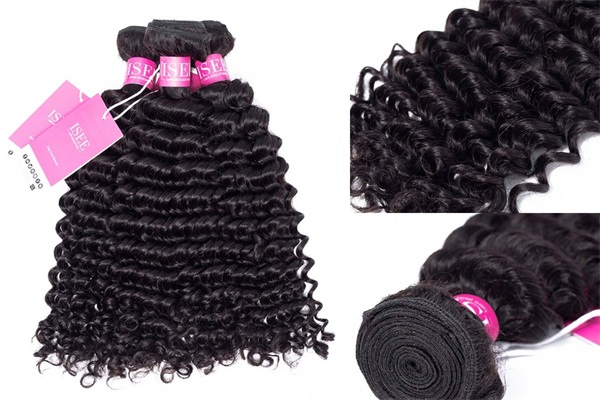 Why People Choose Deep Wave Wig
Versatility
Deep wave wig is almost suitable for all ladies to wear on diverse occasions, both casual and formal events. It can modify face shape and demonstrate personal temperament. Isee Hair deep wave wigs and bundles are all made of virgin human hair, they can be restyled in a variety of ways to create a unique and versatile look. Besides, we provide various of deep wig types, lengths and densities to match your desired needs, including wear&go wigs, lace front , lace closure, and headband wigs ranging from short and thin to long and thick.
East To Maintain
Deep wave bundles require low maintenance to keep their look. Regular washing, conditioning, and moisturizing are enough to care the softness and sheen. Unlike the complex care process of curly hair, you just need to use your fingers to coil and blend the waves after washing.
Protective
Wigs can protect your natural hair from styling, exposure to chemical elements and daily handling. High temperature styling tools will damage our natural hair, making it fragile and delicate. Wearing wigs, especially glueless wigs can solve this problem perfectly. Moreover, it can change your hairstyle quickly, save your effort and money in a hair salon.
Water Wave Hair
What Is Water Wave Hair
Water wave hair is kind of a hairstyle that is characterized by loose, bouncy waves that resemble the pattern of ripples on the surface of water which gives you a natural and elegant look. The style is often associated with a relaxed, beachy vibe and is popular during the summer months. In recent years, water wave hair has become a popular choice for women of all ages and hair types, as it is a low-maintenance style that can add texture and movement to any hair length or texture. Water wave wigs are appropriate for women who want to add volume and texture to their hair, without the commitment of a permanent hairstyle.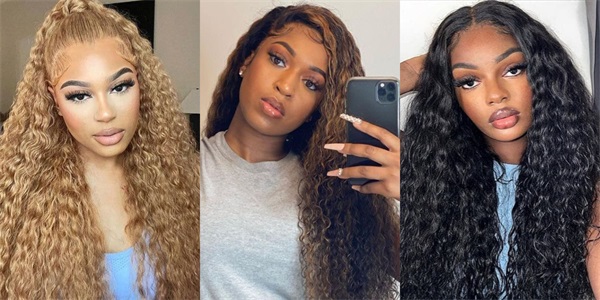 Characteristics Of Water Wave Hair
The waves are typically uniform in size and are created using a special curling technique.
Water wave bundle texture is soft and silky.
Curls of water wave are opposite which looks add more volume to the hair.
Water wave hairstyles are similar to American African hairstyles, so you can combine them very well with your own hair.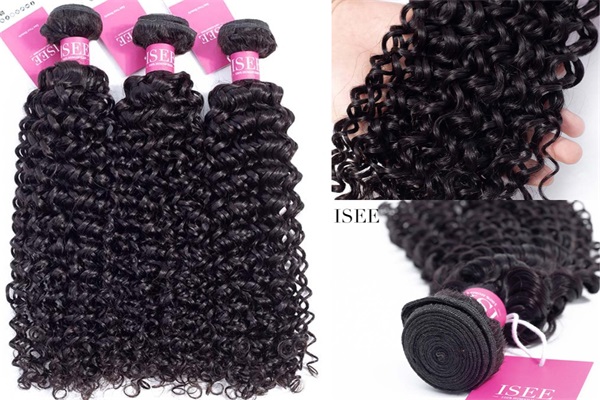 Why People Choose Water Wave Wig
Various styles
Due to Isee Hair wigs are all made of 100% human hair which allows you can design your hairstyle by using a curling iron or a flat straighter. But it's essential to use a heat-protectant product to protect hair strands. The hair is flexible and can be easily manipulated to create different looks for a variety of occasions, such as in a half up half down or in a ponytail.
Add Volume
For water wave wigs, you can see that the curl pattern is placed in the reverse direction. With the same hair density, water wave style looks larger than other types.
Protect
Wearing a wig keeps your hair protected and styled. That means you may notice that your hair grows healthier and fuller as a result. This can help your hair grow healthier and stronger over time.
Difference Between Deep Wave And Water Wave
Deep wave and water wave hair have high similarities in texture and curls. However, there are still some differences between them.
Wave Pattern
The most noticeable difference between deep wave and water wave wigs is their wave pattern. Deep wave wigs have a little tighter and more defined curls that create a bouncy and voluminous effect. On the other hand, water wave wigs have looser, more relaxed curls which does not run in one direction that gives a natural, beachy look.
Texture
Deep wave wigs have a smooth and silky texture and a glossy sheen that creates a luxurious look. Perfect for those looking to add volume and length to their hair. Water wave wigs, on the other hand, have a more natural texture and a matte finish that looks like wet hair. Perfect for those looking for a casual, relaxed look.
Volume
As you know, the bodies of water are not oriented in the same direction, which makes them more voluminous compared to deep waves.
Maintenance
When it comes to maintenance, both deep wave and water wave wigs require some effort to keep them looking their best. Deep wave wigs need to be brushed regularly to maintain their shape and avoid tangling. Water wave wigs need to be sprayed with a leave-in conditioner to prevent frizz and maintain their curl pattern.
Deep&Water Wave Wig Hairstyles Inspiration
Deep Wave With Half Bun Half Down
Burgundy 99J Wave Wig With Two Buns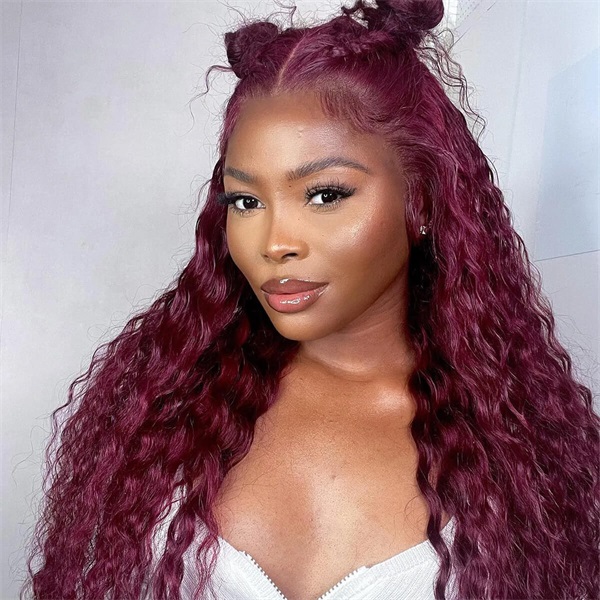 Headband Human Hair Wave Wig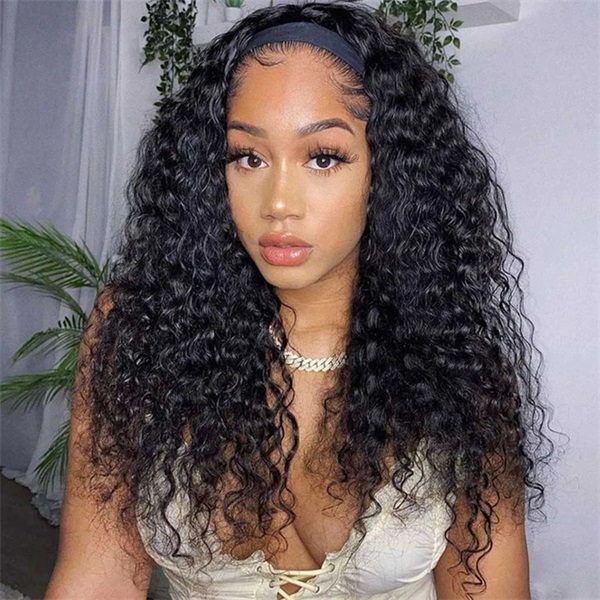 Headband Wave With Half Up Half Down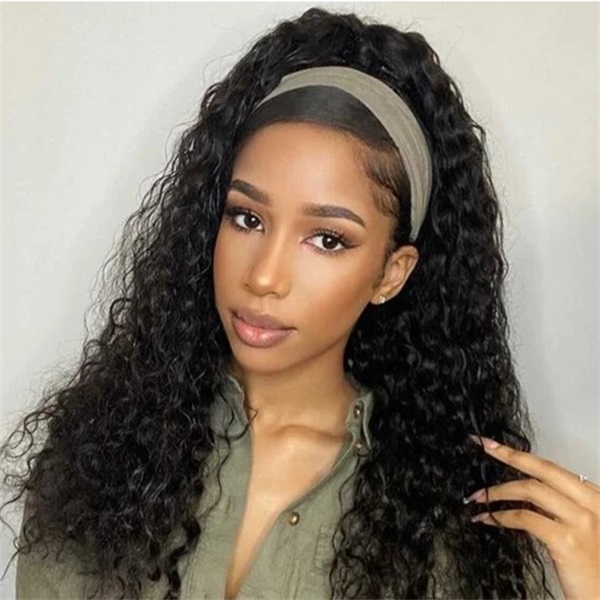 Water Wave With Two Twist Braids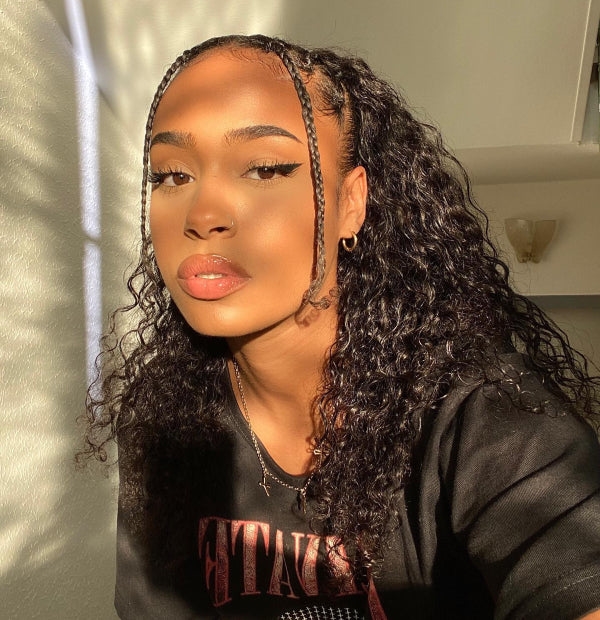 Honey Blonde With Half High Ponytail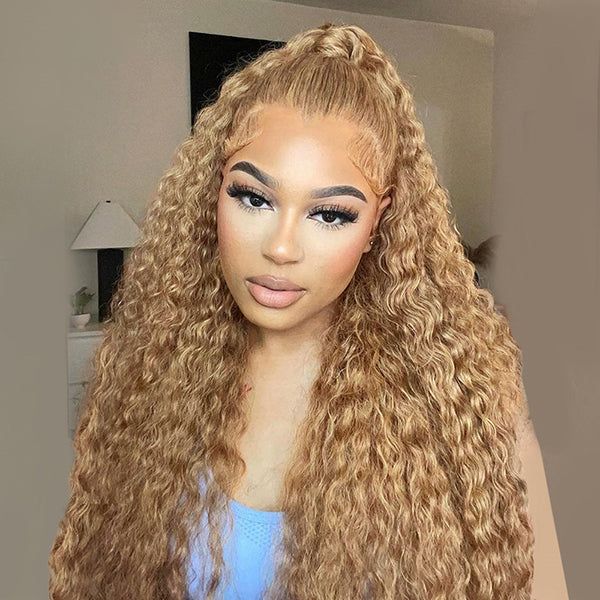 In Conclusion
The choice between Deep Wave and Water Wave wigs comes down to personal preference and the look you want to achieve. Deep wave wigs are perfect for those who want a glamorous and voluminous look, while water wave wigs are ideal for those who want a natural and relaxed look. Regardless of which type you choose, both wigs require some maintenance to keep them looking their best.