Are you looking for a way to switch up your hair color naturally without committing to a permanent change and damage to your scalp? Human hair colored wigs, especially the lace front, offer a fantastic solution. Whether you want to try out a bold new look or just simply add some fun to your hair, there are plenty of options for dark skin that can help you achieve your desired look. Here are some ideas and 10 inspirations about colored lace front wigs on dark skin.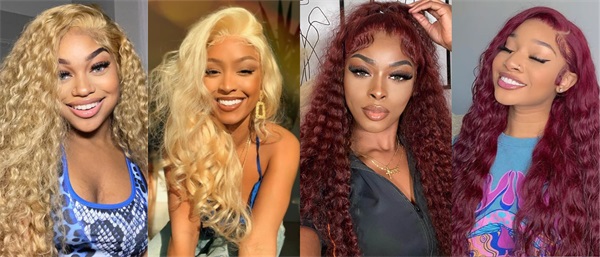 Consider Your Skin Undertone Before Buying
First of all, I would like to clarify that only certain hair colors look good on dark skin is a huge misconception. Dark skin people can freely choose and rock any color they favored, there is no limit, and the skin undertone is just a reference and one of the considerate factors. It really helps people find hair colors that suit them and enhance their beauty, but what's more important is we can choose whatever we want.
Undertone is useful when selecting our wig color, makeup, and clothing that flatters and enhances our natural appearance. Wearing wigs that complement with our skin undertone can make us look vibrant and more radiant. The undertone is the color underneath your skin that radiates and usually comes in three different categories: Cool, Warm, and Neural.
Warm: radiate colors of peach, yellow, or gold.
Cool: gives off a pink, red, or bluish hue
Neural: combination of both warm and cool
3 Way To Find Your Undertone
1. Do a jewelry test by holding a piece of silver and a piece of gold jewelry to their face and seeing which one makes their skin appear more radiant. If the gold jewelry looks better, then the person likely has a warm undertone, and if the silver jewelry looks better, then they likely have a cool undertone.
2. Determine if they have a warm or cool undertone by observing the colors that their skin gives off. Warm undertones give off colors of peach, yellow, or gold, while cool undertones give off a pink, red, or bluish hue.
3. Have a look at the veins on your wrist. If they appear to have a green tint, then you have a warm undertone. If they appear blue, you have a cool undertone.
Wig Color For Dark Skin
For dark skin with cool undertones
Brown: dark brown, flat brown, ash brown
Blonde: ash blonde, dark blonde, 613 blonde
Fancy colors
For dark skin with warm undertones
Red-based colors: copper, burgundy, orange, plum
Brown: chestnut brown, chocolate, dark mocha, honey brown
Blonde: honey, caramel, 613 blonde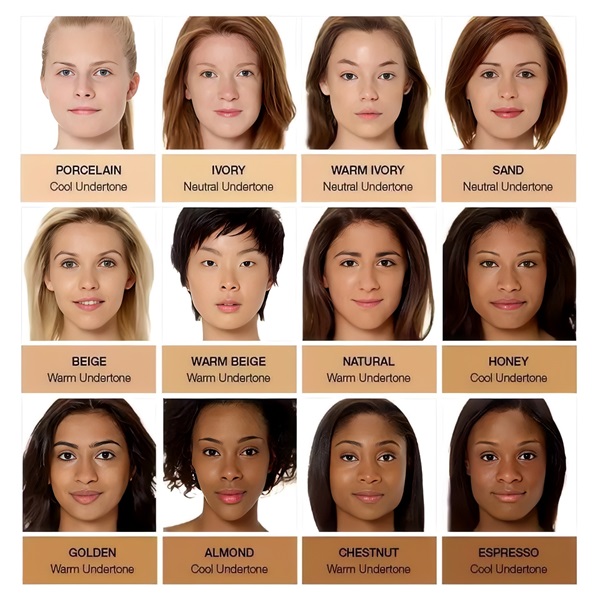 10 Brilliant Colored Lace Front Wig Inspiration
Pre-cut Chestnut Brown Colored Lace Front Wig
Chestnut brown color is the hottest color this season. This color can fit on any occasion, whether in a formal cocktail party or in a company meeting room. If you want to try a natural versatile color, chestnut brown is a nice choice.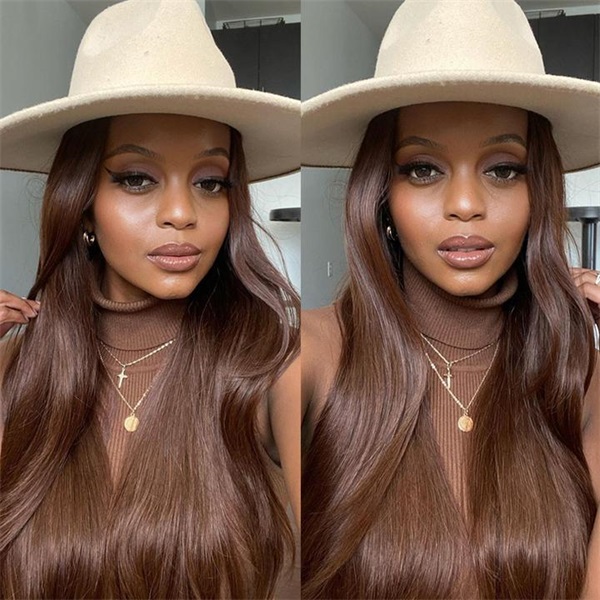 Burgundy Human Hair 99J Colored Lace Front Wig
Burgundy is a purplish red with the characteristics of both red and purple. It represents maturity and elegance, and is the most classic color for dark skin people.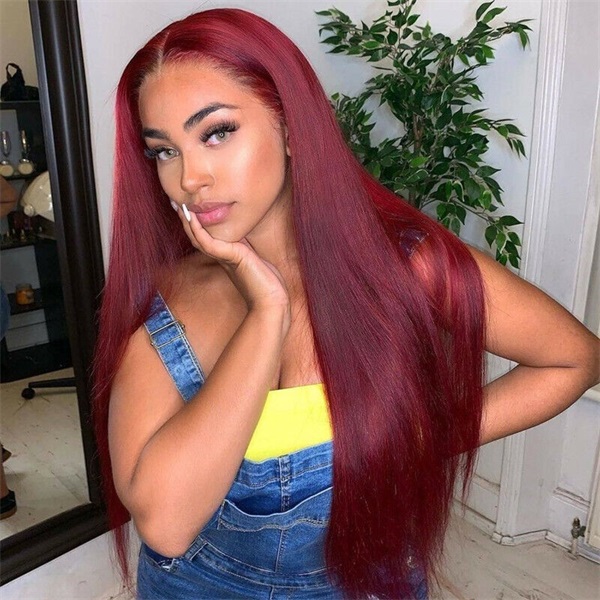 Highlight Piano Kinky Curly Colored Lace Front Wig
Wigs with different shades are always more attractive. And the kinky curly hairstyle adds more volume to your hair which makes you charming and vibrant.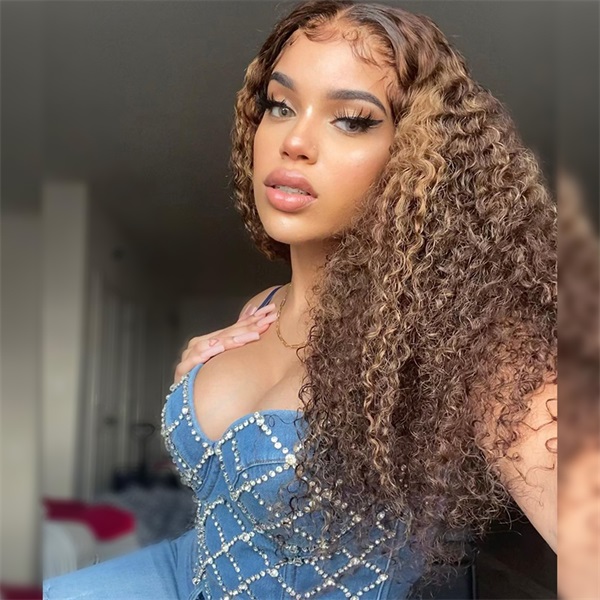 613 Colored Straight Human Hair Lace Wig
613 is a popular wig color and have chosen by many wig lovers. Its bright, blonde color is often associated with youth, glamour, and beauty. Due to they are already bleached, you can dye the wig into any other color.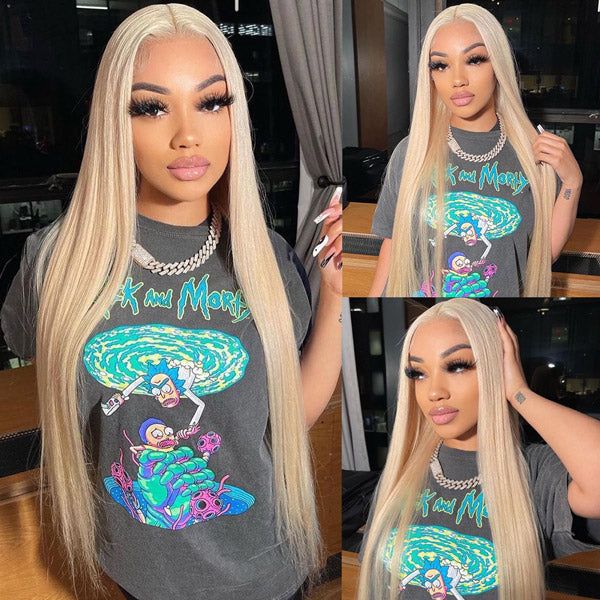 Sparkle Hot Pink Roots Colored Lace Front Wig
The roots of this wig are brighter than the ends. It can accentuate your facial features and make you unique. Hot pink is one of the most eye-catching colors, suitable for bold girls.
Piano Color Highlight Lace Front Wig
Highlight wigs are designed with two or more shades of color, adding dimension and depth of hair. There will always be something new happening to the hair color when you look at it in different lights and angles.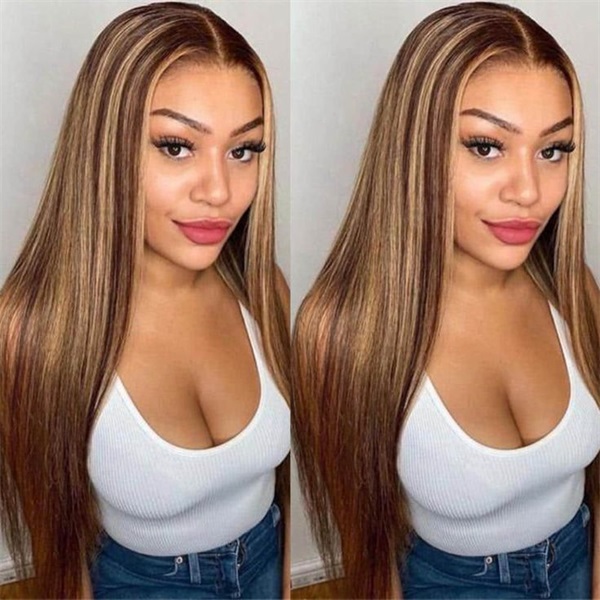 Burgundy 99J Water Wave Colored Lace Front Wig
Burgundy is a versatile color that complements a wide range of skin tones and can be paired with a variety of clothing styles. This makes it a popular choice for those who want to make a statement with their hair.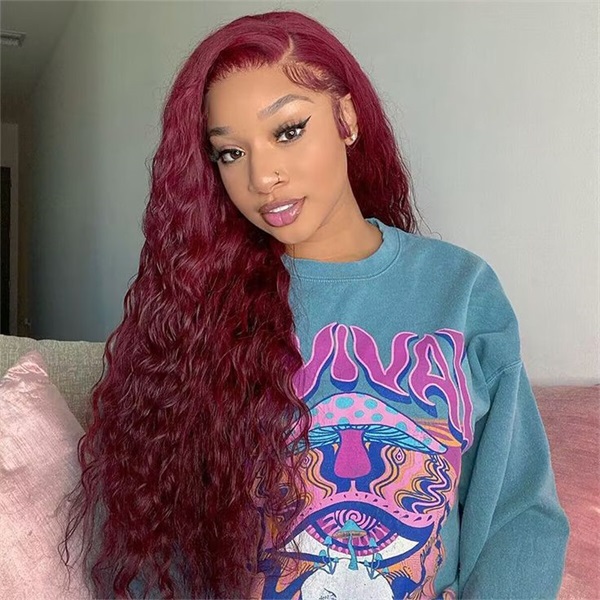 Body Wave 613 Blonde Colored Lace Front Wig
Body wave wig is kind of a loose curl type in which the curls look soft like a lady S body. The hair strands of the body wave wig are in one direction which can prevent the hair from tangling and keep hair smooth. Match with bright blonde color to make you the center of attention and let the spotlight focus on you.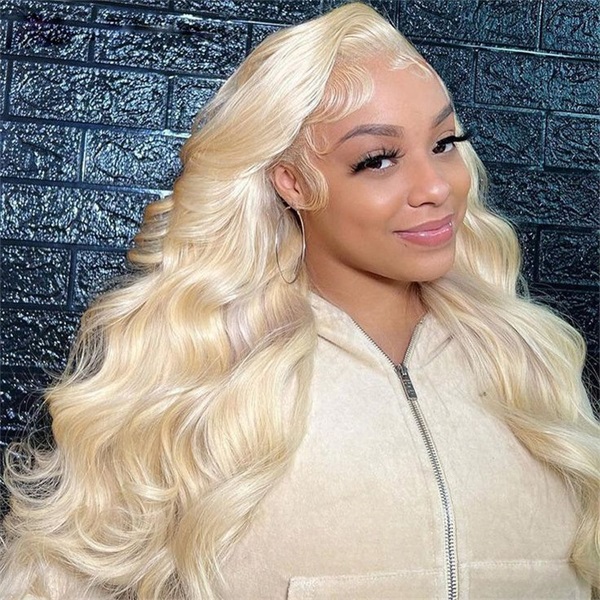 Reddish Brown Body Wave Transparent Lace Wig
Reddish brown is a natural-looking color that is flattering on dark skin tones. The reddish undertones add warmth and dimension to the hair, making it a popular choice for those who want a natural but enhanced look.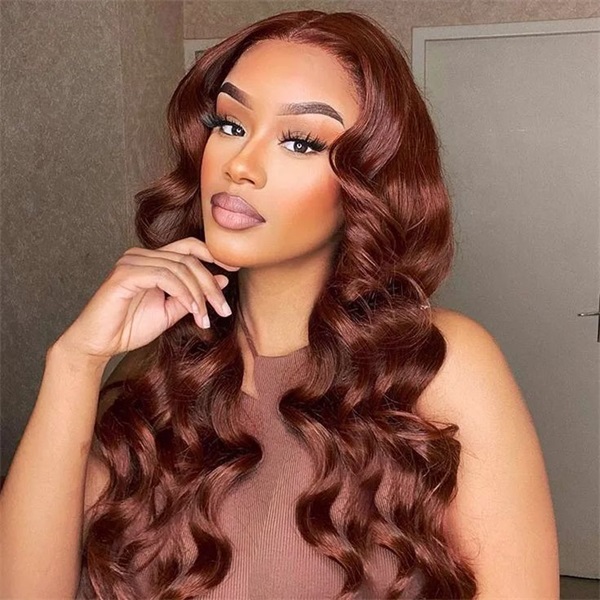 Ombre Pink Straight Colored Lace Front Wig
Pink is the color of energy, passion, and fearless. Ombre pink offers a trendy look that creates a subtle gradient effect.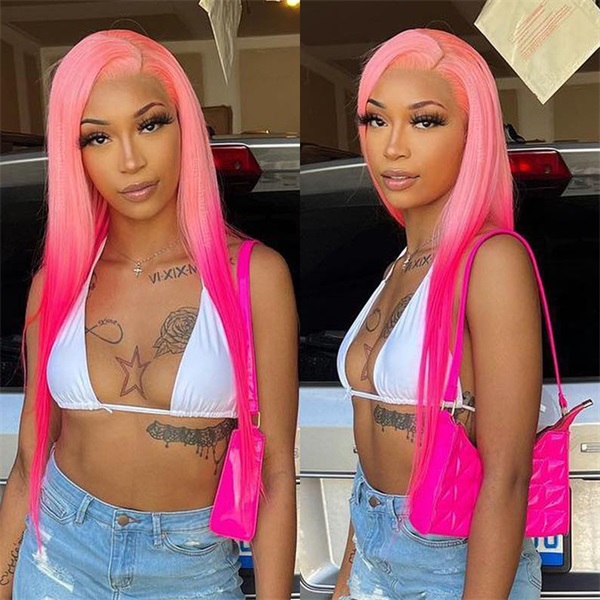 How To Care For Colored Lace Front Wigs
Proper maintenance is very important to keep colored lace front wigs looking vibrant and prolong their life span. Here are some tips on how to care for colored lace front wigs.
Wash the wig with a gentle shampoo
Use a shampoo that is specifically designed for colored wigs to prevent the color from fading. Wash it with cold water and massage the shampoo and rinse thoroughly. Don't scrub and run the hair strands, be patient and gentle.
Avoid heat styling
Excessive heat styling can damage the hair and cause color fading. If you have to use heat styling tools like a curling iron and flat straighter, applying a heat protectant spray is indispensable.
Air dry the wig
Avoid using a blow dryer to dry the wig as it can hurt the hair strands and cause the color to fade. It is best to air dry the colored human hair wig. Instead, place the wig on a wig stand or mannequin head and allow it to air dry naturally.
Store the wig properly
When not in use, store the wig in a cool, dry place away from direct sunlight. The UV of the sunlight will cause the wig color to fade.
Why Choose Isee Hair Colored Lace Front Wigs
The main benefit of a lace front wig is its realistic look. Lace front wigs feature a lace base that mimics the appearance of a natural scalp, and hair strands that are sewn onto the lace to create a seamless look. Besides, the lace provides better airflow to your scalp which makes it comfortable to wear. Moreover, the lace allows for versatile hairstyle options, as you can part the hair in any direction.
Isee Hair all wigs are made of 100% high quality virgin human hair which gives you the most natural appearance and wearing experience. There are four types of hair for you to choose from Brazilian, Mongolian, Peruvian, Malaysian, and Indian.
Final Word
With so many options to choose from, colored lace front wigs offer endless possibilities for expressing your personal style. Whether you want to go bold with a bright blue or keep it subtle with a pastel pink, these wigs allow you to experiment with different looks without damaging your natural hair. So why not try one out and see how it can transform your appearance?