Colored lace front wig is a fashion item that can give you a quick makeover. We've put together a list of the most popular colorful wigs, if you're also looking for a colorful wig that highlights your personality, read on.
What is Colored Lace Front Wigs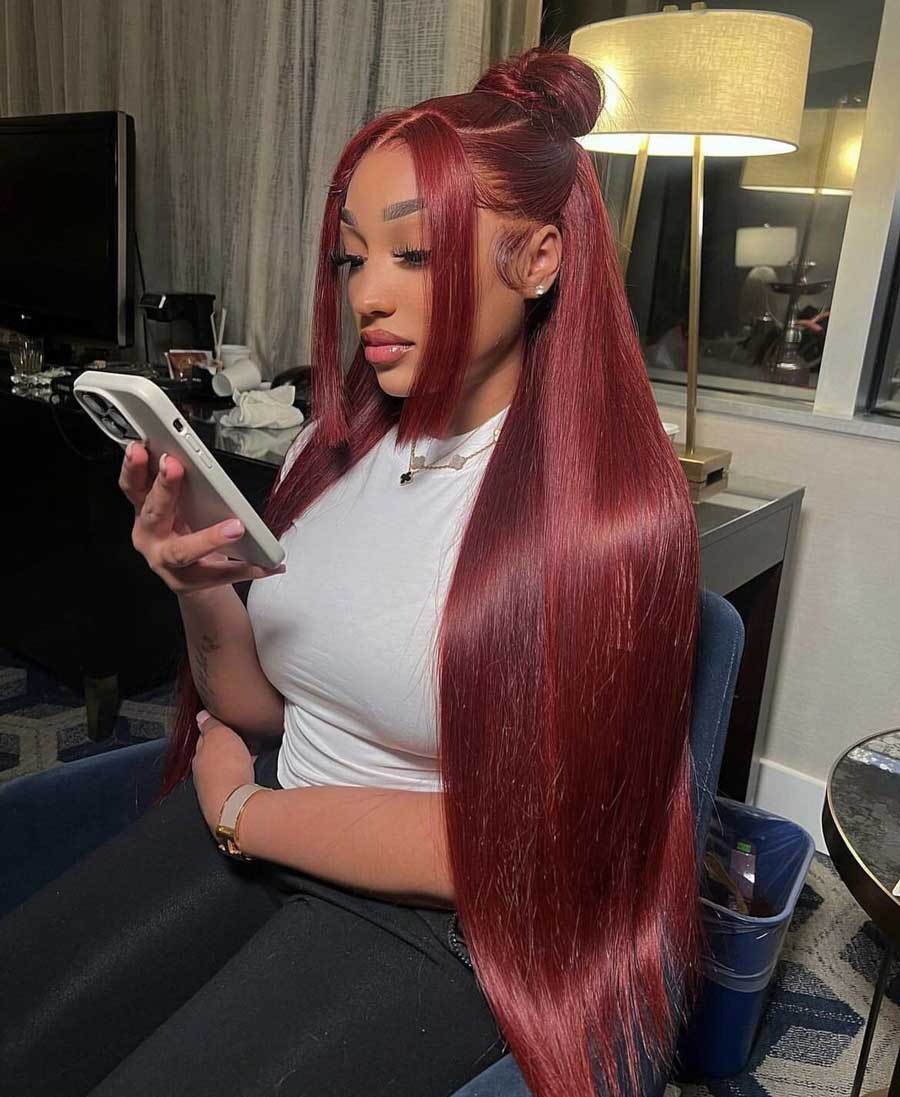 As the name suggests, it's a colorful lace front wig. If you don't already know the features of a lace wig, let me explain them in detail. First, the hairline of the wig is made of high-quality HD lace, which promises to fully simulate a human scalp and be suitable for almost any skin. If you feel that the color is different from your skin, you can also dye the lace with a liquid foundation similar to your skin tone. Secondly, our lace front wigs are 100% human natural hair, which guarantees the highest quality and gives you the best experience. A colorful lace front wig is the same as a regular lace front wig, but bleached and dyed over natural black hair.
8 Best Colored Lace Front Wigs
1.99J Burgundy lace front wigs
Burgundy is commonly known as 99J. This is a colorful wig that many girls choose to wear on a daily basis. Because of its dark color, it is chosen more frequently than other colors like natural black, dark brown, and light brown. You must have a certain stereotype about this wig, thinking that if it's red, how can it not be exaggerated? Actually no, this red is not as bright a color as red, more like wine low-key and deep wine red. This color is not particularly noticeable indoors, but can be particularly bright in the sun. It's a great color for spring, summer, fall and winter. Imagine wearing a slip dress and having sexy red hair on a hot summer's day. It will no doubt make you turn heads.
2. Blonde lace front wigs
Blonde lace front wigs are also a popular colorful style, and since most of us don't have blonde hair, it's often a novelty to try something different. You can go easy on this wig and it will definitely wow you. It's usually a light color, it shines like the sun, it's really dazzling. When you wear a wig like this, you're a different person. This hair color is commonly seen by Japanese and Korean celebrities. It can enhance your overall appearance and help brighten your skin tone. There are a variety of styles, such as body wave, kinky curly, straight bob, water wave and so on. For color, you can also choose gradients, gold and pink gradients are also very outstanding.
3. Highlight lace front wigs
With the popularity of colorful wigs, highlights have become one of the more outstanding styles of colorful wigs. Highlights tend to be two-tone, with the two colors interlocking together to form a wig, like piano keys or zebra stripes. If you go to the barber shop to do this kind of hair color, not to mention the problem that dyeing hair will damage the scalp, this kind of hair color generally needs to be wrapped with a wisp of tin foil, and then dyed, the operation is generally more difficult, so the price of this craft will be very expensive. It seems that buying a wig is a good deal because the hair is fixed, it doesn't grow new hair all the time, and you don't need to keep adding color to the hair. For highlights, we usually have dark brown and light brown, brown and natural black, brown and gray, gray and black, and these are the colors that sell a lot.
Brown wig is also a kind of colored wig, in most people's eyes can be the most suitable for everyday colorful wig, because the color itself is very dark, like black become most people's daily choice. There are also dark brown and light brown, and dark brown is probably the closest to our real hair color, since we don't tend to have solid black hair. Dark brown wigs can make our hair look bright and textured. Light brown is similar to blonde, but not as glamorous. Light brown is also an everyday color, which can enhance our temperament and give off unique charm from the inside out. If you don't want to go overboard, you can try this wig.
5. Ginger lace front wigs
This color is a very personal color, because most people do not like this color too bright, but it is always there for a reason. The color is a very vivid orange, like an orange, giving a sweet and sour vitality. This hair color isn't usually appropriate for your daily commute, but it's a great color to wear if you want to stand out at a party.
6. Pink lace front wigs
Pink, like orange, is also a very shiny color. If you have a girly heart, you can also try a Barbie-like hair color. Wear it and you will instantly become a little princess. Of course, pink can be cute or sexy. If you wear a dress or a halter top, you will look stylish and chic. Pink can give you a completely different experience and make you the most unique person in a crowd.
7. Skunk stripe lace front wigs
This color is also a two-tone gradient, but it's completely different from highlights, where the two colors are interwoven, and the skunk stripe pattern is relatively neat because it may only have one strand of other colors, but it's the same for large areas of hair. It's more like a lock of hair, not all highlights. In contrast, this pattern will create more layer because the two colors are clearly separated.
8. Blue lace front wigs
The color of blue lace front wigs is an advanced cool tone. This color usually gives off a cool vibe and makes you look like a cool person. Pure blue wigs can be a little boring, if you like blue, and you are a cool girl, I recommend you choose this Bob wig with dark blue and light blue gradient, you will be very satisfied, occasionally change the hairstyle is also a good choice.
What Makes a Good Lace Front Wig?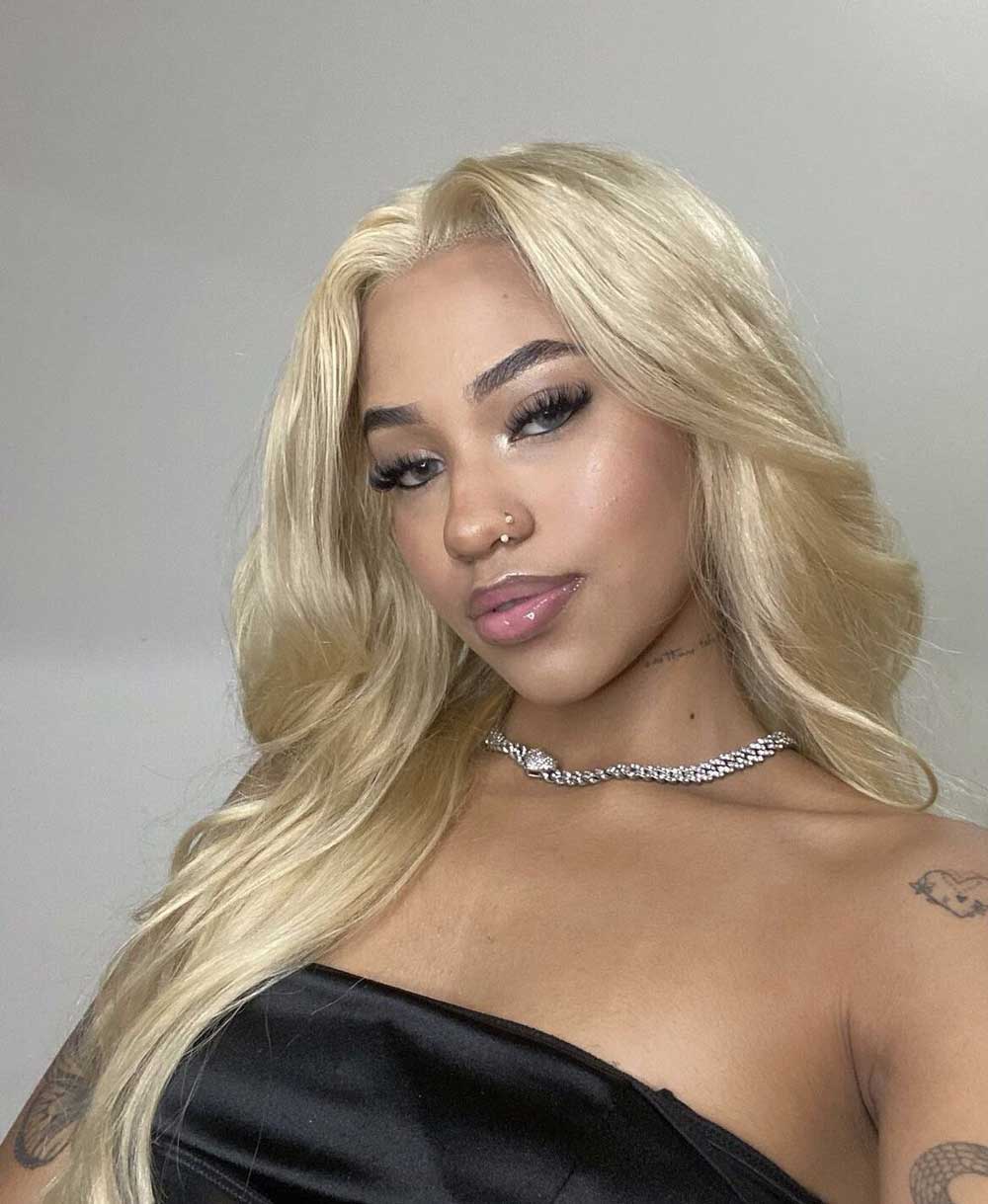 A good lace front wig must be made of HD lace, and it must be thin, breathable, realistic and durable. This kind of wig will be very comfortable to wear on the head, no burden, but also very close to our skin, won't fall off easily. The hair part must be 100% human natural hair, there will be no falsification. The most basic problems of shedding and tangling are not allowed, which can be considered a good wig.
The two wigs are essentially the same, but the difference is the size of the lace. As we all know, only the front part of a lace wig is made of lace, but there are different sizes of lace, because the larger the lace, the more expensive it will be. The larger lace wig is called "frontal" and the smaller lace is called "closure", which is the difference of these two wigs.
Final words
Today I recommend 8 colorful wigs, the first 4 kinds are more suitable for the public, the last 4 kinds are more suitable for people who have personality and want to stand out, you can choose the hair color according to your own preferences, no matter what kind of color, it is worth you to try, believe me, you will find your own unique beauty.