If you're just starting out looking for a wig, the first thing you'll care about is how realistic it is. There are many kinds of wigs that are popular now, such as glueless wigs and lace front wigs. These wigs can achieve a very realistic effect. But if you still have concerns, try one of our headband wig. Headband Wig Human Hair is highly decorative and can also achieve a very realistic effect, guaranteed to make you love it.
1.What is a headband wig?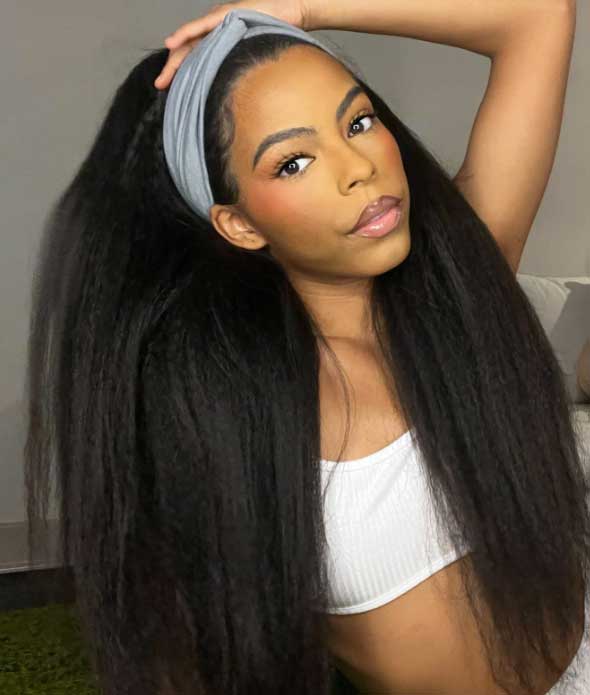 A headband wig is a wig with its own headband, is a wig without lace edge at the hairline, the hair from the back of the headband, when wearing, need to reveal your original, real hairline, because the wig hair and real hair seam is covered by the hair band, so this wig is generally very realistic. The cap of a wig traditionally is made of lace to achieve the most realistic effect. Headband wig avoids the embarrassment of showing your hairline, and you just need to choose the hair color that most closely matches your own hair to create the perfect look. What's more, the wigs are machine made wigs, which are cheaper than lace wigs, and are guaranteed to be all real human hair, which gives you the most perfect wearing effect.
2.Benefits of headband wig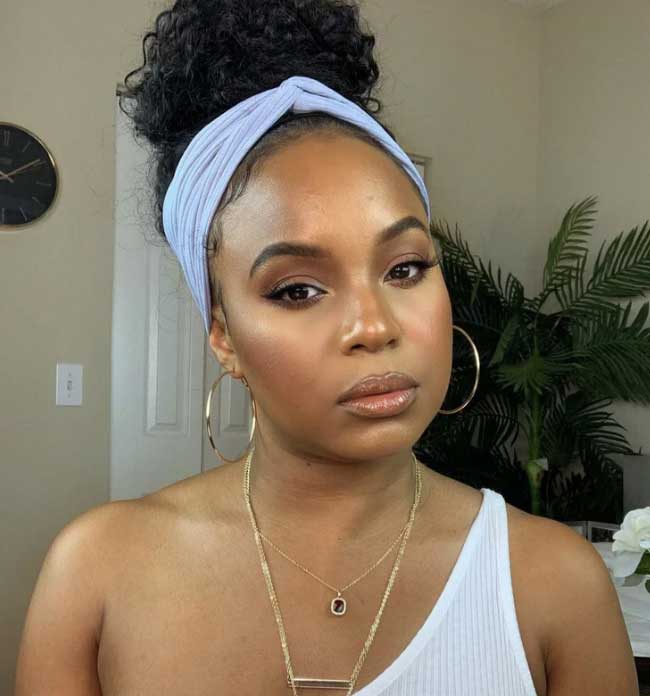 Beginner friendly
This wig does not need any tools to wear, can be said to be very friendly for beginner. You also don't need to learn complicated ways to wear wigs. If you've seen videos on the Internet, it can take 15 to 30 minutes to put on a wig. Because they require a series of steps, such as applying glue, cut the lace of the wig, and styling, they are a little difficult for a novice. So, when you first start shopping for a wig, you can choose a headband wig which is very convenient to put on. It can be put on in about three seconds, just like you would normally wear a headband.
No glue
This is the most convenient and fast wig. Whether you need to go to a party or go shopping with friends over the weekend, this wig can help you quickly change your makeup and create a beautiful appearance. If you have an urgent date, this wig will come to your rescue. You can put it on quickly and just need a simple embellishment to make it perfect. If you choose a wig with glue, you will spend a lot of time wearing it, the operation time is long and difficult, if you wear the wig yourself, you need to wear it in front of the mirror for a long time, it is easy to make mistakes. But the headband wig can be easily completed wearing, any inappropriate can also be adjusted in time, relatively simple, and you don't have to worry about it falling, because it is very sturdy.
Protect your hairline
Traditional wigs that require to use a lot of glue that can be detrimental to the health of the scalp, because glue is a chemical that can cause hair loss, receding hairline or more serious problems over time. Although glue wigs are more secure on the head, they come at the expense of scalp health. Such wigs are generally not suitable for long-term wear. If you want to wear it for the long haul, opt for glueless wigs or headband wigs, both of which are the most hairline-friendly types. It's convenient and it doesn't need any other concerns.
Variable style
Since this is a full cap wig, the front and back are your own hair at the hairline, don't worry about the junction. So, here's a wig that you can wear with a ponytail to meet your ever-changing needs. You can wear it straight, wear it in a ponytail, do your hair up or braid it. A wig can fulfill all four of your styling needs without any worries.
Very natural look.
If you're wearing a wig, your main concern must be whether it's realistic or not. After all, it would be embarrassing for anyone to see you wearing a wig. So, this wig takes that away completely. One thing to note is that when choosing a wig, you need to choose a color that is close to your natural hair color. For example, if your hair is not particularly black, you should avoid buying a black wig because it will fit into your natural hair very sharply.
3. Top 4 chic headband human hair wig
Kinky curly headband wig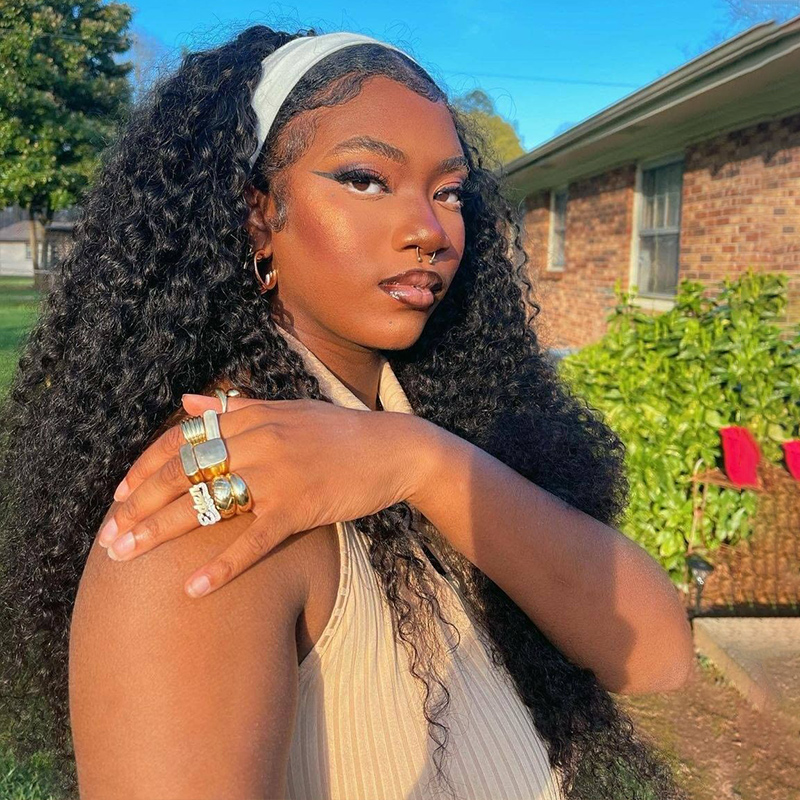 This wig is one of the most popular styles of headband wigs for women, and it has very layered little curls that double your hair volume and look glamorous and sexy. The wig comes in four colors: natural black, brown, light brown and Burgundy. Available from 18inch to 30inch in length, 180% dense for full volume. You can choose from Brazilian, Mongolian, Peruvian, Malaysian and Indian.
Body wave headband wig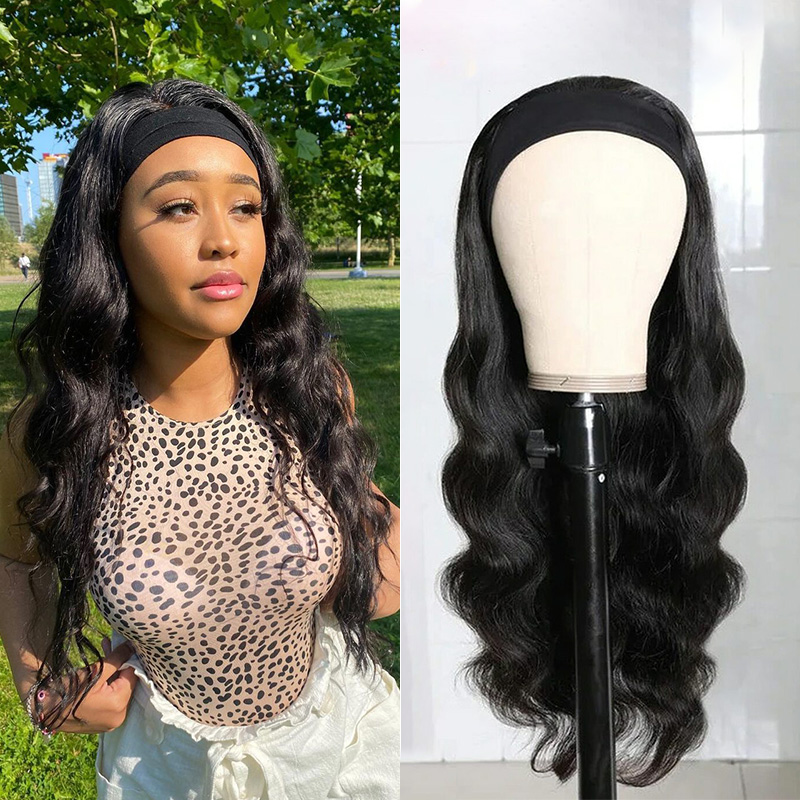 The second is the body wave wig, which is a popular body wave for women who want to change their look. Of course, it's also a versatile wig that can be worn on a daily basis. The headband wig comes in black, brown and light brown hair colors and ranges from 18 to 30 inches in length. We usually have a black headband on our wig, and we'll throw in an extra headband. You can wear it on your wig. Of course, you can also buy your own headband to match.
Straight Headband Wig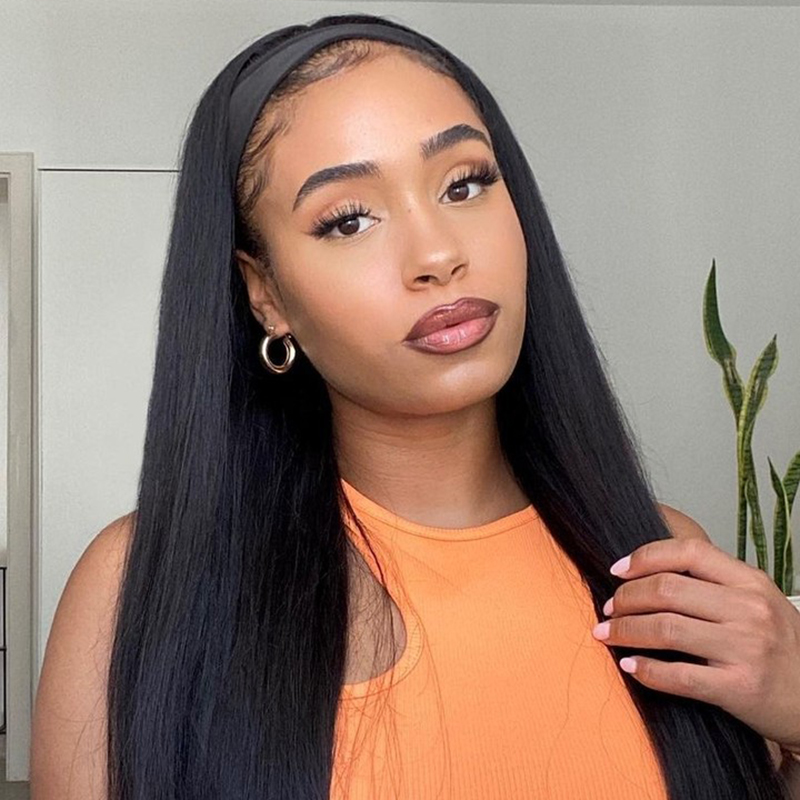 Straight hair always has a unique charm, will make people look very fresh and comfortable. It gives a positive feeling. If you have curly hair, then you can try a straight style, it will give you unexpected results. Straight hair paired with a variety of headbands is the perfect choice for everyday wigs.
Straight bob headband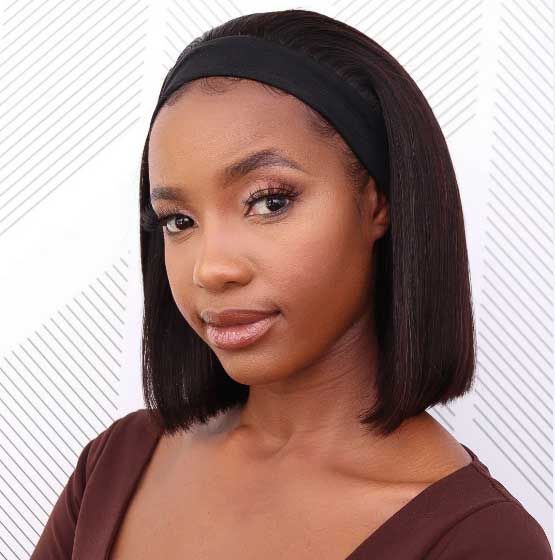 The wig will be relatively cheaper because of its shorter length. The Bob wig is generally between 10 and 16 inch and is suitable for women who prefer short hair or want to experiment with it. If you want the best value for money, this is a good choice.
4.Final words
Why did we choose a headband wig? Because it is beginner friendly, and wearing with no glue, very good protection of your scalp health. At the same time, it can also make you a variety of styles, giving you a natural wearing effect. The above introduces a few of the most popular hair wig styles, go to iseehair.com and choose according to your preferences!