Are you interested in trying a flawless lace wig but worried about the processes of bleaching, plucking and cutting your lace wig? Do you find yourself spending hours on installing a lace wig? Would you like to put on a wig when going out and take it off at home freely and easily? Well, you have a perfect solution now with Isee pre-cut lace & pre-bleached Wear & go glueless lace wigs. ISEE HAIR, Make beauty a easier thing!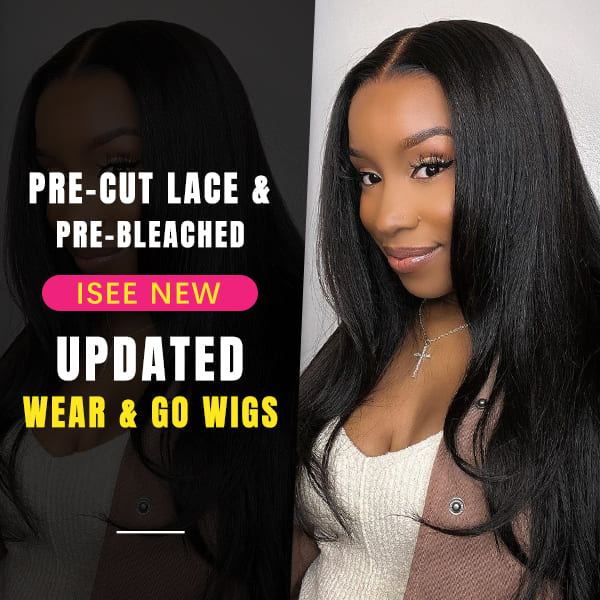 Isee Hair's wear & go glueless wigs have become a game-changer in wig industry since they first entered the market. And Isee will continue to put forward new upgraded and updated wear go wigs styles for customers. You can wear it straight out of the box, everything are well pre-customized and ready to go. It takes only 3 seconds to intall, as quick as you put on a coat. Wearing an invisible lace wig no longer is a problem for every wig-wearer.
Revolutionary Wear & Go Glueless Wigs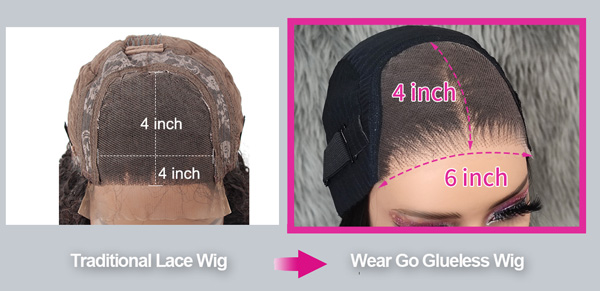 Traditional lace wigs require wig wearers to sew in, or add glue or tape to secure them in place, which can be time-consuming, and damaging to your scalp or natural hair. Moreover, bleaching, plucking and cutting extra lace on lace wig can be challenging, there is a lot of room for error, you may ruin the wig if you're new to the process of handling a wig.
The introduction of Isee wear & go glueless lace wigs has revolutionized the wig-wearing experience, offering an easier and more user-friendly alternative. You don't have to worry about ruining the wig when you're not good at customizing. It comes with pre-bleached, pre-cut lace, pre-plucked natural hairline, 100% glueless install. You can wear an invisible lace wigs in 3 seconds and no skills required, a must for wig beginners and busy girls.
Why Choose Wear & Go Glueless Wigs
Pre Plucked Hairline & Pre-bleached Knots
To make your wig look more realistic, you need to bleach the knots, and pluck the front part of wig. A wig with Pre Plucked hairline and pre-bleached knots giving a very natural look straight out of the box, save much time, super convenient for wig wearer.
Pre-cut Lace
The extra lace of lace wig at the front are well pre-cut, and well overlocked, it will not easy to be ripped out and can be reused for long time. Save time and avoid damage to the lace. Allow you to put on the wig and go, super quick and easy to wear.
100% Glueless Installation
The wear & go glueless wigs are 100% Glueless, no glue, no gel needed to install, easy to take off, allow to wear the wig in daily basis. If you are allergic and sensitive to glue and gel, this 100% glueless wig is your perfect choice. No damage to your scalp and natural hair, super breathable and protective-style.
Updated 4*6 & 13*4 Hd Lace
Thin hd lace for wig flawless melt with scalp. Upgrade 4x6 lace and large 13x4 frontal lace give more natural and comfortable, all for better user experience. You can try many hairstyles like: braids, side part, and half up style freely.
3D Dome Cap
The 3D dome caps are made of stretchable and breathable material, keeping the scalp cool and preventing excessive sweating, which makes you feel very comfortable even when you wear the wig every day. Comes with no annoying pins or combs. 3D dome cap and elastic band to make the wig snug and secure the wig tight.
100% Virgin Human Hair
Our wear & go wigs are made of high-grade 100% virgin human hair, for the most natural, lustrous and gorgeous hair appearance. You can color, style, and cut it as you want.
Are Wear Go Glueless Wig Secure
Yes, it is very secure, our wear go gluelss wigs never slip off, as we apply special dome cap and wide elastic band to secure the wig tight.
How 3D Dome Cap Fit?
3D dome cap offers a more comfortable fit compared to a regular wig cap. Conforms to the natural contours of the head, providing a snug and secure fit. 3D dome cap application makes the wear & go wig snug and fits more secure on the head. Plus with wide adjustable elastic band for dual security of the wig. It helps keep the wig in place and reduces the chances of it shifting or slipping during wear.
How Wide Ajustable Band Work?
The adjustable band on the Wear and Go Wig allows the wearer to customize the size of the wig to their exact head size. Adjust the tightness or looseness of the wig to fit comfortably and securely on the head.
How to Install Wear Go Glueless Wigs
Who Need Wear Go Glueless Wigs
Wig Beginner
Wear and go glueless wigs come pre-processed and pre-styled, which means they are already styled and customized, no work needed for you to install it. Very beginner-friendly, 0 skill needed.
Everyday Wig Wearer
100% glueless, you can put it on and take it off super easily and quickly for daily use. Breathable wig cap, very comfortable to wear every day.
Busy Women
It only takes only 30 seconds to install, as quick as you put on a coat. Super easy and quick, perfect for a rush morning when you are running out of time.
Pregnant Women Friendly
The wear go glueless wig is no glue, gel or other adhesive needed to install. No chemical processing, no extra work needed for the wig. It can be used by pregnant women safely.
Isee Updated Wear & Go Wigs
Pre Bleached Knots Updated Wear & Go Glueless Straight Wig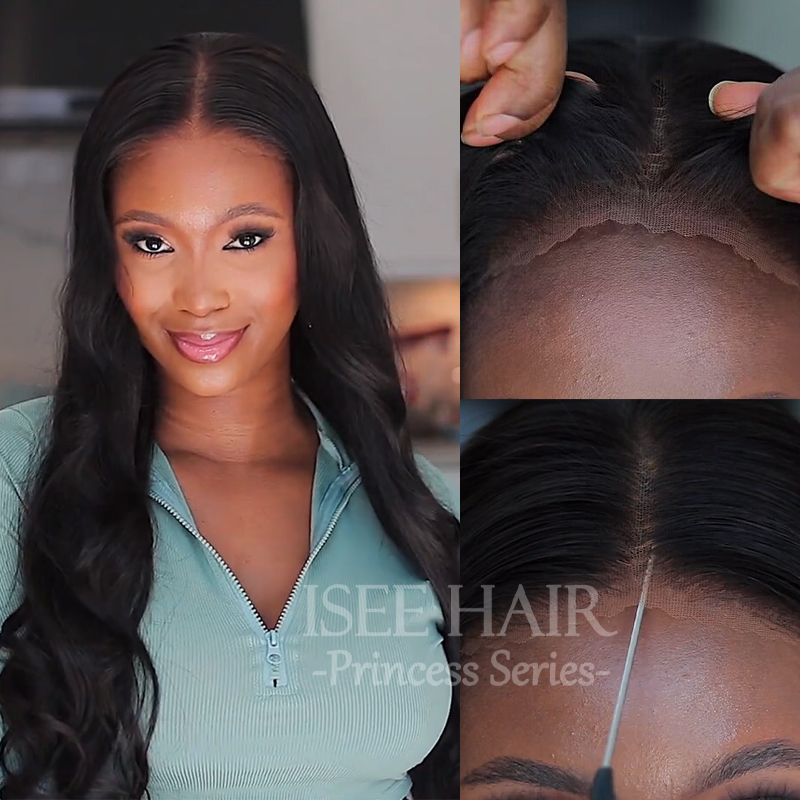 Ocean Wave Glueless Wig Pre Cut HD Lace Wear Go Wig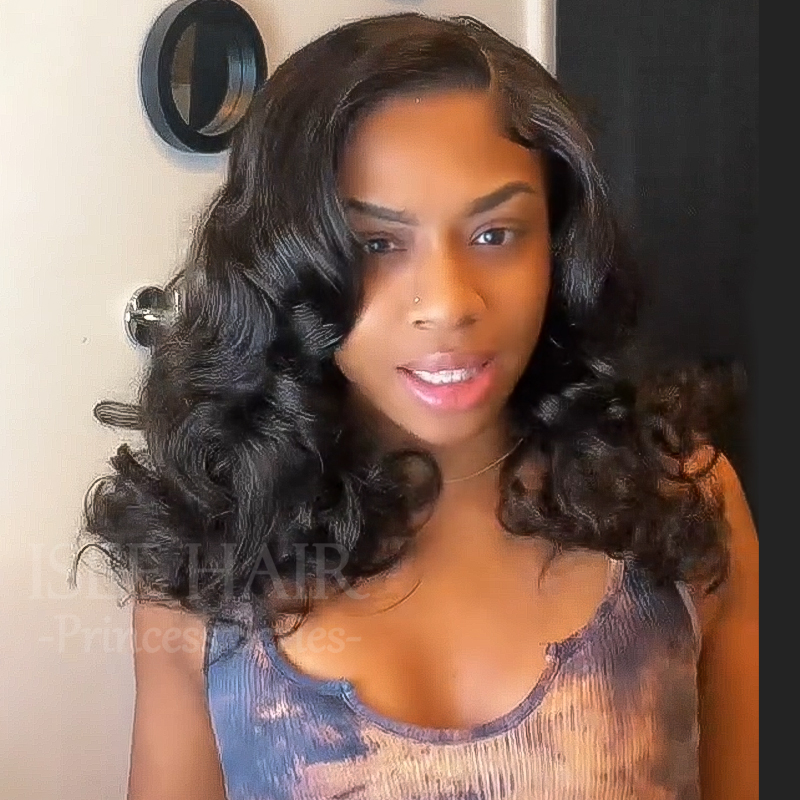 New 613 Blonde Color Wear Go Straight Glueless Lace Closure Wig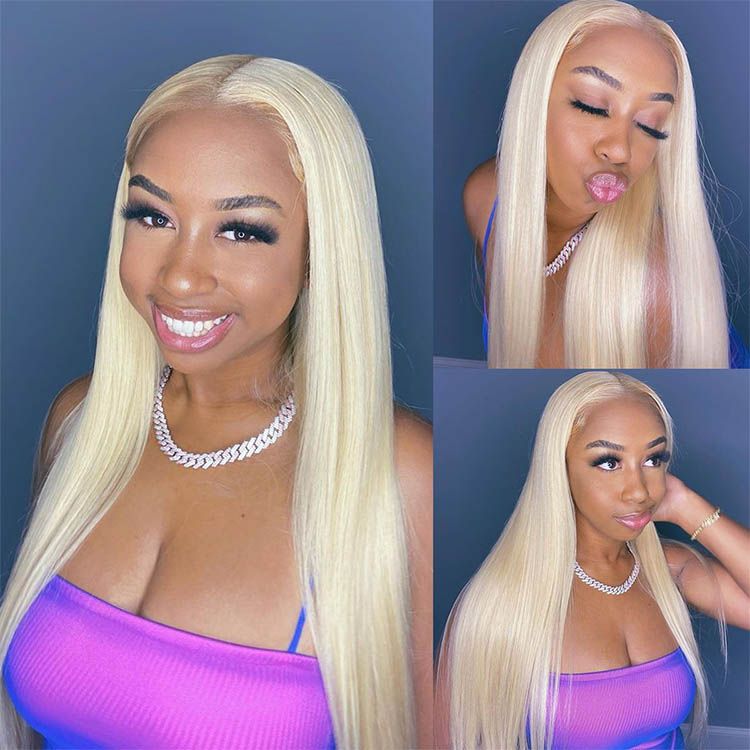 New Natural Kinky Hairline Wear Go Pre Cut Kinky Straight Glueless Wig