As fashion trends change, pre-cut lace wig has become the choice of more and more people. As the drawbacks of traditional wigs become apparent, the wig industry is constantly optimizing the usability and convenience of wigs to create wigs that are more suitable for human wear make it more convenient. In this case, the pre-cut lace wig was born. So, what is a pre-cut lace wig? Keep reading.
Contents
1.What is pre-cut lace wig?
2.Reasons to choose a pre-cut lace wig
3.How to install Pre-cut Lace Wig?
4.How to choose a wig that suits me
5.Final words
1.What is pre-cut lace wig?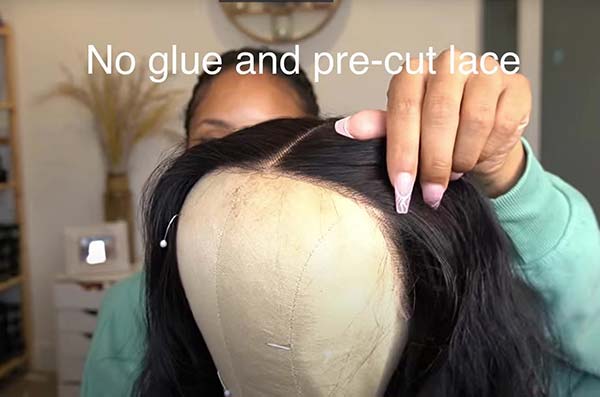 A pre-cut lace wig is also called a glueless wig. The wig has been pre-cut the excess lace and is worn without having to trim the wig yourself. If you haven't bought a wig yet, you will not know how troublesome it is to wear a traditional wig. A traditional wig usually has an extra piece of lace in front of the forehead, which you need to trim to match your hairline as you put the wig on. Then fix the lace onto the head using glue. It's complicated, right? But if you choose a pre-cut lace wig, you can omit this step.
2. Reasons to choose a pre-cut lace wig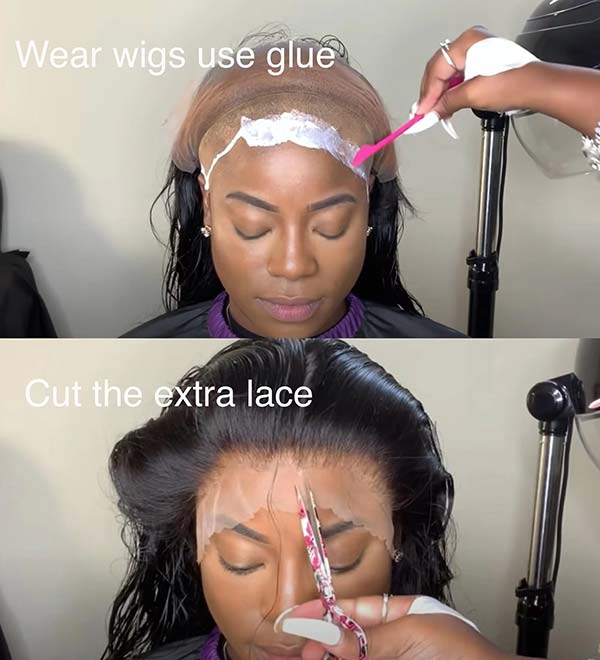 There are a number of reasons besides pre-cut lace that make it our top choice.
More lightweight and comfortable
Most people have one or more misconceptions about wigs. Do you think the wigs is heavy and stuffy? That's because you didn't pick out the right high-quality wig for you. Our pre-cut lace wigs are all 100% human natural hair by hand-made with carefully selected. It looks dense, smooth and shiny. It is impossible for a good wig to look thin unless it uses bad, coarse hair or combined with synthetic hair. Our lace is the thinnest and most transparent lace. The canvas of the hair cap is also made of high-quality breathable material, which will not make you feel uncomfortable at all.
Looks natural and realistic
There are two kinds of wigs: human hair wigs and synthetic wigs, but of course human hair is the most natural. Because it is real, it will fall and wiggle like natural hair. Human hair is cut from the head of a real person with good hair. When you get the wig, touch it, it's like the hair on your own head, even better than your own hair. It's very soft and smooth, like freshly showered skin. Not only is the hair completely simulated, but the hairline that you care about most is also completely like your own scalp, so you don't look out of place when you wear it.
Healthy and do not harm the scalp
There is an opinion that "A healthy scalp is important for hair growth because it is truly where healthy hair starts-from the roots down!" So, we can know that scalp health must be the first issue we need to pay attention to. Reducing the frequency of bleaching and dyeing your hair and using glueless wigs all have benefits to protecting your scalp, which is why I strongly recommend glueless wigs. Scalp is our second face. You should be careful to protect it. After all, having a healthy scalp can grow lush and glossy hair.
Maximum cost performance
Our pre-cut lace wigs have achieved the highest cost performance, is absolutely your best choice when buying wigs. They are cheaper than traditional wigs, ranging in price from $100 to $200, and vary in price depending on color, texture and length. The price may seem a little high on its own, but when you think about it, you can buy a wig and use it for a year or two without any other costs. Even the most expensive wigs cost an average of $0.27 a day!
Convenient and fast
Pre-cut lace wig is the most convenient and fast wigs available. The whole process takes only 30 seconds to complete, because there is no need to trim the lace and use glue. The wig is worn in the same way as a hat. Just put it on your head and adjust the band, so you can really realize wear and go.
3.How to install Pre-cut Lace Wig?
Although it is very simple to wear, I think as a beginner you will also want to know the detailed steps.
Step 1: Use a rubber band to tie your natural hair together, either at the top of your head or at the end.
Step 2: Place your hair cap on your head. This will help you hide your natural hair inside the cap and make it easy to wear.
Step 3: Put on the wig and adjust the elastic to fit the head and tail. This is how the whole wig is put on, very simple and fast.
4.How to choose a wig that suits me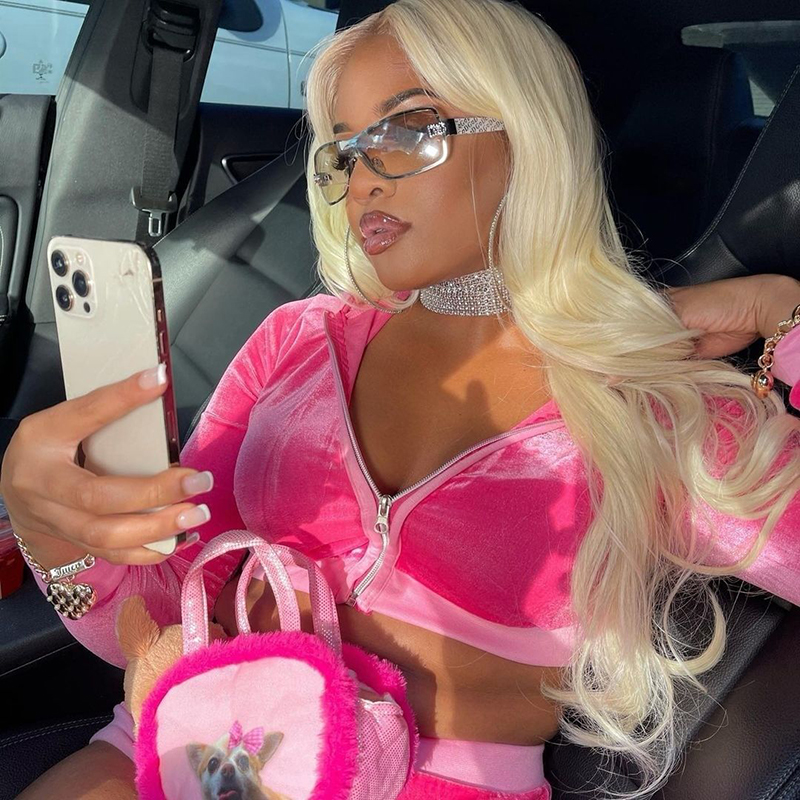 Wig selection is generally based on skin tone and face shape. Different skin tones will suit different wig colors, and different face shapes will suit different wig textures.
Dark skin suits dark colors like black, brown, burgundy, etc. Light skin suits gold, orange, brown, etc. For face shapes, long faces look good with bang wigs or body wave wigs in the middle part. A round face is good for a Bob wig and a square face is good for a loose deep wig in medium-length.
5. Final words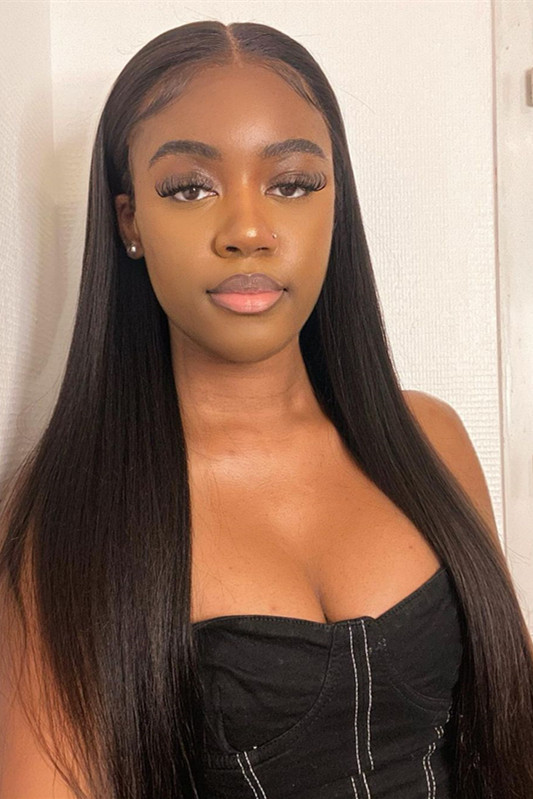 That's why we all want to choose pre-cut lace wig. The advantages of this wig are that it has been pre-cut with extra lace, with pre-plucked natural hairline, is realistic and fits your skin well. It Does not require glue to be used when wearing it, making it quick and easy to save money and effort. So why shouldn't we choose it? If you still want to learn more about this wig, I'm sure this blog will answer your question: What Does Glueless Wig Mean? I'm sure that after learning about these wigs, you'll be eager to take action and pick a beautiful and soft wig for yourself.