Find wig stylist near me for human hair wigs, frontal wig, closure wig, sew in weave, braiding, u part wig install in New York.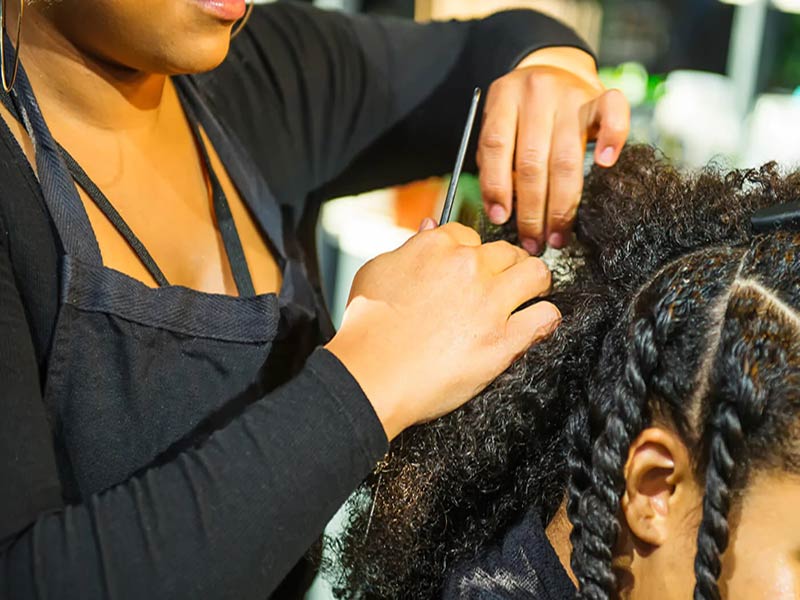 Wig Install Near Me
Wig Install Near Me
Do you ever had trouble locating a wig install salon nearby? If you do, we are here for you. You can quickly find a wig install salon near you with the use of Wig Install Near Me map.
What is a Wig Install?
4-Step Routine to install a wig easily. Step 1: Braiding the natural hair in cornrows. Step 2: Apply A Stocking Cap. Step 3: Apply The Wig. Step 4: Style.
How much should a wig install cost
Any type of installation typically costs between $150 and $300. For the best service, you will typically have to pay more. The ideal service entails a lace front wig that mimics your hair exactly.
How long does a wig install last?
A wig installation can take one to six weeks.
After that, you'll have to take out your wig and start over with it. Keep reading to learn more about the factors that determine how long your wig installation will endure if you're wondering why there isn't a specific time frame for wig installation lifespan.
Can you sleep with a wig install?
The short response is: It's not advised. You do, however, have a few choices if you must. There may be times when you don't feel comfortable taking off your wig before night around guests or are simply too exhausted. Don't worry, we have some solutions for you! In general, you should try to prevent this as much as possible.
Do wig installs damage hair?
Since lace front wigs are attached using strong adhesives, hair loss is frequently experienced after wearing them frequently. Receding hairlines are an unfavorable but frequent result of the irritation caused by irritating adhesives combined with stress on the hairline.
Can you shower with a wig install?
The short answer is that it is better to avoid taking a shower while wearing a wig. Water can cause the hair fiber to frizz and mat, and trying to untangle it results in pulling and tugging, all of which can seriously harm the cap.
Best Wig Install in New York, NY

Stylist: Christel B
Business name: Diva's Palace Highlighted Service: U Part Wig Install Price: $130 for 90 minutes Address: 3501 Avenue D Brooklyn, NY 11203 Phone: 3475574360

Stylist: Doneisha Davis
Business name: Neisha's Heavenly Touch LLC Highlighted Service: Lace closure Application with Glue Price: $250 and up for 45 minutes Address: 5119 3rd Avenue Brooklyn, NY 11220 Phone: 9177215086

Stylist: Keinda
Business name: Keinda Lavia Salon Highlighted Service: Frontal wig installation Price: $150 and up for 90 minutesAddress: 725 Washington Avenue, pl Brooklyn, NY 11238 Phone: 6462677776

Stylist: kisha
Business name: Kisha's Growing Hands Beauty Salon Highlighted Service: Lace closure Wig install Price: $155 and up for 90 minutes Address: 450 Pine St Brooklyn, NY 11208 Phone: 3477314468

Stylist: Hair by Garvin
Business name: Jay's Hair Salon Highlighted Service: Units Maintenance, Units Install Price: $330 and up for 165 minutes Address: 1445 Flatbush Ave. Brooklyn, NY 11210 Phone: 3474818940

Stylist: Colleen Johnson
Business name: Manestylez salon inc. Highlighted Service: Full Lace Wig Install Price: $100 and up for 90 minutes Address: 9009 Avenue A Brooklyn, NY 11236 Phone: 3476618407

Stylist: Erika Grant
Business name: 5312 Church ave Highlighted Service: Wig install comes with wash Price: $250 for 120 minutes Address:5312 Church Avenue 5312 Church ave Brooklyn, NY 11203 Phone: 9176045044

Stylist: Kenya Clarke
Business name: NV Stylez Salon Highlighted Service: Wig Install Price: $95 for 90 minutes Address: 687 Broadway Suite 10, 1st fl Brooklyn, NY 11206 Phone: 3479416191

Stylist: Monique G-Walker
Business name: Styled by Monique inc Highlighted Service: Wig Install Price: $200 and up for 180 minutes Address: Vanderbilt Avenue Brooklyn, NY 11205 Phone: 9299691016

Stylist:Shirnae Green
Business name: Suite 718 Salon Highlighted Service: Full Lace Wig Install Price: $150 for 90 minutes Address:10 Kingston Avenue Brooklyn, NY 11213 Phone: 3472829167