For a wig, natural fidelity determines how much it sells, which is why synthetic wigs are falling out of the market. As technology has improved and developed, wigs have become so close to human natural hair that it's almost impossible to tell the difference. Now, we will introduce the most popular wigs——natural human hair wigs.
Contents
1.Common types of wigs
2.What is the most natural wig
3.Features of human hair wigs
4.Different texture of human hair Wigs
5.Final words
1.Common types of wigs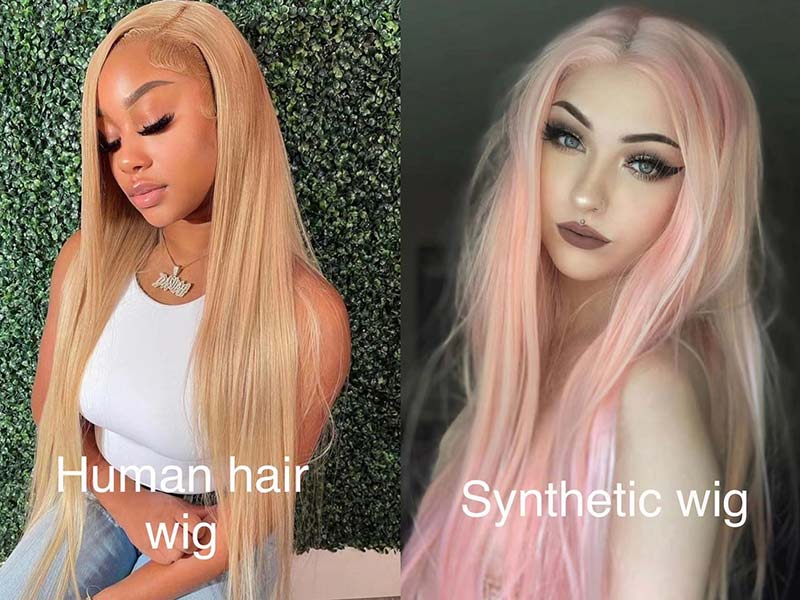 Human hair wigs
Natural wigs are generally made from real human hair, which means that the texture and appearance of the hair is like your own. The hair is usually cut from a real person with good hair quality. After sifting and cleaning, it is washed and used as raw material for wig making. Compared with the production of human hair and synthetic hair, the production of human hair wigs is much more complicated, especially the lace part of the wig, which is purely handmade by the workers on the lace frontal, in order to achieve the most realistic effect. The naturalness, color gloss and texture of human wigs are difficult to replicate in synthetic wigs, often making them the most popular wigs for people.
Synthetic wigs
Synthetic wigs are made from either synthetic fibers or nylon, so their most obvious qualities are their durability. Because it's made of chemical materials, it's much stronger and less likely to break or shedding than our real hair. When it is made in the factory, it has been fixed at high temperature and will not easily change the original state. For example, in windy or rainy weather, chemical fiber wig will not change its original shape because of changes in external conditions, will not become straight or curly.
2.Why choose a human hair wig?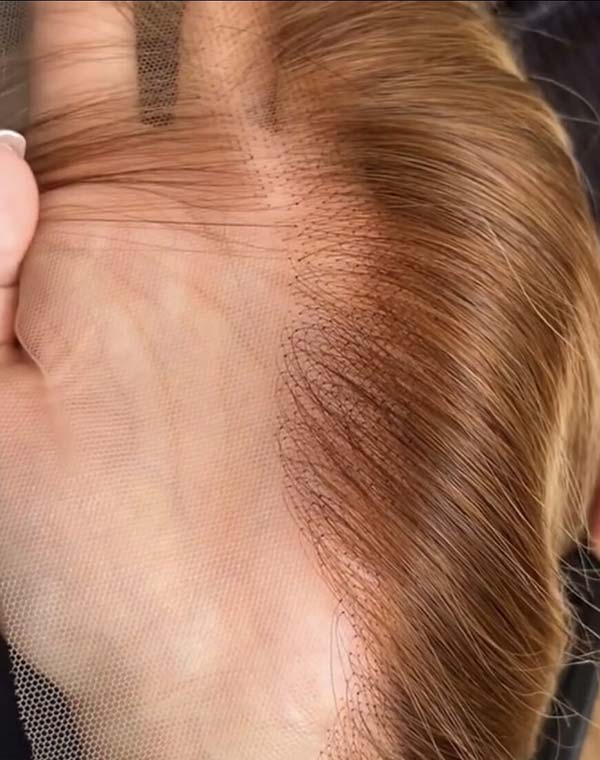 Advantages of human hair wigs:
The main benefits of wearing a wig are to compensate for thinning hair or baldness, making one look better and more confident. Some people may have problems with increasing gray hair, and wearing wigs can also be appropriate to cover gray hair. And also, if you want to change your hair color, you can wear a wig to avoid the harmful effects on your scalp. Our wigs are 100% human hair, and chemicals can make your scalp unhealthy, so you can dye them and change them every day.
Disadvantages of synthetic wigs:
Of course, the disadvantages of synthetic wig are also fatal, which may directly make you give up choosing it. Because the hair in the synthetic wig is artificial, it won't have the same realistic effect as our real hair. First of all, his hair is very fake, our real hair is more soft, delicate and smooth. The synthetic hair will be full of plastic, you don't have to touch it, at first glance can tell that it is a wig. Secondly, most synthetic hair is not lace wig. Its hairline and hair seam also don't fit the scalp, giving an unreal feeling. However, the advantage of synthetic hair is that it doesn't deform or fade easily. If you are a cosplay player and need a colorful wig like green, yellow and blue, you can choose synthetic hair, but we generally can't wear it in our daily life.
3.What is the most natural wig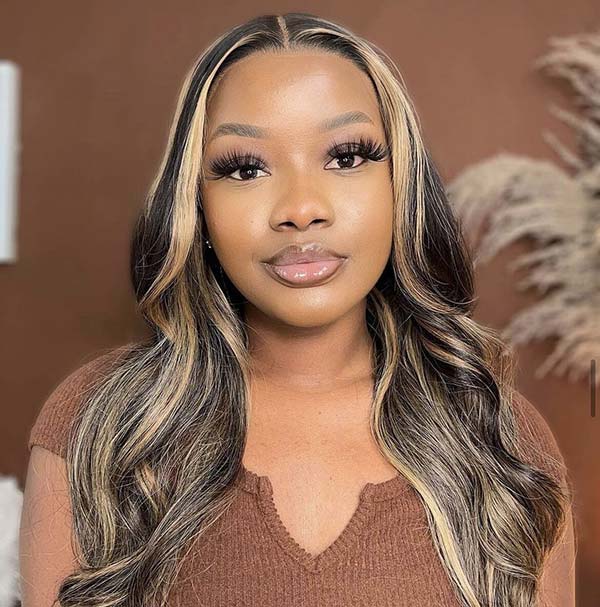 Glueless wig
The most natural wig is, of course, human hair. Made from our own hair, we can achieve the best wearing effect. Among the many types of human hair, human hair glueless wigs are arguably the most authentic. It is also the most popular wig style in recent years. The wig does not require glue to be used, and there is no need to worry about using a lot of glue to wear the wig, resulting in obvious glue marks on the hairline edge, nor does it put any burden on the scalp. The hairline edges are all pre-cut lace and pre-plucked natural hairline, very natural and realistic, and fit well to the skin.
HD lace wig
The wig made of HD lace, which is known to have a very fine grid in which the hair is inlaid by hand to look like our real scalp, with rows and rows of tiny pores. The mesh is breathable, comfortable and almost imperceptible, so it blends perfectly with the wearer's scalp. HD lace is arguably the most suitable material for wigs. It is not only thin but also invisible. It is almost the same color as our scalp, and can blend perfectly no matter what skin tone you have.
Headband wig
As the name suggests, the wig itself comes with a headband. The purpose of the headband is of course to make the wig more natural, because you don't have to buy a wig with hairline that might not fit your skin, it has no hairline in this wig, it has to show your own hairline, so it can be completely realistic, but one thing to note is that the color of the wig's hair you choose has to be similar to your own hair color. Otherwise, it would be very unnatural.
U-part wig
The wig features a U-shaped cutout at the top of the head, which allows your natural hair to pass through the U-shaped opening, leaving the actual hair on the outside. This way, you can blend your hair into the wig and cover the extensions for a more natural-looking hairline, so it looks the most realistic, and the whole process will be done quickly without having to spend too much time wearing the wig.
4.Textures of human hair wigs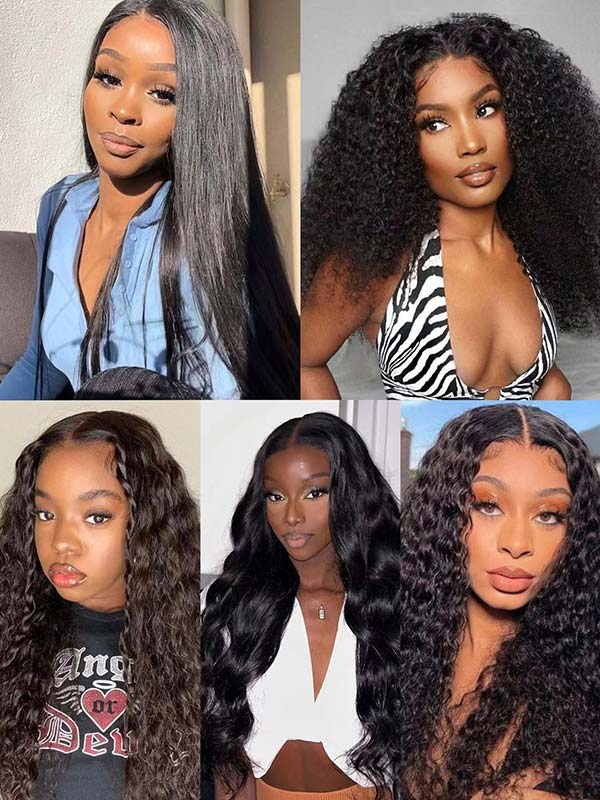 I believe we buy a wig is the first to see his quality and the degree of realistic, then the second consideration is the texture, after all, a beautiful wig texture is our primary purpose to buy wigs. Here are a few popular wig styles.
Straight:There are two types of straight wigs, kinky straight wigs and straight wigs. The difference is that a kinky straight wig is a little more natural than a straight wigs.
Kinky curly:With natural waves, make hair thicker and more layered. More natural, high density and high-quality human natural hair. It's a very versatile hairstyle, and it's a favorite hairstyle of many people. If you like it, you can also braid it in your hair.
Water wave: This wave looks like beautiful water ripples, shiny and bouncy. It will give people a young and fashionable feeling.
Body wave: The wig has a wide range of waves, a soft touch, and a beautiful curly texture. The waves of this wig look soft and not stiff, giving a light and attractive feel.
Deep wave: Deep wave wigs have neat curls and intense layering, natural and authentic human hair. Pre plucked hairline to achieve the most natural effect.
5.Final words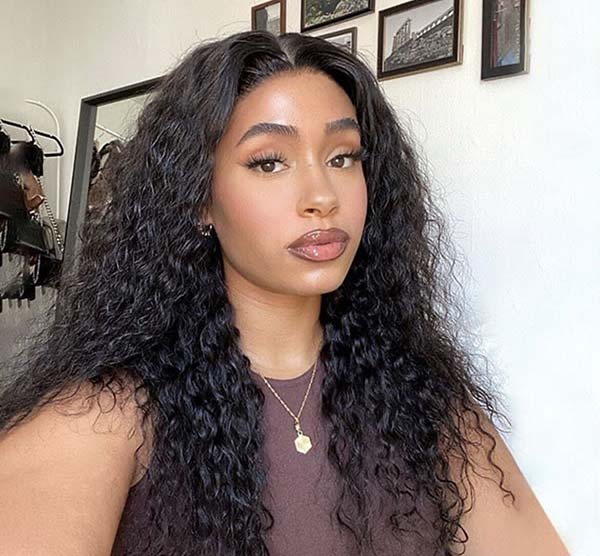 If you want a wig that everyone will think is your own hair, then you should definitely go for a human hair wig. The wig provides a realistic touch and visual effect. With a pre-plucked natural hairline, just like a real hair of human, make the hairline look more realistic. The hair at the hairline will be less dense and will look more like a human scalp. By using HD lace, and you'll have a hard time convincing people that it didn't grow out of your scalp.