Early in 2022, ISEE first debuts the Wear Go wig concept. Looking back on how ISEE's Wear Go wig has changed over the past two years, it is clear that ISEE is committed to ongoing exploration, modification, growth, and the introduction of new approaches, concepts, and technologies in order to enhance the Wear Go wigs for the benefit of giving customers a better wearing experience. I invite you to read this post to learn more about ISEE Wear Go Wig's inventive journey.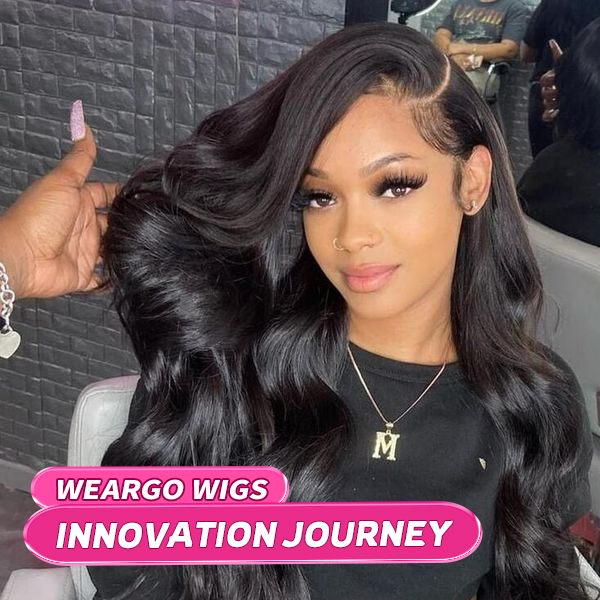 May 2022-innitial standard Wear Go wigs
Wear Go wigs as a game changer, first proposed by ISEE, ISEE's original standard Wear Go wig, has the following features.
30s install wear and go: beginnner-friendly and time-saving
100% glueless install: effortless, comfortable and non-allergenic
Invisible HD lace: match all skin
Breathable fitted base cap: stretchy and breathable
Real pre-plucked hairline: fully handmade
Zigzap pre-cuct HD lace: more natural hairline than straight cut lace
July 2022-unveiling the 3D Dome Cap
ISEE is customer-centric, and we are constantly listening to their needs and improving our techniques. In just two months , ISEE has updated the structure of its wig caps inspired by the valuable feedback from stylists and customers, use 3D Dome Cap as the new Wear Go wig cap.
1.More breathable and comfortable: 3D Dome cap and without adhesives needed which allows air circulation and scalp to breathe freely. It's good for natural hair growth, and it promotes healthy scalp.
2.Secure and fit: Cap with specially construction design and elasticity band perfectly on your head. No need to worry about the slipping off.
3.Beginner friendly, Easy: fast installation and removal.
Oct, 2022-upgrated 4*6 lace
In October 2022, After years of constant adjustments, we further upgraded the lace area from 4*4 to 4*6, in order to ensure its versatile and stylish. From 4*4 lace to 4*6 lace, ISEE has always thought of its customers and is committed to producing the most flexible and functional wigs for them.
April 2023-pre-bleached lace wear go wig
In April 2023, ISEE was the first company to launch the pre-bleached lace Wear Go wigs. This is accomplished by using our professional and mature technique to bleach black knots into a brownish or blond tone to create a scalp-like lace area. As you can see below, pre-bleached Wear Go wigs makes the wig look more natural, It gives the illusion that the hair is coming out of your own scalp.
August 2023-tiny knots and glass approved design
The production team of ISEE strikes for excellence and was not satisfied with the current Wear Go wigs. The end result is the "Wear Go V5", a new generation of Wear Go wigs with tiny knots and glass approved design, which was introduced in August 2023.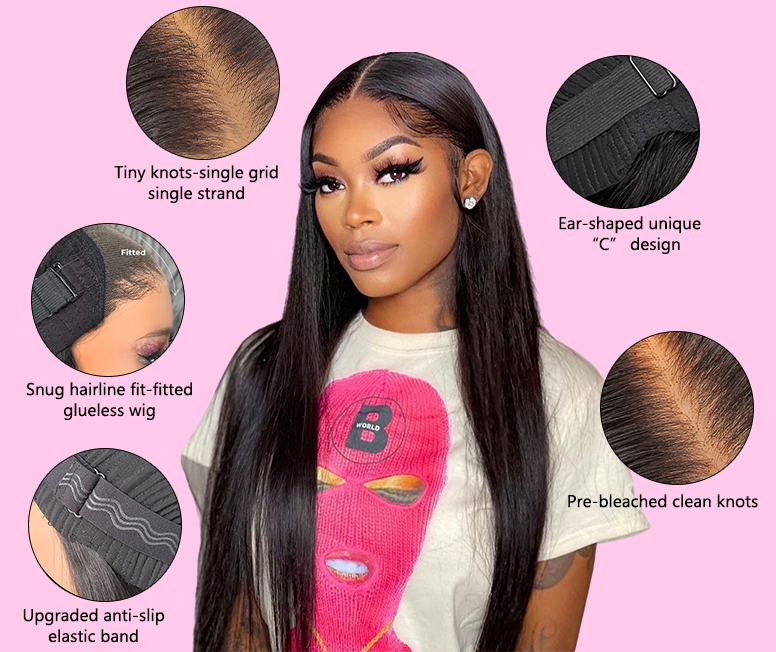 Tiny knots-single grid; single strand
we take every single strand and fix it into the single grid one by one. Using a unique wig weaving technique to Simulate the natural growth of hair strands. By doing so, Even up close, it seems to be hair emerging from the scalp.
Ear-shaped unique "C" design
The 3D dome cap has a new shaped unique "C" design in the ear area, allowing women who wear glasses to wear the wig comfortably.
Pre-bleached clean knots
The combination of tiny knots and pre-bleached clean knots is impeccable! which gives the illusion of the hair growing out of your pores.
Snug hairline fit-fitted glueless wig
The 3D cap structure is designed for a snug fit, with the lace front flush, not cocked. It hugs your forehead perfectly. Achieve a natural fit to your hairline even without gel!
Upgraded anti-slip elastic band
Wear Go V5 cap with wider , improved elasticity band and silion anti-slip feature inside the wig cap also helps add an extra layer of security.
In conclusion
Our customers are important to us, ISEE will continue to work hard to provide customers with better wig products!
ISEE Wear Go V5 wigs for you