Wigs come in a variety of colors, the most common of which are black and brown hair color.So the dilemma for wig wearers is, which color is better and more worth trying? In this blog, we will compare these two very close colors and help you to make a good choice for your wig color, let's keep on reading!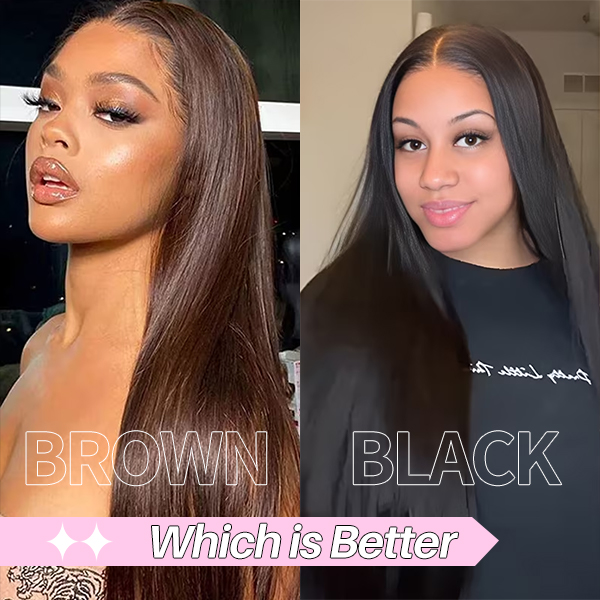 What Color Is Black Hair Color?
In the wig manufacturing business, black color wig often refer to 1B hair color, which is considered the most natural black color.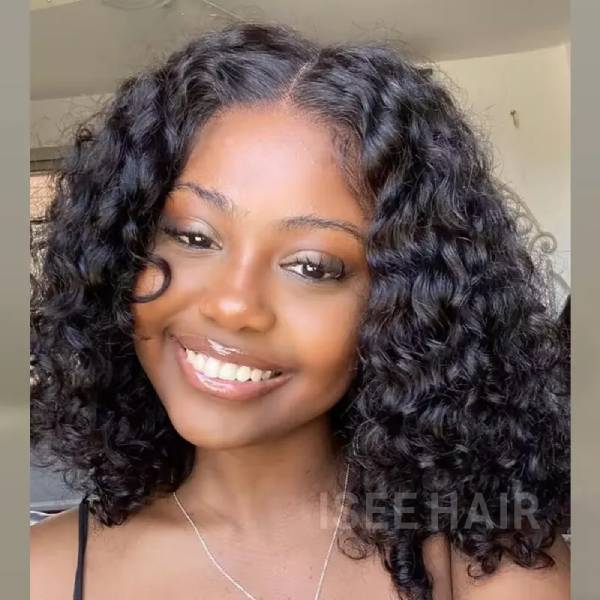 What Color Is Brown Hair Color?
There are so many shades of brown hair color, If you thought that brown shades were only differentiated into three colors-light, medium, and dark, you are in for a lovely surprise.
This is because there are actually many brown hair colors such as coffee brown, chocolate brown, peanut brown, bronze brown, reddish brown, and chestnut brown, all of which will look very natural in sunlight light.
How to choose black vs brown hair?
Before determining whether to choose black or brown wig color, consider the following factors that will allow you to make a more satisfying decision.
Determine Your Skin Tone
Your skin tone needs to be taken into account when choosing a hair color, and this is one of the most important factors so that you can choose a color that suits your skin tone. But to do this, you first need to determine your skin tone.
We all know that there are three different types of skin tones including warm, cool and neutral tones. Black suits all types of skin tones and brown suits warm skin tones.
Dark brown usually looks like black and looks more natural on most people, even those with naturally dark hair; black hair color tends to look more shapeless, while dark brown synthetic hair color tends to be more shiny.
Ultimately, it's entirely up to personal preference!
Consider Your Natural Hair Color
The second most important factor on the list is your natural hair color. If you want to look as realistic as possible when wearing a wig, you're better off choosing a color that's no darker or lighter than your natural hair color. That means a color that is close to your natural hair color. For example, if you have black hair, it is best to choose a black wig. This will give the illusion that you are not wearing a wig. Similarly, if your natural hair color is not that dark, then a brown wig is ideal for a natural look.
Think About Your Personal Style
When picking your hair color, keep your everyday style in mind; if you choose the wrong hue, your whole appearance will suffer.
If you like a cool look, your hair should be black, the darker the better. If you are a fashionista, a black wig may be too boring for you, and a flexible brown wig may be more appropriate.
Don't Forget The Color Of your Eyes
One of the most ignored aspects is eye color; if your eyes are golden brown, green, hazel, or light blue, select a wig that is dark brown or golden brown, chestnut, or russet. If you have dark brown, dark blue/blue-gray, or dark hazel eyes, go with a wig in a more natural hue, such as black or brown.
Brown vs black hair: Which one is better?
It's challenging to determine which is superior to the other and the issue is tough to answer. This is due to the fact that each person has unique interests and preferences. While some individuals might favor brown hair, others could think black hair to be more appealing.
The ideas that follow are provided solely for informative reasons. A black wig is the ideal option if you're seeking for a flexible hair color that goes with any skin tone. Try a brown wig if you typically have black hair and want to experiment with a new haircut.
The bottom line is to be brave and go with either black or brown hair—you can't go wrong with any of these hues. Your preference and the one you believe best fits you will determine which option is best.
ISEE

colored wig customer reviews
-The wig was very soft and the color was just like in the photo.
-I love the color it is very beautiful and it is true to length!! Received many compliments on my birtheday party,I definitely recommend!!
-The colour came a beautiful natural color.
-The hair is very soft and the colour matches my own hair.
-I love it soo much, I gotta buy it again.
-This hair is awesome!! It is silky straight as advertised, and the COLOR is beautiful!
-This hair is soooo cute! It's extremely soft and the colors are very complementary. The lace is very easy to work with and the wig doesn't shed.
In conclusion
Black vs dark brown hair, which one is better? Having read this post, do you already know the answer to this question? You can choose the color based on your natural hair color, your skin tone, your personal style, and your eyes color. Anyway, no matter which color, it can bring you confidence.
Peanut Brown Color Silky Straight Human Hair Wigs
Reddish Brown Water Wave Wig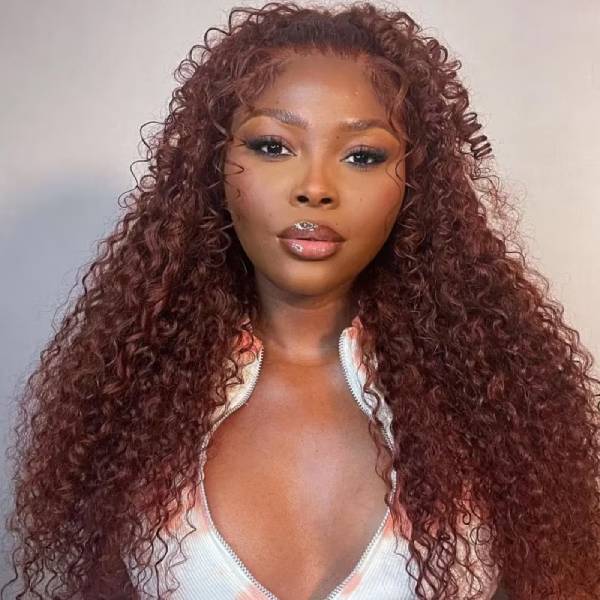 Highlight Brown Color Wig