How Long Is 18 Inch Hair Wig?
18 inch hair is long to your shoulder blades, and reaches around your mid-back. 18 inch wig length is considered to be long hair and is one of the most popular hair length that women go for.
How Long Is 18 Inch To cm
For 1 inch is 2.54 cm, 18 Inch hair to cm is 45.72 cm long hair length.
18 Inch Wig Chart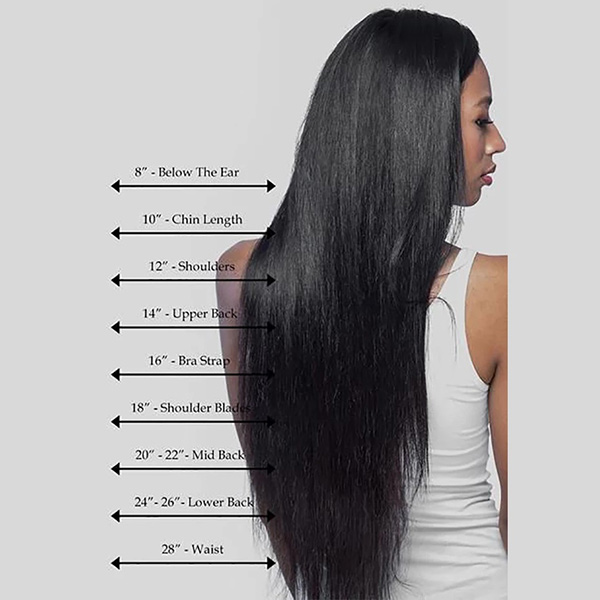 18 Inch Wig Length For Various Textures
18 inch straight wig
18 inch straight wig is true to its hair length. And wavy and curly hairstyle is looks shorter than its true length, stretch your wavy hair when measured.
18 inch body wave wig
18 inch body wave and water wave wigs seem 2 to 3 inches shorter than straight hair when wearing. More tighter of the curls, more shorter it looks.
18 inch curly wig
18 inch deep wave or curly wig length seem 2-4 inches shorter than straight wig when wearing. 18 inch hair for deep curly wig may run to your shoulder-length.
18 Inches Hair Wig For Various Lace Design
18 inch frontal wig
Isee offers best 13x4 frontal wig and 13x6 lace frontal wig for 18 inch hair length. All hair are 100% human virgin hair, hd lace for melting with your skin color perfectly no matter what your skin tones, pre-plucked natural hairline.
18 inch lace front wigs
Isee hair offers 4x4 lace front and 5x5 lace front wig for 18 inch hair length. 18 inch hair wigs are made of 100% virgin human hair material, hand-tied lace front design for natural hairline and natural-looking hair part, pre-plucked with baby hair.
18 inch Glueless Wig
Isee hair online offers beginner friendly glueless wigs for 18 inch hair length. Glueless v-part, u-part, t-part wig, headband wig, Type 4c kinky hairline wig, dome cap hd lace wear and go wigs are available, no glue, no gel, 3 seconds to wear, quick and easy, protective wigs for women.